Please consider donating to Behind the Black, by giving either a one-time contribution or a regular subscription, as outlined in the tip jar to the right or below. Your support will allow me to continue covering science and culture as I have for the past twenty years, independent and free from any outside influence.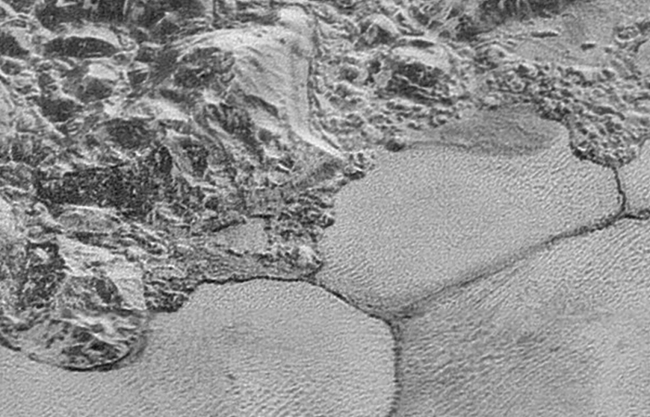 Many cool images! The New Horizons science team has today released new images from the spacecraft's close fly-by of Pluto.
These latest pictures are part of a sequence taken near New Horizons' closest approach to Pluto, with resolutions of about 250-280 feet (77-85 meters) per pixel – revealing features less than half the size of a city block on the diverse surface of the distant planet. In these new images, New Horizons captured a wide variety of spectacular, cratered, mountainous and glacial terrains.
I have cropped and lowered the resolution of the image above to fit it here. Make sure you click on the link to see it and the other images. As they note,
In this highest-resolution image from NASA's New Horizons spacecraft, great blocks of Pluto's water-ice crust appear jammed together in the informally named al-Idrisi mountains. Some mountain sides appear coated in dark material, while other sides are bright. Several sheer faces appear to show crustal layering, perhaps related to the layers seen in some of Pluto's crater walls. Other materials appear crushed between the mountains, as if these great blocks of water ice, some standing as much as 1.5 miles high, were jostled back and forth. The mountains end abruptly at the shoreline of the informally named Sputnik Planum, where the soft, nitrogen-rich ices of the plain form a nearly level surface, broken only by the fine trace work of striking, cellular boundaries and the textured surface of the plain's ices (which is possibly related to sunlight-driven ice sublimation).
Today's release also includes a short animation of a faint distant Kuiper Belt object, assembled by four images taken by New Horizons. The images don't show much more than a streak of light, but the feat of imaging this object by a spacecraft billions of miles away in this manner is breath-taking.