Please consider donating to Behind the Black, by giving either a one-time contribution or a regular subscription, as outlined in the tip jar to the right. Your support will allow me to continue covering science and culture as I have for the past twenty years, independent and free from any outside influence.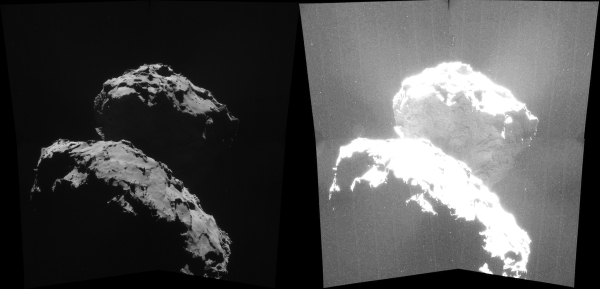 In releasing Wednesday's image of Comet 67P/C-G, the Rosetta science team suggested that readers download it and play with the brightness and contrast settings to bring out some interesting details.
[I]f you adjust the contrast of the image you will see that there is a lot of 'noise' in the background. Some of this is simply detector noise and cosmic rays, but there seem to be a few bright objects that may be dust/ice particles between Rosetta and the comet.

In previous NAVCAM and OSIRIS images, we've already seen jets of gas laced with dust streaming away from the comet, and the instruments COSIMA and GIADA have started detecting dust, so it would be no surprise if these objects were also found to originate from the comet. In any case, it is a phenomenon that will clearly be studied in great detail at 67P/C-G over the coming weeks and months.

Another nice observation you might like to make while playing around with the contrast settings is that faint details can be brought out in the 'neck' region of 67P/C-G, which on first look is seemingly obscured by shadows. It appears as though the neck is being illuminated by the reflection of sunlight off the main body of the comet below.
The image on the left above is the image as released. The image on the right I have brightened considerably to bring out additional details. As they noted, you can see topographical details in the shadowed neck area. Also, the entire nucleus seems to be surrounded by faint dust streaming away in all directions.
It is going to be a great deal of fun to watch this comet change over the next year as it makes its journey around the Sun.