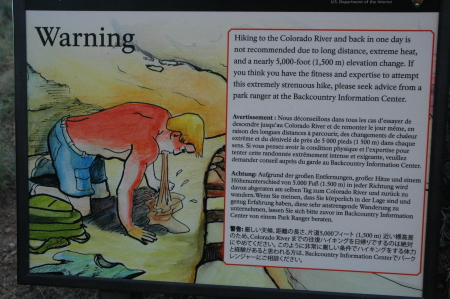 When I posted here on Behind the Black that Diane and I were on our way to the Grand Canyon for our annual hike to the bottom, one of my readers, Keith Douglas, commented that he and his family would be there about the same time. In trying unsuccessfully to meet up, at one point Keith mentioned that his two kids, aged 24 and 23, were proposing they hike into the canyon. Keith emailed me to ask, "From what I read, hiking into the canyon and out is not recommended for a one day activity. What about halfway and back up? Can that be done in an afternoon? It seems pretty hot." I responded,
Though one can hike down and up in one day, this is not recommended for most. Usually you need to be in very good condition and young. It also helps if you are a long distance runner. Hiking down to Indian Gardens [about two thirds of the way down] can be done as a day trip, but if you don't hike a lot it will be an intense and long experience. Also, having the right pack and gear is essential! People who go carrying a one liter bottle of water and no hat are guaranteed to suffer.
I didn't tell them they couldn't do it, or that they shouldn't, or that it wasn't possible. I simply outlined some of the basics for doing it, and let them decide what to do.
Keith answered, with humor, "Thanks for helping me talk my kids out of a hike down." He later added, "I read a hiking guide on the nps website. It seems to be designed to discourage canyon hiking rather than prepare novice hikers."
In one sentence Keith encapsulated the problem with almost all of the advice the Park Service gives about the Grand Canyon.
» Read more