Summary: After a two week hiatus because the Sun was between the Earth and Mars and blocking communications, both rovers are once again on the move.
Curiosity
For the overall context of Curiosity's travels, see Pinpointing Curiosity's location in Gale Crater.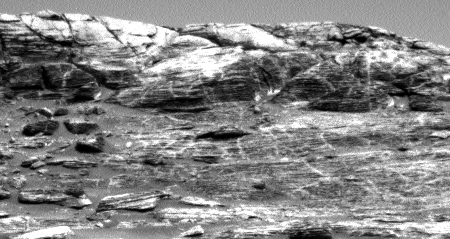 Since my last update on July 12,, Curiosity spent most of the month waiting out the solar conjunction that placed the Sun between the Earth and Mars and blocked communications. In the past few days, however, the rover has begun to send down images again while resuming its journey up Mt. Sharp. The panorama above, reduced to show here, was taken by the rover's left navigation camera, and shows the mountain, the ridge, and the route the rover will take to circle around the steepest sections to get up onto the ridge. To see the full resolution panorama click on the picture.
To the right is a full resolution section of the area in the white box. As you can see, the geology of the ridge is many-layered, with numerous vertical seams or cracks. In order to track the geological changes across these layers as the rover climbs, the science team is as expected taking a systematic approach.
Lately, one of our biggest science objectives is to conduct bedrock APXS measurements with every 5-meter climb in elevation. This allows us to systematically analyze geochemical changes in the Murray formation as we continue to climb Mount Sharp. Yesterday's drive brought us 6 meters higher in elevation, so another touch and go for today it is!
Below is a cropped and reduced resolution image of the most recent orbital traverse image, dated sol 1754. The dotted line shows where I think the rover's has traveled in the last 28 sols. I have also annotated what I think is the point of view of the panorama above.
» Read more