Leaving Earth – Autographed Copy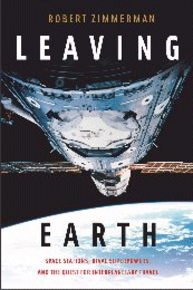 From Joseph Henry Press, September, 2003.
"This is a scientifically vivid and intensely personal book that explores the people and their relationships as much as the technology. . . . It's a grand chronicle of an overlooked human adventure, and also asks some difficult questions about the direction of the current space program. Recommended for all space fans, and for historians too." -- Focus, December 2003
Read two excerpts printed by United Press International:
Read another excerpt printed by MSNBC:
To buy your very own autographed copy of the hardback edition:
List price $27.95. Price if purchased here: $25.00 plus $5.00 shipping within the United States.
(For shipping outside the United States please contact us.)
If you wish to buy more than than one copy of this or any of Robert Zimmerman's books, we will gladly combine shipping. To do so, please contact us at zimmerman at nasw dot org (replacing "at" and "dot" appropriately).