Curiosity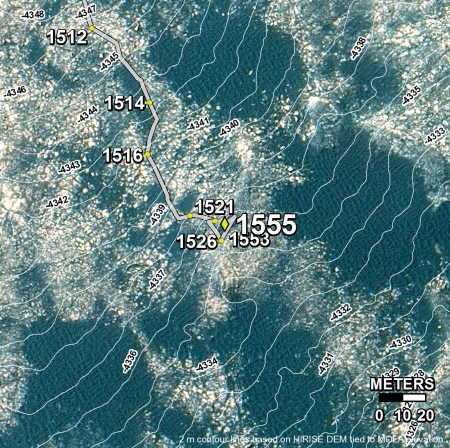 For the overall context of Curiosity's travels, see Pinpointing Curiosity's location in Gale Crater.
After weeks of drill diagnostics and enforced lack of travel while those diagnostics were on-going, Curiosity finally moved last weekend (Sol 1553). The traverse map to the right, cropped and reduced in resolution to show here, indicates where they went, which wasn't far and doesn't really tell us yet which route they plan to take to pick their way through the surrounding dune fields. Thus, the options I indicated in my November 14, 2016 rover update all remain possible. If you go to that update you can see a much better Mars Reconnaissance Orbiter (MRO) overhead image showing the upcoming terrain.
In the meantime, the Curiosity science team is preparing to take a well deserved Christmas-New Year's break (see update for sols 1566-1568). So that Curiosity doesn't sit idle during that time, they have uploaded to it an 8-sol plan to cover December 22 to December 30 followed by a 3-sol plan from December 31 to January 2. The rover will not move during this period, but will take lots of different observations in situ.
As they note rightly at the link above, "It's been quite the year for our rover: we have drilled six holes, performed two scoops, driven 3 km, and climbed 85 vertical meters!" What is more significant is that the best is yet to come!
Opportunity
For the overall context of Opportunity's travels at Endeavour Crater, see Opportunity's future travels on Mars.
» Read more