Please consider donating to Behind the Black, by giving either a one-time contribution or a regular subscription, as outlined in the tip jar to the right. Your support will allow me to continue covering science and culture as I have for the past twenty years, independent and free from any outside influence.
NOAA's Space Weather Prediction Center today published its monthly update of the Sun's developing sunspot cycle (see below). The graph shows the slow rise in sunspots (blue/black lines) in comparison with the consensis prediction made by the solar science community in May 2009 (red line).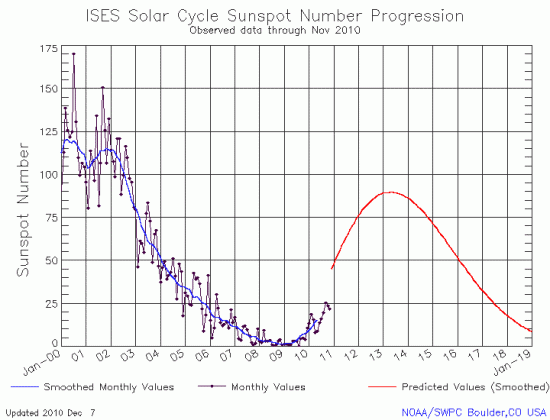 As I noted last month, the rise in sunspots as we ramp up to the next solar maximum has definitely slowed, which indicates clearly that we are heading towards the weakest solar maximum in more than two centuries. And as I have noted repeatedly on this website as well as on the John Batchelor Show, that means very cold weather!