Circuit Hikes of Southern Arizona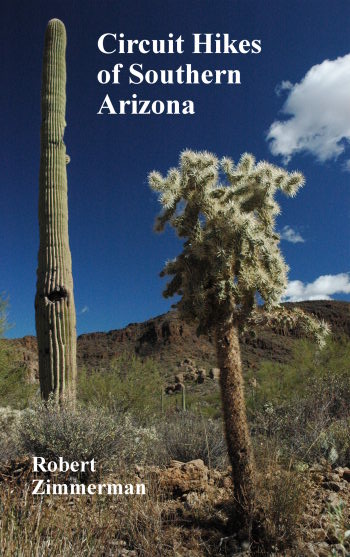 Circuit Hikes of Southern Arizona is an easy-to-use guidebook, describing the many circuit hikes hidden in the mountains surrounding Tucson and throughout southern Arizona.
Pocket-sized so that it is easy to carry on a hike, the book includes 32 specific hikes with an additional two dozen options, with hikes ranging from so easy you can take your toddlers to so strenuous you will want to train for weeks beforehand. Each hike comes with an easy-to-read topo map, as well as detailed instructions for route-finding. The guide also provides information about the best seasons to do each hike as well as general information about the history and geology of the surrounding mountains.
The guide not only includes some of the best known circuit hikes of southern Arizona, it also includes a number of previously unpublished trails that take you to places rarely seen by most hikers. The guidebook's table of contents: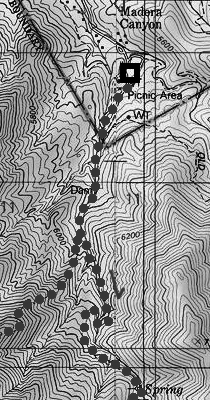 topo map sample
Tucson Mountains
1. Belmont Road
2. Picture Rocks
3. Gates Pass Loop
4. Orcut Dam
5. Brown Mountain
6. Wasson Mountain
7. Tucson Mountains Mine Loop
8. Signal Hill
9. Black Sheep Canyon
Tortolita Mountains
10. Wild Burro Canyon
Santa Catalina Mountains
11. Wilderness of Rocks
12. Aspen Loop
13. Red Ridge/Oracle Ridge
14. Mint Spring/Marshall Gulch
15. Butterfly Loop
16. Mount Kimball
17. Blacketts Ridge
18. Sabino Canyon/Bear Canyon
Rincon Mountains
19. Saguaro National Park East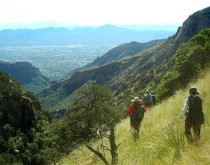 Descending from Mt. Kimball
Santa Rita Mountains
20. Rogers Rock
21. Josephine Saddle
22. Jack Mountain
23. Mount Wrightson
24. Gardner and Cave Canyons
On the Periphery
25. Kartchner Caverns
26. Oversite and Ida Canyons
27. Ramsey Canyon
28. San Pedro House
29. Murray Springs Clovis Site
30. Millville-Petroglyph Site
31. Fort Bowie
32. Heart of Rocks
The author, Robert Zimmerman, is an award-winning science journalist and space historian who likes to spend his weekends hiking, caving, and in general exploring the hidden outdoor gems of the American southwest. For more information about his other writing and books see his webpage, Behind the Black.
Circuit Hikes of Southern Arizona will also be available shortly as an ebook from all your normal ebook vendors.
To buy your very own autographed copy of this pocketbook:
List price $14.95. Price if purchased here: $12.00 plus $3.00 shipping within the United States.

(For shipping outside the United States please contact us.)
If you wish to buy more than than one copy of this or any of Robert Zimmerman's books, we will gladly combine shipping. To do so, please contact us at zimmerman at nasw dot org (replacing "at" and "dot" appropriately).