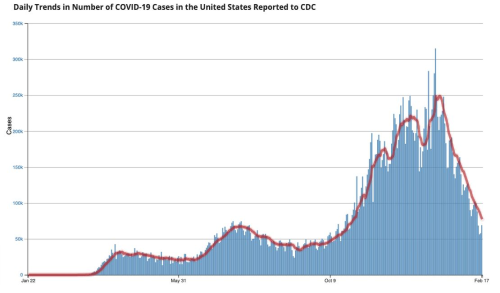 CDC graph
Though we all know that our fear-driven society and its power-hungry leaders will refuse to recognize this reality in order to permit life to return to a sane normality, the evidence now shows that the '20-'21 winter season of COVID is now ending.
The big news is that there has been a drastic decline in reported infections since the beginning of the year.
According to the CDC COVID Data Tracker, there were 283,640 new cases on January 2, 2021. As of February 17, there were 69,165 cases. That represents a drop of 75.05 percent in six weeks — for all you fact-checkers out there.
First, we must recognize that the high numbers this season that seem to dwarf last year are caused largely by the increased effort to test everyone. The numbers also do not indicate COVID cases (where someone is sick from the disease) but include everyone who was tested and found positive, even if they were not sick at all. To call all positive detections as COVID cases is dishonest, and would have never been done in the past. Sadly, the idea of honest reporting has long disappeared.
Second, we must remember that these numbers are likely also inflated because it is financially advantageous for medical officials to report a coronavirus detection, even if it has not been clearly established. There has also been an effort to distort the numbers to make them seem worse than they are.
Finally, most news sources have been combining the statistics from last year's COVID season with this year's in order to inflate the numbers. This is bad reporting. The proper thing to do is to report them as separate seasons. If you did this you find that the numbers make the coronavirus not much different than the Hong Kong flu, when adjusted for population. It might be worse, but not unduly so.
For COVID, separating its annual seasons has been made more little difficult because the lockdowns and the insistence that everyone wear masks (almost all of which were worn improperly) I think caused a second unprecedented COVID summer season. That summer rise would likely not have happened if we had allowed people to behave normally in the summer weather, when such respiratory illnesses fade. Instead, everyone wore unsanitary masks that they touched constantly (increasing the changes they were exposed to the pathogen) while confining them indoors where such viruses prosper.
Regardless, the data strongly suggests this year's coronavirus season is waning, as always happens with such respiratory diseases with the coming of spring. And certainly the arrival of vaccines against COVID is contributing to this decline as well.
All good news. Are you ready to cheer, or will you find ways to see only the half-filled part of the glass?
Nor is this news all. Two more stories in the past few weeks now give us a far better and hopeful sense of the disease's scope and future.
» Read more