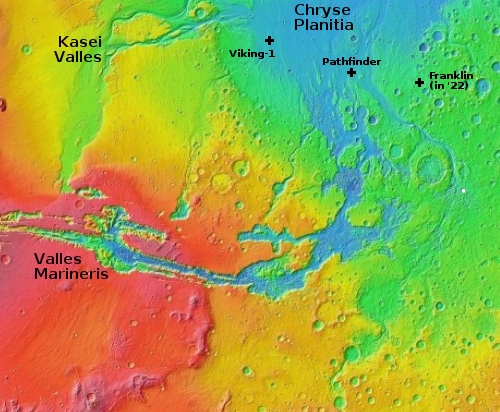 Today's cool image will do something a little different. We are going to begin in orbit, and by step-by-step zooming in we will hopefully illustrate the great challenge of finding cool geological features on the surface of Mars.
The first image to the right is an overview map of the Valles Marineris region. To its east, centered at the white dot, is a vast region of chaos terrain, endless small buttes and mesas and criss-crossing canyons. Travel in this region will always be difficult, and will likely always required some form of helicopter to get from point to point.
What is hidden in that terrain? Well, to find out you need to take a global survey from orbit with a good enough resolution to reveal some details. Below is a mosaic made from two wide angle context camera pictures taken by Mars Reconnaissance Orbiter (MRO).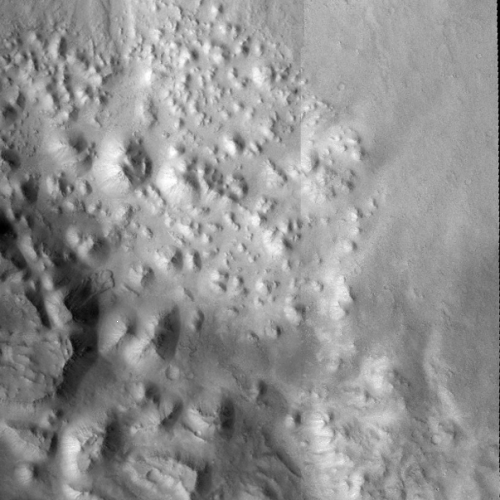 For full images go here and here.
This mosaic, rotated, cropped, and reduced to post here, only captures a small section of the long north-south strips taken by MRO. The orbiter has taken tens of thousands of these strips, in its effort to produce a global map of Mars that shows some reasonable detail.
Do you see anything in this mosaic that looks interesting? Scientists need to pour over such images, one by one, searching for geology that is both puzzling and revealing. Sometimes the features are obvious, such as a single blobby crater in the flat relatively featureless northern lowlands.
Sometimes however the search can be slow and time-consuming because the terrain is complex, as is the example to the right. The many mesas and canyons can hide many interesting features. Since MRO can't possibly take high resolution photos of everything, scientists have to pick and choose.
The planetary scientists who use MRO did find something here worth looking at in high resolution. Can you find it? Normally I'd provide a box to indicate it, but this time I'd thought I'd challenge my readers. Before you click below to see the feature, see if you can find it yourself in this mosaic. What would you want to photograph in high resolution?
» Read more