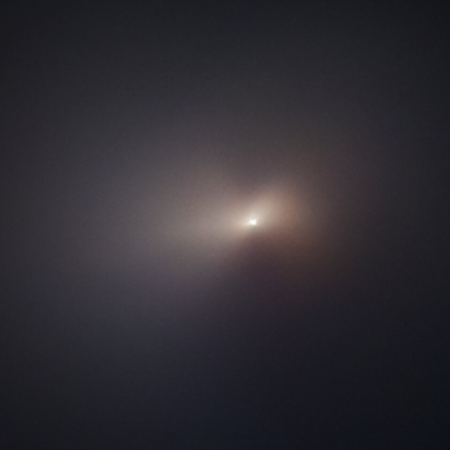 Click for full image.
Using the Hubble Space Telescope, astronomers have obtained close-up images of Comet NEOWISE after it had survived its closest approach to the Sun. The photo to the right, cropped and reduced to post here, is one of Hubble's two images.
Comets often break apart due to thermal and gravitational stresses at such close encounters, but Hubble's view suggests that NEOWISE's solid nucleus stayed intact. This heart of the comet is too small to be seen directly by Hubble. The ball of ice may be no more than 4.8 kilometres across. But the Hubble image does captures a portion of the vast cloud of gas and dust enveloping the nucleus, which measures about 18 000 kilometres across in this image.

Hubble's observation also resolves a pair of jets from the nucleus shooting out in opposite directions. They emerge from the comet's core as cones of dust and gas, and then are curved into broader fan-like structures by the rotation of the nucleus. Jets are the result of ice sublimating beneath the surface with the resulting dust/gas being squeezed out at high velocity.
Below the fold is a six-second movie made of Hubble's two images, showing how the jets changed over a three hour time period on August 8th.
» Read more