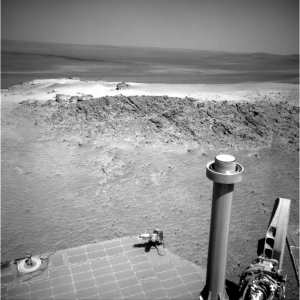 Opportunity has settled into its winter haven.
NASA's Mars Exploration Rover Opportunity will spend the next few months during the coldest part of Martian winter at Greeley Haven, an outcrop of rock on Mars recently named informally to honor Ronald Greeley, Arizona State University Regents' professor of planetary geology, who died October 27, 2011.
I met and interviewed Greeley a number of times in writing articles for magazines like Sky & Telescope and Astronomy. For years he was a central figure in the field of planetary geology, and his life effort is one of the prime reasons the United States has dominated this field for most of the past half century, with a fleet of planetary missions presently at Mercury, Mars, Jupiter, Saturn, and Pluto, with many more to come.
The article notes that the International Astronomical Union (IAU) has the job of naming objects in space, and could take years to honor Greeley. I say that if these scientists, the true explorers of Mars, want to name something for him, then they should go ahead, and future generations should honor that choice, regardless of what the IAU says.