The tenth anniversary retrospective of Behind the Black continues: This essay, portions of which was adapted from the fourth chapter of Genesis: The Story of Apollo 8, was posted originally on May 25, 2011, the fiftieth anniversary of Kennedy's speech to Congress where he committed the nation to landing a man on the Moon by the end of the decade.
It seems fitting to repost on July 4th, Independence Day.
————————————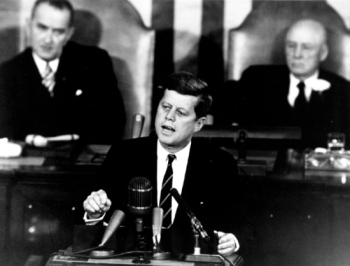 "We stand for freedom."
Fifty years ago today, John Kennedy stood before Congress and the nation and declared that the United States was going to the Moon. Amazingly, though this is by far the most remembered speech Kennedy ever gave, very few people remember why he gave the speech, and what he was actually trying to achieve by making it.
Above all, going to the Moon and exploring space was not his primary goal.
» Read more