Please consider donating to Behind the Black, by giving either a one-time contribution or a regular subscription, as outlined in the tip jar to the right or below. Your support will allow me to continue covering science and culture as I have for the past twenty years, independent and free from any outside influence.

NOAA today posted its monthly update of the solar cycle, showing the sunspot activity for the Sun in February. As I have done monthly for the past five years, I am posting it here below the fold, with annotations to give it context.
In the past two months I have noted how the ramp down from solar maximum has closely tracked the 2009 prediction of the solar scientist community (indicated by the red curve).
In February, however, that close tracking ended, with sunspots plunging far below the prediction. Note also that sunspot activity in March has also been weak.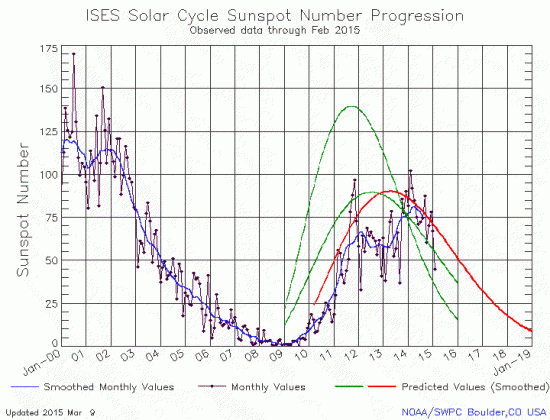 The graph above has been modified to show the predictions of the solar science community. The green curves show the community's two original predictions from April 2007, with half the scientists predicting a very strong maximum and half predicting a weak one. The red curve is their revised May 2009 prediction.
Historically the ramp down from solar maximum is slower than the ramp up. You can see this if you look closely at the red and green prediction curves, which are steeper on the upside but more stretched out on the downside. The activity now, however, suggests a faster ramp down than normal, though no one should be surprised if activity increases again and offsets this period of low activity. To find out what will happen we will just have to wait and see. At the moment the solar scientists really don't understand the reasons why sunspot activity itself has remained so low beginning with the solar minimum in 2009.
I want to add a thank you to the people who run the NOAA website. In upgrading their website for NOAA's Space Weather Prediction Center, they had initially left out the old links to the press releases for the 2007 and 2009 predictions. I had emailed them about this, and Brent Gordon of their website team responded, making sure that these press releases were once again on line and available to the public.