The last few days have not been good ones for American free speech and freedom. Not only have we seen violence perpetrated to silence the free expression of dissent, we have seen an effort after the fact to use that violence as a club for destroying any opposition to the liberal and leftist dogma that dominates the American political and academic community.
The following links will provide a nice overview of how our cultural elites, especially on the left, have responded to this weekend's terrible events in Charlottesville, Virginia, where one person was killed and almost twenty injured when a car rammed into a crowd of competing racist demonstrators.
That is how our elites responded, not with conciliatory remarks aimed at bringing people together, but with anger and hate, hate of Trump, hate of the Republican Party, hate of the NRA, hate of whites, hate for anyone that dared disagree with their leftist agenda. Then, when Trump issued a statement condemning all violence in the name of bigotry, the response was equally hateful:

This quote from the NBC story is typical:
"President Trump condemned the violence there on Saturday but he did not specifically speak to the white nationalism that was on display," complained Anchor Willie Geist as he was getting ready to hand the report off to Correspondent Kelly O'Donnell. "The President also did not respond to questions, including one about the political support he enjoys among some white supremacists," she chided.
It wasn't good enough that Trump condemned hate and bigotry. He had to express hate for a specific group. This is just like when the racist Black Lives Matter group first organized. It wasn't good enough then to say "All lives matter." Black lives mattered more, and you had to say that or else they went after you with pitchforks and torches, calling you racist and bigoted even though it was the BLM group who was racist and bigoted.
Hate. Hate. Hate!
Meanwhile, the violence against anyone who disagrees with the fascist left continues to escalate. The following list of stories only gives a hint at how bad it is getting. And it doesn't matter if the people attacked were white supremacists or simply ordinary Trump voters who don't hate anyone. The fact that they were attacked, violently, merely because of their opinions, is the problem.
The Washington Post story is especially hilarious, in that it actually does everything it can to make believe the general violence against everyone on the right was not happening.
In reality, antifa actions were relatively isolated, focused on disrupting white nationalist rallies — which, in turn, fed off the idea that the violent left needed to be stopped in the streets.
To the Post and its writer, anyone who dissents from leftwing orthodoxy must be a "white nationalist," which of course now justifies the violence against them. Who can oppose stopping Nazis? Moreover, such violence has been "relatively isolated." There is nothing to see here, nothing at all!
The truth however has been far different. The violence this weekend against a bigoted white nationalist demonstration was actually an exception that proves the rule. Attacks against ordinary Republicans and conservatives (the two are not the same) has grown steadily in the past two years, as shown by the list of attacks in the Daily Caller link above. During the campaign riots against Trump rallies, with attendees getting physically attacked, became the norm, with the authorities, generally in urban areas controlled by Democrats, doing little to stop it. Since then the violence has spread to almost any pro-Republican demonstration or gathering.
This past weekend's events only reinforce this trend, The links below provide some actual information about what happened in Charlottesville, while providing some context for understanding the terrible events there.
What seems to have happened is that the local authorities manipulated things so that the two sides, one advocating pro-white bigotry and the other advocating anti-white bigotry, would be funneled together into a confined space. Then the police backed off and let them attack each other, which was no surprise since both groups were bigoted, consumed with hate for their opponents. The result: someone died for no reason.
The response from the left to these events, by both Democratic politicians and their allies in the leftwing press and as shown in the links above, demonstrate however how little they care about these actual facts. Instead, they used the tragedy as a tool to attack their political opponents, and on doing so they literally made a celebration not only of their hatred but of their ignorance about what actually happened in Charlottesville, since what they said had little real connection with reality.
By the way, does anyone remember the pro-Nazi demonstration planned for Skokie, Illinois in 1978, supported and defended successfully in the courts by the ACLU? Then, it was our responsibility to allow free speech to occur, no matter how offensive and vile. And it was the left that was defending such opinions. More important, when the demonstration did take place, not in Skokie, the Jewish neighborhood north of Chicago where many holocaust survivors lived, but in downtown Chicago, nothing happened. There was no violence, only disgust and contempt for these anti-Semites and white supremacists, expressed freely in newspapers and books and detailed media reports. As a result of this vigorous defense of freedom and equal rights, the neo-Nazis movement in Illinois ended up withering away.
Now such freedom of speech is just not acceptable. It must be stopped, and stopped as violently as possible. And in stopping any dissent, we end up celebrating our ignorance, since without a willingness to at least hear the other point of view, no matter how vile, and debate it vigorously, we make it impossible to defeat it. These bad and bigoted ideas will flourish in ignorance, made martyrs by being oppressed. Worse, the oppression will provide society no way to air more reasonable dissenting ideas. The bigotry will fester, unchallenged.
As the ACLU used to say, when it was not a partisan Democratic operation, the answer to bad speech is more speech. Unfortunately, it increasingly appears that America's cultural elites are no longer so open-mindedness.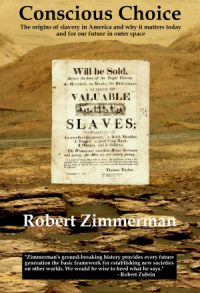 Now available in hardback and paperback as well as ebook!
From the press release: In this ground-breaking new history of early America, historian Robert Zimmerman not only exposes the lie behind The New York Times 1619 Project that falsely claims slavery is central to the history of the United States, he also provides profound lessons about the nature of human societies, lessons important for Americans today as well as for all future settlers on Mars and elsewhere in space.
Conscious Choice: The origins of slavery in America and why it matters today and for our future in outer space
, is a riveting page-turning story that documents how slavery slowly became pervasive in the southern British colonies of North America, colonies founded by a people and culture that not only did not allow slavery but in every way were hostile to the practice.
Conscious Choice
does more however. In telling the tragic history of the Virginia colony and the rise of slavery there, Zimmerman lays out the proper path for creating healthy societies in places like the Moon and Mars.
"Zimmerman's ground-breaking history provides every future generation the basic framework for establishing new societies on other worlds. We would be wise to heed what he says." —Robert Zubrin, founder of founder of the Mars Society.
All editions available at Amazon, Barnes & Noble, and all book vendors. The ebook can be purchased direct from my ebook publisher, ebookit, in which case you don't support the big tech companies and I get a bigger cut much sooner. Note that the price for the ebook, $3.99, goes up to $5.99 on September 1, 2022.
Autographed printed copies are also available at discount directly from me (hardback $24.95; paperback $14.95). Just email me at zimmerman @ nasw dot org.