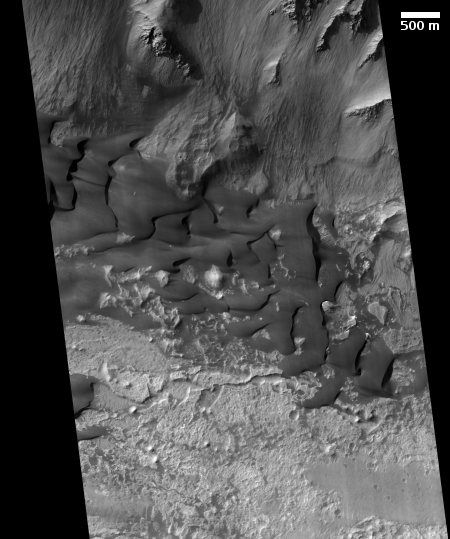 Click for full image.
The vastness of Mars is sometimes hard to fathom. While the planet is much smaller than Earth, its entire global surface is approximately the same as the Earth's land area. This is a lot of territory. It took humanity many tens of thousands of centuries to expand outward to settle all of it. It took even longer before humanity was successfully able to map all of the Earth so that its entire surface was known to all humans, a task that was only completed a handful of centuries ago.
While we now have the technology to quickly map the entire globe of a planet like Mars, the devil is always in the details. At this time the resolution of our global maps give us only a glimpse of the Martian surface.
The image to the right, reduced and cropped to post here, is a good example. Taken by the high resolution camera on Mars Reconnaissance Orbiter (MRO) on October 30, 2019, it shows a set of large dunes on the northern floor of a side canyon on Mars that is part of Coprates Chasma, a canyon that forms only a small part of the vast Valles Marineris canyon system east of the giant volcanoes of the Tharsis Bulge.
The sand of these dunes is mostly volcanic material, dark basalt that was deposited as lava from those giant volcanoes, then later ground down in landslides and erosion to be recycled as sand that formed dunes trapped within the canyon bottom. The dunes themselves are slowly moving eastward, driven mostly by the predominate west-to-east winds that blow down this side canyon of Coprates Chasma. The motion is very slow, so slow that even though the image title is "Coprates Chasma Dune Changes", I was unable to spot any changes when I compared this 2019 image with a photo taken in June 2019.
To find out what had changed, I contacted Matt Chojnacki of the Lunar and Planetary Laboratory at the University of Arizona, who has been studying the nature of the sand dunes in Valles Marineris. After making a quick preliminary blink test using more sophisticate tools than I have available, he found "minor advancements. The rocks move a bit too in places." Without a full analysis he also added, "I can tell some dune crests have moved to the east."
The research by Chojnacki and others has found that the dunes within Valles Marineris are in many ways different than dunes found elsewhere in the mid-latitudes on Mars, suggesting that being trapped within this giant canyon has produced some specific regional features. They tend to be darker, the canyon contains several sand dune seas, called ergs (only seen elsewhere on Mars in the polar regions), and the dunes tend to be more hardened, so that they change relatively little when compared to similar dunes elsewhere on Mars.
These particular dunes in Coprates Chasma however are not hardened, since if so they would have been covered by the landslides and material that comes down from the canyon's nearby northern slopes. Instead, they move, but appear to move far slower than similar dunes elsewhere on Mars.
To me, this image provides a good vehicle for getting a sense of the size of Valles Marineris. Coprates Chasma itself only one of about a dozen named sections of the entire Valles Marineris canyon system, and this particular image shows only the floor of a side canyon of Coprates. The map below gives an overview of the entire system.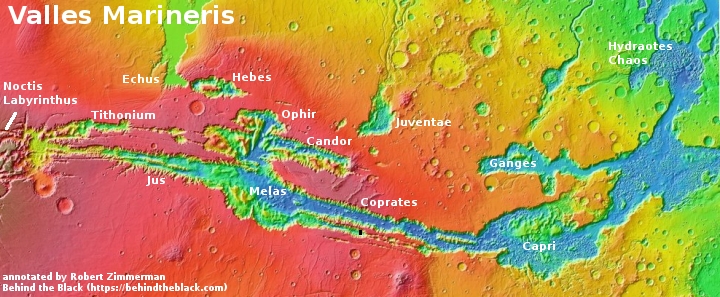 Valles Marineris is approximately 1,900 miles long, with a width as wide as 400 miles in some places, with a depth as much as five miles in places. It would cover much of the entire continental United States if placed on Earth.
The sand dunes in the photograph above are found in the smaller side canyon south of the main channel of Coprates Chasma, as indicated by the black box. This "smaller side canyon" is itself quite daunting in size, with a length and width comparable to the Grand Canyon, but five times as deep. And yet it is only a minor feature when compared to the larger chasm on which it is a part. And that chasm is only a small part of the much larger Valles Marineris.
There is a lot of territory on Mars, almost all of which we don't really know in detail. An exploration of centuries awaits the future generations who will come to Mars. I envy them that almost endless adventure.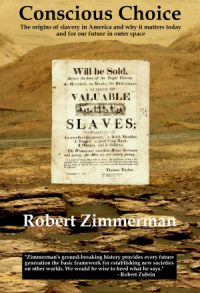 Now available in hardback and paperback as well as ebook!
From the press release: In this ground-breaking new history of early America, historian Robert Zimmerman not only exposes the lie behind The New York Times 1619 Project that falsely claims slavery is central to the history of the United States, he also provides profound lessons about the nature of human societies, lessons important for Americans today as well as for all future settlers on Mars and elsewhere in space.
Conscious Choice: The origins of slavery in America and why it matters today and for our future in outer space
, is a riveting page-turning story that documents how slavery slowly became pervasive in the southern British colonies of North America, colonies founded by a people and culture that not only did not allow slavery but in every way were hostile to the practice.
Conscious Choice
does more however. In telling the tragic history of the Virginia colony and the rise of slavery there, Zimmerman lays out the proper path for creating healthy societies in places like the Moon and Mars.
"Zimmerman's ground-breaking history provides every future generation the basic framework for establishing new societies on other worlds. We would be wise to heed what he says." —Robert Zubrin, founder of founder of the Mars Society.
All editions are available at Amazon, Barnes & Noble, and all book vendors, with the ebook priced at $5.99 before discount. The ebook can also be purchased direct from my ebook publisher, ebookit, in which case you don't support the big tech companies and I get a bigger cut much sooner.
Autographed printed copies are also available at discount directly from me (hardback $24.95; paperback $14.95; Shipping cost for either: $5.00). Just email me at zimmerman @ nasw dot org.