As it does every month, NOAA's Space Weather Prediction Center today released its monthly update showing the ongoing changes of the Sun's solar cycle sunspot activity. I have posted the graph below the fold.
For the fourth month in a row the Sun's sunspot activity has leaped upward. In fact, for the first time since I have been tracking sunspot activity, beginning in 2008, the Sun's sunspot activity exceeds the predicted activity by a significant amount. Since the end of the previous maximum, the Sun had consistently failed to meet the expectations of solar scientists by producing far fewer sunspots than expected.
In the past few months, however, the Sun has recovered, its activity firing upward, including some of the most active and largest sunspots in years.

It is therefore not surprising that the solar scientists at the Marshall Space Flight Center have once again adjusted upward their prediction for the next solar maximum, now calling for a peak sunspot number of 89 occurring in May 2013. This is the second time they have raised this prediction in the past two months, first raising it from 70 to 77 in October. Even at this larger number, the upcoming maximum is still expected to be the weakest in 80 years.
What the Sun will do after this maximum remains a mystery. Solar scientists even have reason to believe that the Sun might very well stop producing visible sunspots for decades. That the Sun is suddenly showing life today throws a kink into this theory.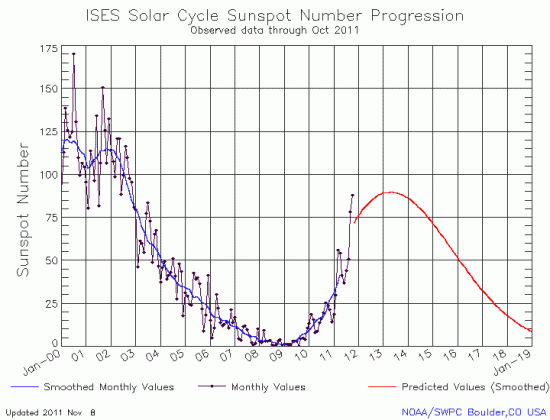 Please consider donating to Behind the Black, by giving either a one-time contribution or a regular subscription, as outlined in the tip jar below. Your support will allow me to continue covering science and culture as I have for the past twenty years, independent and free from any outside influence.
Regular readers can support Behind The Black with a contribution via paypal:
If Paypal doesn't work for you, you can support Behind The Black directly by sending your donation by check, payable to Robert Zimmerman, to

Behind The Black
c/o Robert Zimmerman
P.O.Box 1262
Cortaro, AZ 85652