A quick holiday fund-raising campaign for Behind the Black!
Scroll down to read this post.
In past years I have managed to avoid asking for donations for Behind the Black during the holiday season. My finances however now compel me to do a short one-week fund-raiser, from November 11 to November 17.
I do not use Twitter for ethical reasons, which I have been told cuts down on traffic to the website. So be it. Furthermore, Facebook has clearly acted in the past two years to limit traffic to Behind the Black, almost certainly for political reasons. So be this as well. Finally, I do not post outside ads, as I have found them annoying to my readers and not that profitable to me.
Therefore, I need to ask for the direct support from my readers. If you like what I do here, please consider contributing, either by making a one-time donation or a monthly subscription, as indicated in the tip jar below.
Regular readers can support Behind The Black with a contribution via paypal:
If Paypal doesn't work for you, you can support Behind The Black directly by sending your donation by check, payable to Robert Zimmerman, to

Behind The Black
c/o Robert Zimmerman
P.O.Box 1262
Cortaro, AZ 85652

Or you could consider purchasing one of my books, as indicated in the boxes scattered throughout the website. My histories of space exploration are award-winning and are aimed for the general public. All are page-turners, and all not only tell the story of the beginning of the human exploration of space, they also help explain why we are where we are today. And I also have a science fiction book available,
Pioneer
, which tells its own exciting story while trying to predict what life in space will be like two hundred years in the future.
Note that for this week only I am also having a sale on the purchase of the last 20 hardbacks of
Leaving Earth
. (Click on the link for more information about the book, which was endorsed by Arthur C. Clarke himself!) This award-winning out-of-print book is now only available as an ebook, but I still have a handful of hardbacks available, normally for sale for $70 plus $5 shipping. For this week only you can buy them, personally autographed by me, for $50 plus $5 shipping! Just send me a check, payable to Robert Zimmerman, to the address above, with a note saying that the money is for the
Leaving Earth
hardback.
Please consider donating. Your help will make it possible for me to continue to be an independent reporter in the field of space, science, technology, and culture.
Correction.Regular reader James Fincannon emailed me to say that he thinks the image below is an artist's impression. He is correct. I should have looked more closely at the press release. In reading the actual research paper [pdf] on the results it seems that the VLT did some very sophisticated spectroscopy, thereby measuring the uneven distribution of the velocity and density of the gas around the star. The image below was then created, based largely on Hubble images combined with the new data. In other words, this ground-based telescope did not match the abilities of a space-based telescope in any way. Had the Hubble images not existed the astronomers would have struggled to interpret their spectroscopic data.
Some important astronomy news: The European Southern Observatory's Very Large Telescope (VLT) has released this spectacular image of supernova 1987a, the first and so far only supernova visible to the naked eye since the invention of the telescope.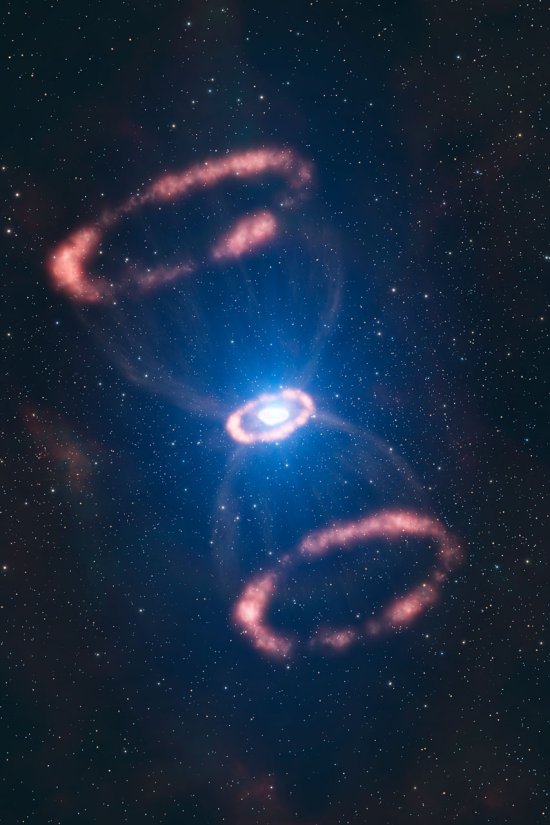 This image is important for two reasons. First, The data shows that the supernova explosion was not symmetrical, with more material being thrown outward in some directions than in others. This fact confirms what astronomers in recent years have increasingly come to believe: Supernovae explosions are not simple spherical bursts, but chaotic events ripping stars apart in a lopsided manner.
Second, this image demonstrates that ground-based telescopes are becoming amazingly good at doing what the Hubble Space Telescope has done routinely for the past two decades. Five years ago, no telescope on the ground could have resolved the inner ring of supernova 1987a. Only Hubble in space had that capability. Now, VLT can do it, almost as well as Hubble. Though a space-based telescope can still beat any ground-based telescope, it is great news that the technology for ground-based telescopes has improved so much, especially since there presently are no plans to replace Hubble.