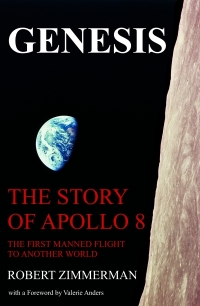 On Christmas Eve 1968 three Americans became the first humans to visit another world. What they did to celebrate was unexpected and profound, and will be remembered throughout all human history. Genesis: the Story of Apollo 8, Robert Zimmerman's classic history of humanity's first journey to another world, tells that story, and it is now available as both an ebook and an audiobook, both with a foreword by Valerie Anders and a new introduction by Robert Zimmerman.
The ebook is available everywhere for $5.99 (before discount) at
amazon
, or direct from my ebook publisher,
ebookit
.
The audiobook is also available at all these vendors, and is also
free with a 30-day trial membership to Audible.
"Not simply about one mission, [Genesis] is also the history of America's quest for the moon... Zimmerman has done a masterful job of tying disparate events together into a solid account of one of America's greatest human triumphs." --San Antonio Express-News
Correction.Regular reader James Fincannon emailed me to say that he thinks the image below is an artist's impression. He is correct. I should have looked more closely at the press release. In reading the actual research paper [pdf] on the results it seems that the VLT did some very sophisticated spectroscopy, thereby measuring the uneven distribution of the velocity and density of the gas around the star. The image below was then created, based largely on Hubble images combined with the new data. In other words, this ground-based telescope did not match the abilities of a space-based telescope in any way. Had the Hubble images not existed the astronomers would have struggled to interpret their spectroscopic data.
Some important astronomy news: The European Southern Observatory's Very Large Telescope (VLT) has released this spectacular image of supernova 1987a, the first and so far only supernova visible to the naked eye since the invention of the telescope.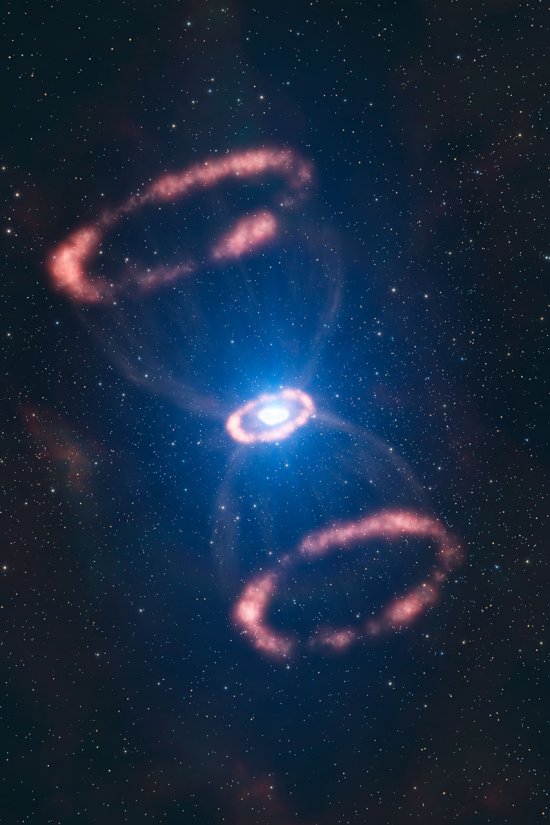 This image is important for two reasons. First, The data shows that the supernova explosion was not symmetrical, with more material being thrown outward in some directions than in others. This fact confirms what astronomers in recent years have increasingly come to believe: Supernovae explosions are not simple spherical bursts, but chaotic events ripping stars apart in a lopsided manner.
Second, this image demonstrates that ground-based telescopes are becoming amazingly good at doing what the Hubble Space Telescope has done routinely for the past two decades. Five years ago, no telescope on the ground could have resolved the inner ring of supernova 1987a. Only Hubble in space had that capability. Now, VLT can do it, almost as well as Hubble. Though a space-based telescope can still beat any ground-based telescope, it is great news that the technology for ground-based telescopes has improved so much, especially since there presently are no plans to replace Hubble.
Readers!
My July fund-raiser for Behind the Black is now over. The support from my readers was unprecedented, making this July campaign the best ever, twice over. What a marvelous way to celebrate the website's tenth anniversary!

Thank you! The number of donations in July, and continuing now at the beginning of August, is too many for me to thank you all personally. Please forgive me by accepting my thank you here, in public, on the website.

If you did not donate or subscribe in July and still wish to, note that the tip jar remains available year round.
Regular readers can support Behind The Black with a contribution via paypal:
If Paypal doesn't work for you, you can support Behind The Black directly by sending your donation by check, payable to Robert Zimmerman, to

Behind The Black
c/o Robert Zimmerman
P.O.Box 1262
Cortaro, AZ 85652