For the past week there has been a new spat of articles written about human caused global warming, instigated by an op-ed (subscription required) written by scientist Richard Muller in the New York Times, where he wrote:
Three years ago I identified problems in previous climate studies that, in my mind, threw doubt on the very existence of global warming. Last year, following an intensive research effort involving a dozen scientists, I concluded that global warming was real and that the prior estimates of the rate of warming were correct. I'm now going a step further: Humans are almost entirely the cause.
Not surprisingly, the mainstream press has jumped on this op-ed and the public release of new data by Muller's team as further proof that the debate over global warming is settled and we should all bow to our governmental overlords and agree to any regulations they propose to save the planet.
Not so fast.

Yesterday there was this remarkable article published on the blog page of the journal Nature, in which science writer Jeff Tollefson did something I have not seen done by a mainstream journalist at a mainstream publication in literally years: provide a balanced fair-minded look at the issue, not only noting Muller's conclusions but also outlining the honest and legitimate questions raised by those scientists who disagree with him.
Tollefson correctly noted these valid points:
Muller's data release is not peer-reviewed. He bypassed this process, to the chagrin of some of his reviewers.
At least one member of Muller's own team refused to sign the release, questioning its validity.
Even global warming scientist Benjamin Santer questioned the release. Santer was one of the scientists whose emails in the climategate scandal indicated a willingness on his part to squelch skeptical debate about global warming.
There are serious issues with the data itself, centered on the location of some temperature gauges.
Finally, Tollefson recognizes the work of Anthony Watts and others, outlining in detail the problems with the temperature data. Like Muller, Watts's team has bypassed peer-review to release their results early, but they did so apparently in response to Muller's release.
While I applaud Tollefson for doing his job properly, I find it depressing that his article is noteworthy for this fact. What Tollefson has done should be the standard, not the exception. That his report is an exception indicates how far modern science journalism has fallen by the politicization of the climate research field.
One final note: Even if Muller's data is 100% correct, there is nothing in it to justify his claim that the increase in temperature is solely due to human behavior. All his data shows is that the global temperatures has risen. It does not show why. Fossil fuels might be a factor, but for all we know from this data, the increase in temperatures could be the Earth's final warming as we transition out of the Little Ice Age in the 1600s.
For a scientist to make this unjustified leap is one reason why I and others should remain skeptical of his results.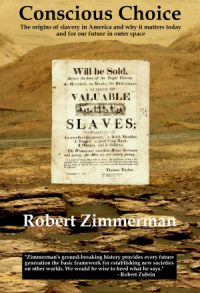 From the press release: In this ground-breaking new history of early America, historian Robert Zimmerman not only exposes the lie behind The New York Times 1619 Project that falsely claims slavery is central to the history of the United States, he also provides profound lessons about the nature of human societies, lessons important for Americans today as well as for all future settlers on Mars and elsewhere in space.
Conscious Choice: The origins of slavery in America and why it matters today and for our future in outer space
, is a riveting page-turning story that documents how slavery slowly became pervasive in the southern British colonies of North America, colonies founded by a people and culture that not only did not allow slavery but in every way were hostile to the practice.
Conscious Choice
does more however. In telling the tragic history of the Virginia colony and the rise of slavery there, Zimmerman lays out the proper path for creating healthy societies in places like the Moon and Mars.
"Zimmerman's ground-breaking history provides every future generation the basic framework for establishing new societies on other worlds. We would be wise to heed what he says." —Robert Zubrin, founder of founder of the Mars Society.
Available everywhere for $3.99 (before discount) at Amazon, Barnes & Noble, and all ebook vendors, or direct from the ebook publisher, ebookit. And if you buy it from ebookit you don't support the big tech companies and I get a bigger cut much sooner.