As my regular readers know, I periodically take trips to Israel to visit family. When I return, I then post my impressions and what I have learned, thereby providing an eye-witness perspective to the Israeli-Palestinian conflict. Previous essays from earlier visits are as follows, with the first five from my 2013 visit and the last from my visit in 2014: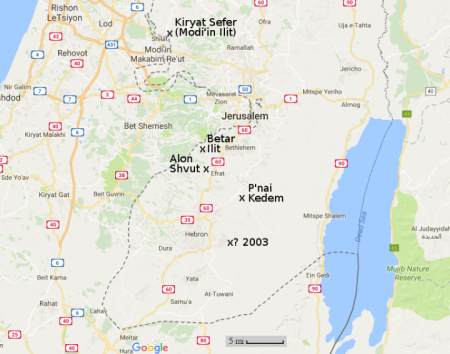 Having just returned from another visit, I have some new impressions. Above all, I think it worthwhile to note that in all these visits, I have routinely stayed with relatives who live in West Bank settlements. In fact, I have now visited or stayed in five different settlements. The map on the right shows the locations of these settlements, marked with an X. If you click on the image you can see a higher resolution version.
Unfortunately, I do not remember the name of the settlement from my 2003 visit, though I know it was west of Hebron. It might have been Carmel, but I am not sure. I do know I have indicated its location with reasonable accuracy.
Regardless, there are a number of things we can learn from my visits. The largest settlements, Alon Shvut, Kiryat Sefer, and Beitar, are all close to the 1949 Armistice border. They are also all relatively close to Jerusalem and thus act for many as suburbs of that larger city. As I wrote in 2013,

Then there is the question of why Israelis even settle on this land. The assumption I and most people make is that they are there to gain and solidify their possession of the West Bank, for both political and ideological reasons. While partly true, this is actually not the main reason why people buy homes or rent apartments in these HOAs. Instead, they do it for basic economic reasons. Because the title of the West Bank is under dispute, and because it is also a place where there is a recognized threat of violence, the land is simply cheaper to buy. Renting an apartment in Jerusalem or in Israel is far more expensive. So is buying land. If you want to live near Jerusalem but don't have a lot of money, living in a West Bank gated community is a smart and economical choice.

In the end, this effort by Israelis to find affordable housing raises the value of the West Bank land, which has resulted in an increase in construction by both Israelis and Arabs. The image below, taken from the hilltop fortress of Herod in the West Bank just a few miles south of Jerusalem, shows both an Israeli settlement (with red roofs) and two Arab developments close by in the background, along with a great deal of other construction. And this image is very typical of the countryside surrounding Jerusalem in the West Bank.
I must add that I now think I then underestimated the political reasons for living in these settlements. In many cases, these settlements are lived in by the more religious who do not commute to jobs in Jerusalem, but instead stay in their settlement to study Torah in the local kolel (an institute for full-time study). Nonetheless, the economic and practical reasons for these settlements cannot be ignored.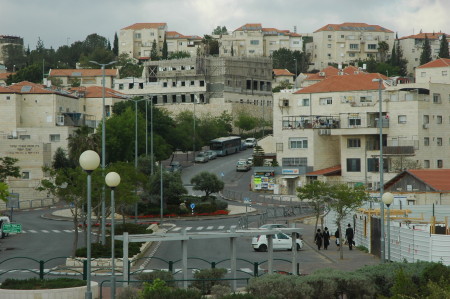 More important, these larger settlements look nothing like what most people think a West Bank settlement should look like. The general expectation is a small collection of ramshackle mobile homes on top of a hill, surrounded by barbed a wire fence and looking out at nearby Arab villages that have been usurped from this property. Not only have no Arab villages been usurped, but these larger settlements are nothing like ramshackle mobile homes. On the right is a picture of Beitar Ilit. The city, which has a population of about 50,000, is similar to Kiryat Sefer (pop. 60,000) and Alon Shvut (part of the larger Gush Etzion region, pop. 70,000). All resemble neighborhoods in large urban cities, though their locations on steep hillsides forces their architecture to more resemble the terraced seaside villages of Greece and Italy.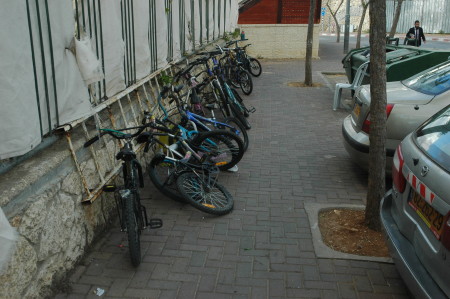 Of their many distinctive features, the one that struck me most this trip was the number of children. It seemed to me that the ratio of children to adults had to be close to 4 to 1, if not more. Every block had a small playground, and every playground was packed with kids when school is over. Furthermore, every building lobby or sidewalk was crowded with kids' bicycles (see picture), since no one's apartments are really large enough to store them.
These large cities, filled with little kids, forces one to rethink any proposed two-state peace plan that says this land will be given to the Palestinian Authority. Will the Palestinians allow these children to remain in their territory, considering its avowed hatred of Jews and a desire to remove them all? And if they want to remove them, how will they do it? I fear the answer to that last question.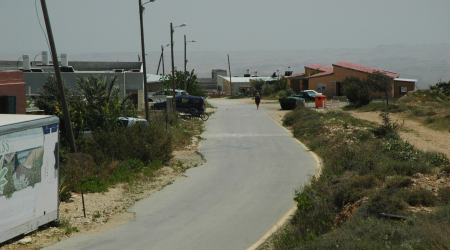 In this trip I did get to visit one small stereotypical West Bank settlement, P'nai Kedem, as shown on the right. Located farther to the east on the edge of the Jerusalem urban area, this settlement is relatively new, occupied by only 54 families. It seemed that about half were in mobile homes, while the rest were eclectic private residences of all designs. The bigger cities had architecture that all looked the same, because of regulations and economics. Here, every home was unique. One was a log cabin. Another was a geodesic dome. Several looked like the typical southwest homes you see in Tucson. Since these were on private lots, there were fewer rules on how things could be built, so the owners took advantage of this to build to their personal taste. This, along with the lower land values because this location is more remote, are reasons people move here.
The land itself on which P'nai Kedem is built is Israeli owned. They know this because a Palestinian challenged their legal title, which required them to do a thorough title search that eventually established without doubt that the land was purchased by Jewish settlers legally. It belongs to them.
More important, the land was empty when purchased. In fact, the land is empty for miles around. Below is a panorama I took looking to the south and east from one end of P'nai Kedem. You can see the full resolution by clicking on the image. This settlement is on the eastern edge of all settlements near Jerusalem, both Israeli and Palestinian. To the east is practically nothing, all the way to the Dead Sea, which I was told could be seen on a less hazy day. There is more than enough room for everyone to build their own homes and live here.

The bottom line as always is that ordinary people should be allowed to live wherever they want. They have that right. It is what ordinary people do, both Arabs and Jews. Anyone who suggests that one or the other should be banned, because of their religion or ethnicity, reveals themselves as either a bigot, or someone willing to appease bigotry for mere convenience. We should not tolerate it.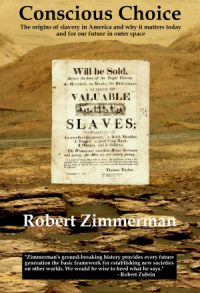 Now available in hardback and paperback as well as ebook!
From the press release: In this ground-breaking new history of early America, historian Robert Zimmerman not only exposes the lie behind The New York Times 1619 Project that falsely claims slavery is central to the history of the United States, he also provides profound lessons about the nature of human societies, lessons important for Americans today as well as for all future settlers on Mars and elsewhere in space.
Conscious Choice: The origins of slavery in America and why it matters today and for our future in outer space
, is a riveting page-turning story that documents how slavery slowly became pervasive in the southern British colonies of North America, colonies founded by a people and culture that not only did not allow slavery but in every way were hostile to the practice.
Conscious Choice
does more however. In telling the tragic history of the Virginia colony and the rise of slavery there, Zimmerman lays out the proper path for creating healthy societies in places like the Moon and Mars.
"Zimmerman's ground-breaking history provides every future generation the basic framework for establishing new societies on other worlds. We would be wise to heed what he says." —Robert Zubrin, founder of founder of the Mars Society.
All editions are available at Amazon, Barnes & Noble, and all book vendors, with the ebook priced at $5.99 before discount. The ebook can also be purchased direct from my ebook publisher, ebookit, in which case you don't support the big tech companies and I get a bigger cut much sooner.
Autographed printed copies are also available at discount directly from me (hardback $24.95; paperback $14.95; Shipping cost for either: $5.00). Just email me at zimmerman @ nasw dot org.