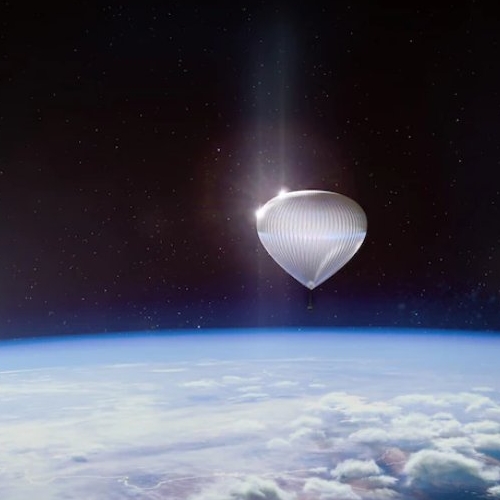 An artist's impression of a World View tourist balloon in flight
The future of space tourism is not going to be limited to rockets, no matter how romantic those rockets might be. For a lot of people, getting into space might not be a good option simply because of cost. Moreover, even if one could afford the cheaper suborbital flights presently offered by Blue Origin and are promised someday from Virgin Galactic, the short length of the journey, no more than ten minutes in space, could for many people make these flights not worth doing.
There is an alternative however, one that won't get you into space, but will fly you high enough that you will be above 90% of the atmosphere, see the curve of the Earth, and get to do it for hours for far less money. This alternative comes from the high altitude balloon companies that are now working hard to begin flying tourists sometime in the next two years.
There are presently two American companies on the verge of flying tourists to up about 20 miles altitude. One is Space Perspective in Florida. If all goes as planned, it will begin flying passengers on its Neptune balloon by '24, at a ticket price of $125K per head. It is presently accepting reservations with a $1,000 deposit.
The second company is Tucson-based World View. Up until 2019 the company had been planning to fly tourists, but a change in leadership brought on by its failure to meet the terms of a local development deal caused it to put those plans aside. Then in 2021 it restarted those plans.
Tickets will cost $50,000 per person, with World View providing what it calls "flexible financing options." The company expects the first flight no earlier than early 2024.
At the moment about 1000 people have put down a deposit of $500 for a flight.
Both companies will be offering flights lasting most of one day, with additional pre- and post-flight activities.
On May 18, 2022, I attended an event held by World View at its Tucson headquarters. The event showcased the company's talent, its facilities, and the value of hi-tech high stratospheric balloons. To begin the event, CEO Ryan Hartman gave a short presentation describing his goals for the company and the strategy he is following to reach them. The two graphics below come from that presentation, and provide I think the clearest outline of those goals and strategy.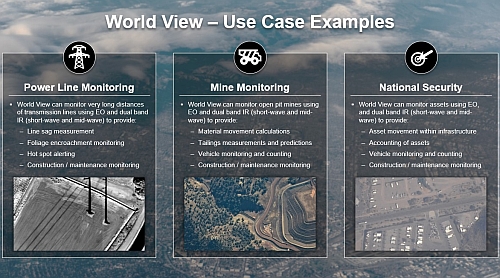 The first graphic to the right shows three main areas where high altitude balloons can provide information comparable or even superior to satellites, but do it for far less and with a much more focused approach over specific areas. In the case of both mines and power distribution, a high altitude balloon flying on a multi-day mission can gather far more detailed information more continuously than any satellite constellation. Similarly, for national security the ability of a balloon to fly over an area of conflict and gather specific reconnaissance data is in many ways superior to what satellites can provide.
In 2019 World View demonstrated its ability to do this kind of focused long-term balloon flights, with a 16 day mission, which included station-keeping for more than two days over one specific area. The company has since completed a mission lasting 45 days, launching its balloon in Arizona, flying it to Florida where it maintained its position and then landed.
The company's vehicles are designed to mostly reusable, thus saving money. The gondola that carries the payloads returns to Earth using a parafoil parachute, which allows it to land very precisely and be quickly recovered.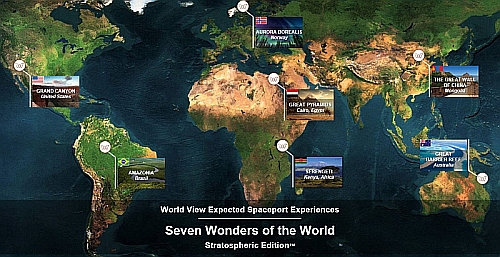 Click for full image.
The second graphic to the right illustrates Hartman's strategy for winning customers to its tourist flights. Rather than launch from one place on Earth, he decided to establish seven different locations worldwide where flights would lift off, each chosen because of their already well-known tourist value. Thus, World View's tourist flights will eventually be flying over tourist hotspots like the Grand Canyon, the great pyramids of Egypt, and the Great Barrier Reef in Australia.
Imagine spending six hours or more floating high above the Grand Canyon and its nearby canyonlands, from the edge of space. If that kind of experience won't attract customers, I don't know what will.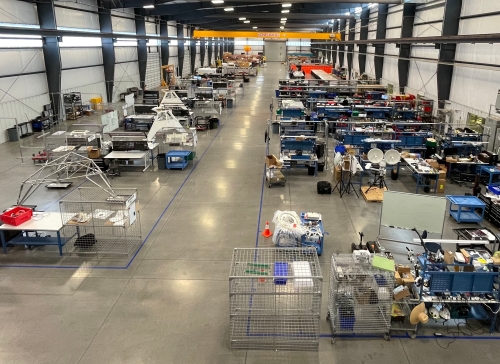 The High Bay where World View assembles its balloons. Assembly begins
in the foreground and works its way to the far end. Click for full image.
In addition, Hartman's plan is to have local facilities at most of these locations, not only to reduce cost but to encourage good relations with the local community by producing jobs there.
The World View ticket price — $50K — also appears wise. It is very comparable to prices tourists pay for other expensive high adventure vacations, such as going to Antarctica or to the Himalayas.
While this lower price also appears to give it a leg up on Space Perspective's $125K price, the two companies appear to be offering slightly different flight experiences. It appears a Space Perspective flight will carry fewer people (9 vs 10) in a slightly more luxurious cabin, thus making its flights a bit more comfortable.
Of course, much of this could change, as the cabins for both companies are still in their development stages.
Regardless, balloon customers will have options, at the very start. And if you really want to get into space, you will still have Blue Origin's suborbital New Shepard spacecraft to consider. Or you could even shell out some big bucks and go for an orbital tourist flight lasting a week or more with either SpaceX or Axiom.
The bottom line: The tourism industry for flying passengers into space, or close to it, is widening rapidly. In the past year we have not only had both commercial suborbital (4) and orbital tourist flights (3), these will soon be joined by near-space stratospheric journeys.
And the competition as always will encourage innovation and efficiency, which of course will result in lower costs that will allow more people to buy tickets, which in turn will encourage more companies to enter the market.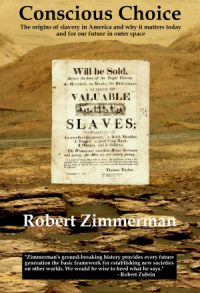 Now available in hardback and paperback as well as ebook!
From the press release: In this ground-breaking new history of early America, historian Robert Zimmerman not only exposes the lie behind The New York Times 1619 Project that falsely claims slavery is central to the history of the United States, he also provides profound lessons about the nature of human societies, lessons important for Americans today as well as for all future settlers on Mars and elsewhere in space.
Conscious Choice: The origins of slavery in America and why it matters today and for our future in outer space
, is a riveting page-turning story that documents how slavery slowly became pervasive in the southern British colonies of North America, colonies founded by a people and culture that not only did not allow slavery but in every way were hostile to the practice.
Conscious Choice
does more however. In telling the tragic history of the Virginia colony and the rise of slavery there, Zimmerman lays out the proper path for creating healthy societies in places like the Moon and Mars.
"Zimmerman's ground-breaking history provides every future generation the basic framework for establishing new societies on other worlds. We would be wise to heed what he says." —Robert Zubrin, founder of founder of the Mars Society.
All editions are available at Amazon, Barnes & Noble, and all book vendors, with the ebook priced at $5.99 before discount. The ebook can also be purchased direct from my ebook publisher, ebookit, in which case you don't support the big tech companies and I get a bigger cut much sooner.
Autographed printed copies are also available at discount directly from me (hardback $24.95; paperback $14.95; Shipping cost for either: $5.00). Just email me at zimmerman @ nasw dot org.