A quick holiday fund-raising campaign for Behind the Black!
Scroll down to read this post.
In past years I have managed to avoid asking for donations for Behind the Black during the holiday season. My finances however now compel me to do a short one-week fund-raiser, from November 11 to November 17.
I do not use Twitter for ethical reasons, which I have been told cuts down on traffic to the website. So be it. Furthermore, Facebook has clearly acted in the past two years to limit traffic to Behind the Black, almost certainly for political reasons. So be this as well. Finally, I do not post outside ads, as I have found them annoying to my readers and not that profitable to me.
Therefore, I need to ask for the direct support from my readers. If you like what I do here, please consider contributing, either by making a one-time donation or a monthly subscription, as indicated in the tip jar below.
Regular readers can support Behind The Black with a contribution via paypal:
If Paypal doesn't work for you, you can support Behind The Black directly by sending your donation by check, payable to Robert Zimmerman, to

Behind The Black
c/o Robert Zimmerman
P.O.Box 1262
Cortaro, AZ 85652

Or you could consider purchasing one of my books, as indicated in the boxes scattered throughout the website. My histories of space exploration are award-winning and are aimed for the general public. All are page-turners, and all not only tell the story of the beginning of the human exploration of space, they also help explain why we are where we are today. And I also have a science fiction book available,
Pioneer
, which tells its own exciting story while trying to predict what life in space will be like two hundred years in the future.
Note that for this week only I am also having a sale on the purchase of the last 20 hardbacks of
Leaving Earth
. (Click on the link for more information about the book, which was endorsed by Arthur C. Clarke himself!) This award-winning out-of-print book is now only available as an ebook, but I still have a handful of hardbacks available, normally for sale for $70 plus $5 shipping. For this week only you can buy them, personally autographed by me, for $50 plus $5 shipping! Just send me a check, payable to Robert Zimmerman, to the address above, with a note saying that the money is for the
Leaving Earth
hardback.
Please consider donating. Your help will make it possible for me to continue to be an independent reporter in the field of space, science, technology, and culture.
I have decided to continue my Mars rover updates, and make them a regular mid-week feature here on Behind the Black. This is the first.
Curiosity
For the overall context of Curiosity's travels, see this post, Pinpointing Curiosity's location in Gale Crater.
Since my last updates here and here, Curiosity has moved south through the gap between buttes to exit the Murray Butte area. The initial slopes of Mount Sharp lie ahead, an open road with no apparent rough terrain to slow travel.
Doing science however does slow travel, and for good reason. Once through the gap the science team decided to swung the rover west and up against the base of the gap's western butte, rather than immediately head south to climb the mountain. The Mars Reconnaissance Orbiter image below, cropped and reduced, illustrates this path.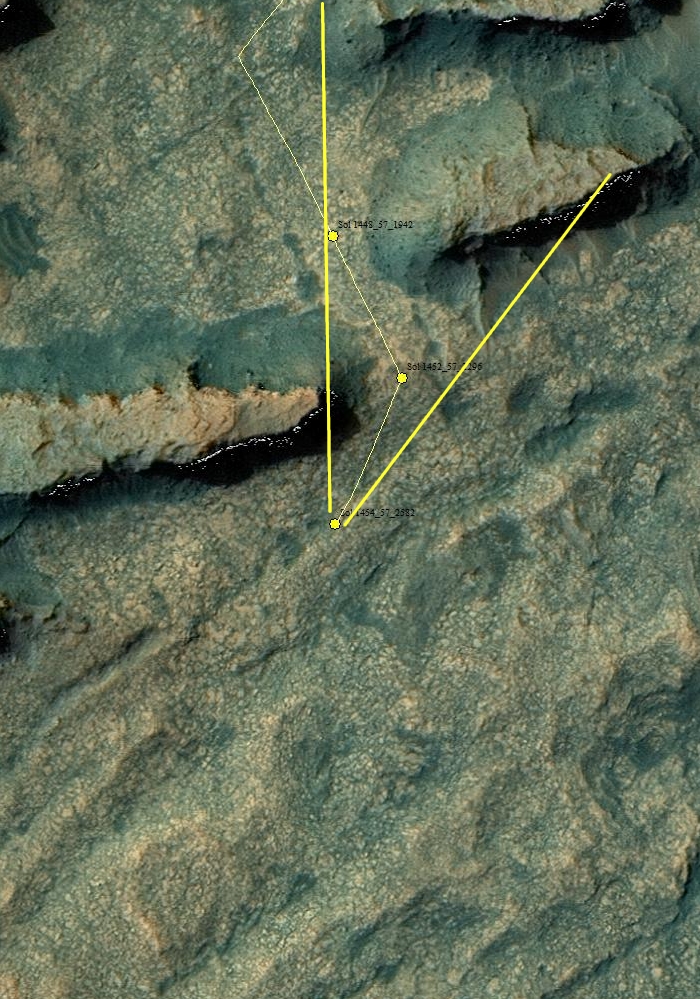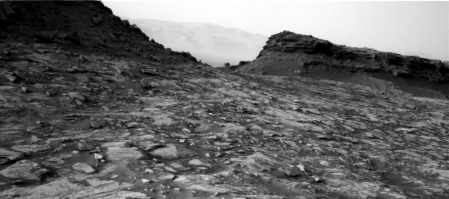 Here they will drill to collect and analyze a rock sample. The image to the right, cropped and reduced, looks back at the gap, with the rim of Gale Crater visible faintly in the far background beyond. I have also indicated the approximate area viewed in this image in the traverse map above. The image below, also reduced and cropped, shows the base of this butte, with their planned drill site indicated.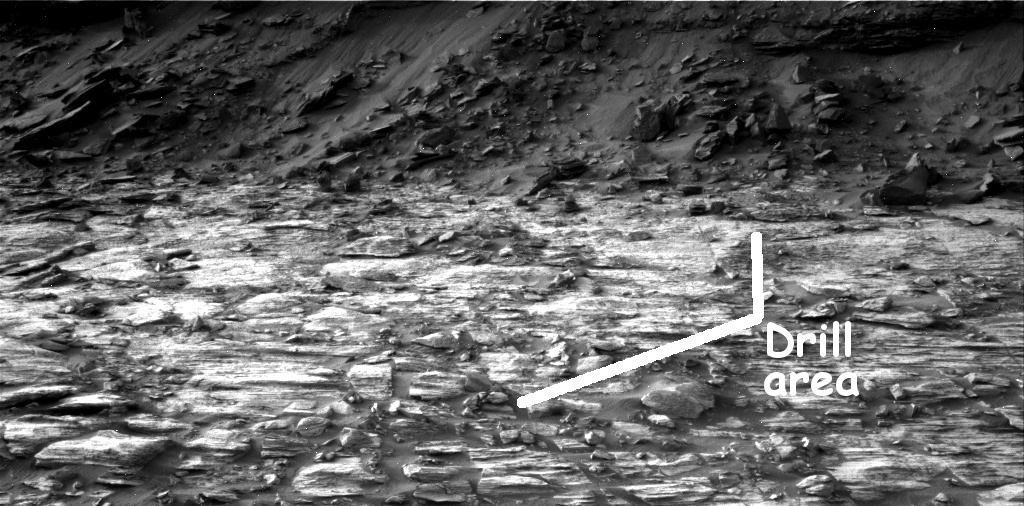 Opportunity
For the overall context of Opportunity's travels at Endeavour Crater, see this post, Opportunity's future travels on Mars.
Since my last update here, Opportunity has moved down through Lewis & Clark Gap. The traverse map below, cropped, illustrates the rover's position as of Sol 1485. Below that is a panorama, assembled by me from images taken six Martian days later, on Sol 1491, that I think looks southeast into Endeavour Crater. I have indicated my guess as to the view of this panorama on the traverse map.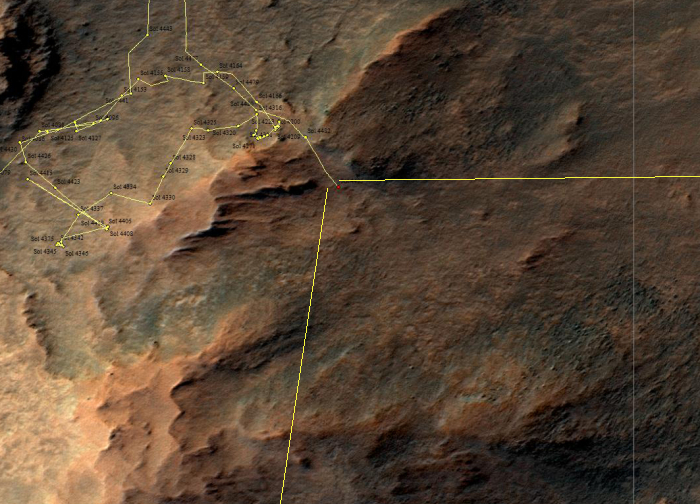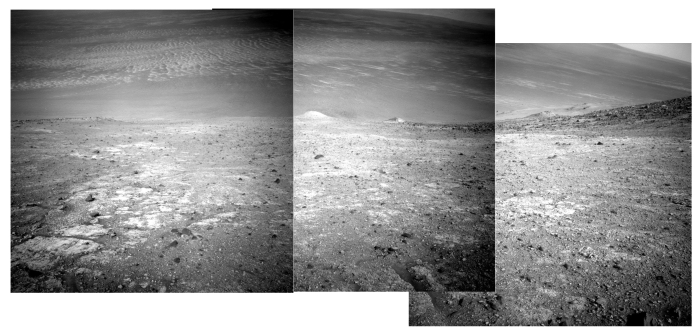 Based on these images, it appears that though the rover is through the gap, it is still sitting on a considerable slope. Whether they head to the southeast and down or turn west remains unknown. I suspect that the science team will end up doing a bit of both, in an effort to gather as much information as they can while they explore as much territory as they can.