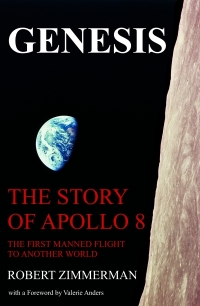 On Christmas Eve 1968 three Americans became the first humans to visit another world. What they did to celebrate was unexpected and profound, and will be remembered throughout all human history. Genesis: the Story of Apollo 8, Robert Zimmerman's classic history of humanity's first journey to another world, tells that story, and it is now available as both an ebook and an audiobook, both with a foreword by Valerie Anders and a new introduction by Robert Zimmerman.
The ebook is available everywhere for $5.99 (before discount) at
amazon
, or direct from my ebook publisher,
ebookit
.
The audiobook is also available at all these vendors, and is also
free with a 30-day trial membership to Audible.
"Not simply about one mission, [Genesis] is also the history of America's quest for the moon... Zimmerman has done a masterful job of tying disparate events together into a solid account of one of America's greatest human triumphs." --San Antonio Express-News
I have decided to continue my Mars rover updates, and make them a regular mid-week feature here on Behind the Black. This is the first.
Curiosity
For the overall context of Curiosity's travels, see this post, Pinpointing Curiosity's location in Gale Crater.
Since my last updates here and here, Curiosity has moved south through the gap between buttes to exit the Murray Butte area. The initial slopes of Mount Sharp lie ahead, an open road with no apparent rough terrain to slow travel.
Doing science however does slow travel, and for good reason. Once through the gap the science team decided to swung the rover west and up against the base of the gap's western butte, rather than immediately head south to climb the mountain. The Mars Reconnaissance Orbiter image below, cropped and reduced, illustrates this path.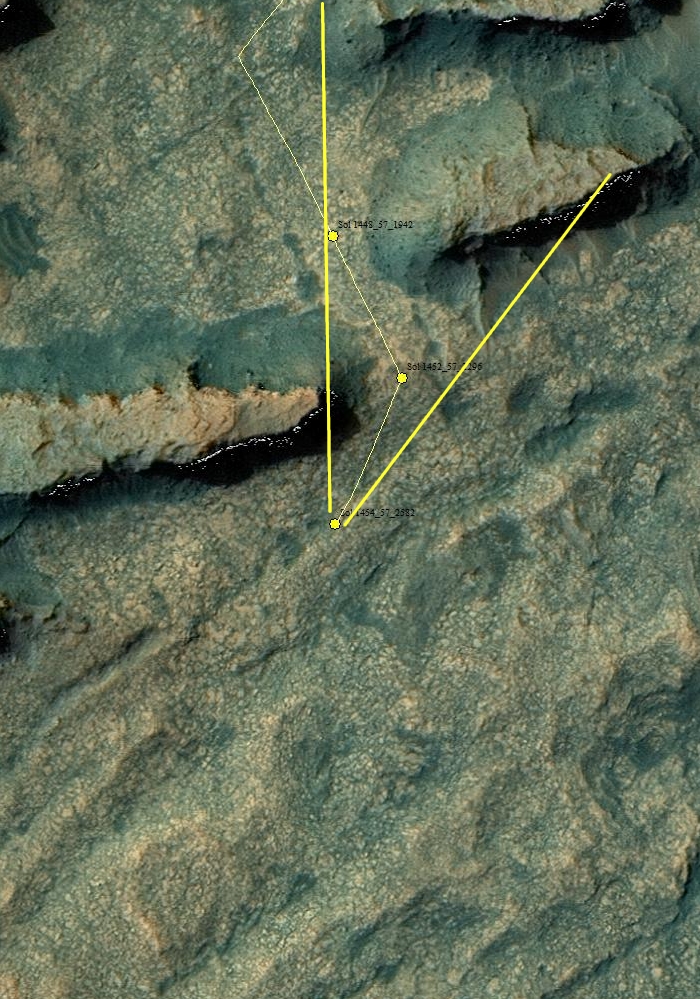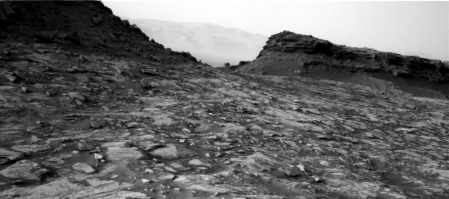 Here they will drill to collect and analyze a rock sample. The image to the right, cropped and reduced, looks back at the gap, with the rim of Gale Crater visible faintly in the far background beyond. I have also indicated the approximate area viewed in this image in the traverse map above. The image below, also reduced and cropped, shows the base of this butte, with their planned drill site indicated.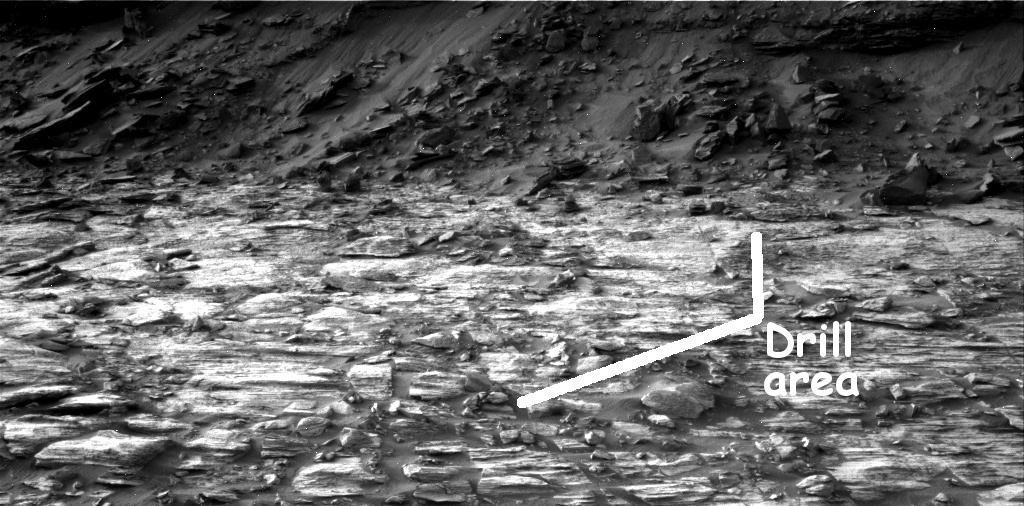 Opportunity
For the overall context of Opportunity's travels at Endeavour Crater, see this post, Opportunity's future travels on Mars.
Since my last update here, Opportunity has moved down through Lewis & Clark Gap. The traverse map below, cropped, illustrates the rover's position as of Sol 1485. Below that is a panorama, assembled by me from images taken six Martian days later, on Sol 1491, that I think looks southeast into Endeavour Crater. I have indicated my guess as to the view of this panorama on the traverse map.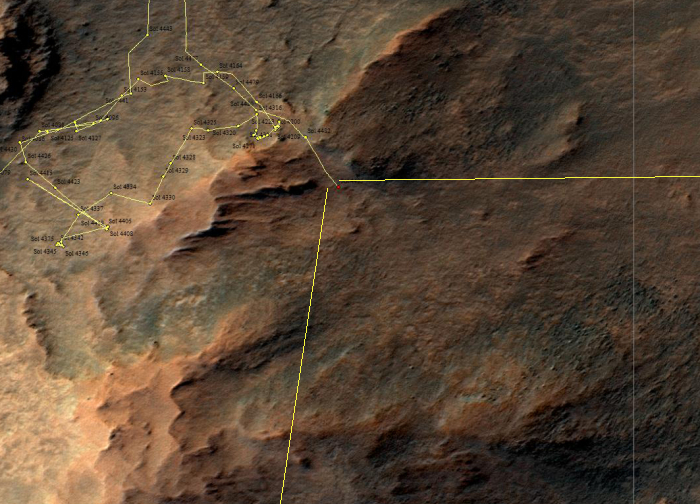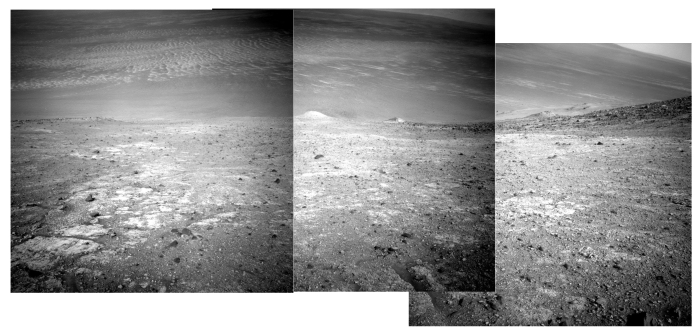 Based on these images, it appears that though the rover is through the gap, it is still sitting on a considerable slope. Whether they head to the southeast and down or turn west remains unknown. I suspect that the science team will end up doing a bit of both, in an effort to gather as much information as they can while they explore as much territory as they can.
Readers!
My July fund-raiser for Behind the Black is now over. The support from my readers was unprecedented, making this July campaign the best ever, twice over. What a marvelous way to celebrate the website's tenth anniversary!

Thank you! The number of donations in July, and continuing now at the beginning of August, is too many for me to thank you all personally. Please forgive me by accepting my thank you here, in public, on the website.

If you did not donate or subscribe in July and still wish to, note that the tip jar remains available year round.
Regular readers can support Behind The Black with a contribution via paypal:
If Paypal doesn't work for you, you can support Behind The Black directly by sending your donation by check, payable to Robert Zimmerman, to

Behind The Black
c/o Robert Zimmerman
P.O.Box 1262
Cortaro, AZ 85652