Please consider donating to Behind the Black, by giving either a one-time contribution or a regular subscription, as outlined in the tip jar to the right or below. Your support will allow me to continue covering science and culture as I have for the past twenty years, independent and free from any outside influence.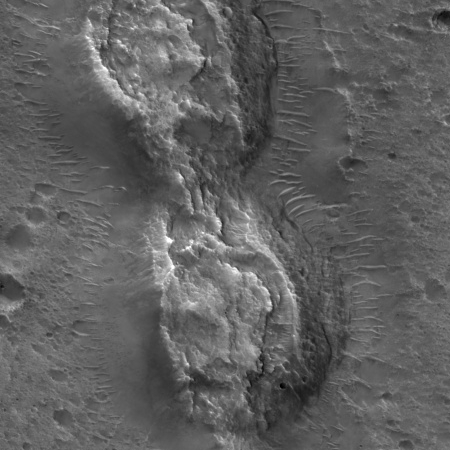 Time to once again delve into this month's release of high resolution images from Mars Reconnaissance Orbiter. The image above, cropped, rotated, and reduced in resolution to post here, shows a string of strange mounds or hills, each with similar collapse features on their tops. If you click on the picture, you can see the full resolution image, rotated properly with north up. You can also go to the MRO post, which provides some additional information.
The white box indicates the location of the cropped close-up, at full resolution, to the right. This area is typical across the entire snake-like ridge. You have these mounds or hills, each with chaotic depressions at their tops. The depressions suggest that this ridge follows an underground void, like a lava tube. The ridge-like nature of the line of hills also suggest that this tube has been exposed by erosion over time, with the surrounding terrain more easily blown or washed away while the more resistant ridge remains.
At the same time, the line of hills is baffling. Why would a lava tube expand periodically to form something that looks like a string of pearls?
The location of this snaking ridge provides some additional context.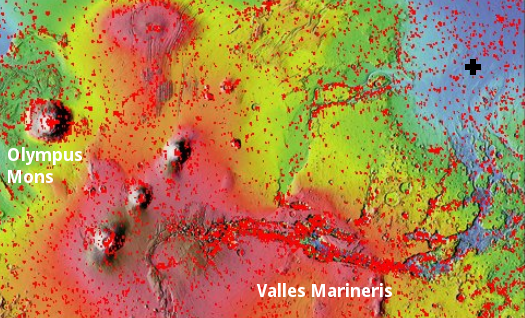 The image to the right is taken from the full archive webpage for MRO's high resolution camera, with the black cross the location of the snake of hills. It shows that this geological feature sits in the vast northern plains of Mars, in the outlet region of the gigantic canyon Valles Marineris. Since this canyon was first photographed by Mariner 9 in 1971, scientists have wondered if it was caused by huge liquid water flowing catastrophically out into those northern plains. This might be so, but it is also possible that lava formed some of these features, including the snake of hills in today's highlighted image.
I really don't know, and I suspect that any theories put forth by planetary geologists will require a healthy dose of skepticism on everyone's part. We need to go there to really find out.
Hopefully, we shall do so, in the lifetime of the youngest person reading this webpage.