First, watch this short youtube clip of NBC anchor Brian Williams on Late Night with Jimmy Fallon. Fallon expresses his discomfort with President Obama's activities during the last week (picking the winners in the NCAA finals, traveling to South America) while simultaneously getting us involved in a war in Libya.
Williams, almost as if he is a White House press spokesman, immediately defends Obama.
During Williams' aggressive effort to defend the actions of the Obama administration, he said two other things that I think are important, though not for the reasons Williams thinks. First, in wrapping up his defense of the Obama administration, he felt it necessary to point out how fair-minded and objective he (Williams) is:
I don't work for them. I cover them all equally, Democrats and Republicans.
When he said this, I almost lost my dinner. To me, his very defense of Obama on this very clip illustrates how unfairly he covers the two parties. During the Bush administration, one would find it very difficult to locate any clip of Brian Williams ever defending George Bush. Instead, it was attack, attack, attack, something I actually expect from a good journalist. That these attacks go away and are replaced by gentle support when a Democrat is in power demonstrates beyond doubt the bias of this so-called "journalist."
Williams next summed up his comments by admitting that the White House does have a public relations problem:
They've got an appearance issue if you're [Fallon] saying they do.
It is here that Brian Williams illustrates his complete disconnect from reality. And you only have to glance at the comments for this particular videoclip to see proof. As of 9:30 am today, there are 61 comments, all of which agree with me, that Williams is an incredibly biased reporter who consistently favors the Democratic Party. Or as this comment so nicely puts it:
What the hell. If anyone thinks the media is NOT a bunch of Barry sycophants, just watch this video. Astonishing.
It seems to me that Brian Williams has his own serious "appearance issue," one that he is completely unaware. Unfortunately, I also think he is as incapable of dealing with this reality as Obama is.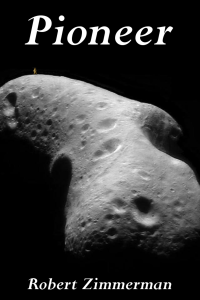 From the press release: From the moment he is handed a possibility of making the first alien contact, Saunders Maxwell decides he will do it, even if doing so takes him through hell and back.
Unfortunately, that is exactly where that journey takes him.
The vision that Zimmerman paints of vibrant human colonies on the Moon, Mars, the asteroids, and beyond, indomitably fighting the harsh lifeless environment of space to build new societies, captures perfectly the emerging space race we see today.
He also captures in Pioneer the heart of the human spirit, willing to push forward no matter the odds, no matter the cost. It is that spirit that will make the exploration of the heavens possible, forever, into the never-ending future.
Available everywhere for $3.99 (before discount) at
amazon
,
Barnes & Noble
, all ebook vendors, or direct from the ebook publisher,
ebookit
.