A small company, aiming to build a small rocket system for launching nano-sized satellites, has successfully tested its rocket engine. Hat tip Clark Lindsey at NewSpace Watch.
Three points:

The company already has a manifest of customers wanting to launch student satellites. This illustrates again that a market exists, which also helps explain the decision of Virgin Galactic to propose building a small rocket for putting very small payloads into low Earth orbit.
This engine is another sign that the American launch industry is coming to life. Until SpaceX's Merlin engine, there hadn't been a new rocket engine built in the United States since the shuttle was built in the late 1970s. Now new rocket engines are popping up everywhere.
This rocket is being developed as part of an effort to win the Google Lunar X-Prize, more evidence that prizes are a very effective way to spur innovation and development.
This company's existence and increasing technical success is more evidence that the industry of space exploration is going to get very exciting in the coming years, no matter what the government and NASA decide to do. In fact, it is also evidence that the government is becoming increasingly irrelevant to the exploration of space, something that I have wished for for more than three decades.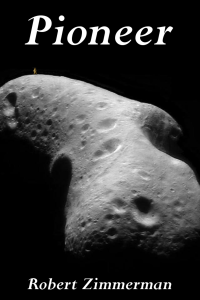 From the press release: From the moment he is handed a possibility of making the first alien contact, Saunders Maxwell decides he will do it, even if doing so takes him through hell and back.
Unfortunately, that is exactly where that journey takes him. The vision that Zimmerman paints of vibrant human colonies on the Moon, Mars, the asteroids, and beyond, indomitably fighting the harsh lifeless environment of space to build new societies, captures perfectly the emerging space race we see today. He also captures in Pioneer the heart of the human spirit, willing to push forward no matter the odds, no matter the cost. It is that spirit that will make the exploration of the heavens possible, forever, into the never-ending future. Available everywhere for $3.99 (before discount) at
amazon
,
Barnes & Noble
, all ebook vendors, or direct from the ebook publisher,
ebookit
. And if you buy it from
ebookit
you don't support the big tech companies and I get a bigger cut much sooner.