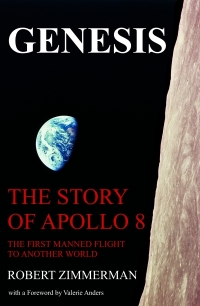 On Christmas Eve 1968 three Americans became the first humans to visit another world. What they did to celebrate was unexpected and profound, and will be remembered throughout all human history. Genesis: the Story of Apollo 8, Robert Zimmerman's classic history of humanity's first journey to another world, tells that story, and it is now available as both an ebook and an audiobook, both with a foreword by Valerie Anders and a new introduction by Robert Zimmerman.
The ebook is available everywhere for $5.99 (before discount) at
amazon
, or direct from my ebook publisher,
ebookit
.
The audiobook is also available at all these vendors, and is also
free with a 30-day trial membership to Audible.
"Not simply about one mission, [Genesis] is also the history of America's quest for the moon... Zimmerman has done a masterful job of tying disparate events together into a solid account of one of America's greatest human triumphs." --San Antonio Express-News
This article suggests that the Republican victory in November is going to be far greater than any polls have indicated. Key quote:
Only about 160 of the Democrats' 239 Congressional Districts are even remotely considered to be in play. But that playbook is badly out of date. The Republican message has raced far ahead of the GOP campaign and put a lot of new seats in play. We just have to work these districts to win them.

In fact, there are no polls to analyze in most of these 160 districts. Nobody considered them in play enough to poll them. We just don't know how vulnerable these extra incumbents are. But, given the surprising vulnerability of the first eighty seats, we believe that a substantial number of these formerly invincible Congressmen can be ousted. [emphasis mine]
I strongly suspect that my home district, the 5th Congressional district of Maryland, is one of these 160 unknown districts. My congressman, House Majority Leader Steny Hoyer, is running against Republican Charles Lollar. For years this district has been considered safe for Steny. No more.
Lollar, a black conservative with Tea Party connections, has run an aggressive campaign, raised lots of money, and has been unafraid of taking the race into the hardcore Democratic areas near Washington. His signs are up everyone, only a week after clinching the nomination in the primary.
Come November 2, I think that the results from this district will be a stunning upset. I also think these results will only be one example among many others.
Full disclosure notice: In all my life, I had never given money to any political candidate. I considered such contributions a waste of my money. This year, however, I broke that string. Soon after the healthcare bill passed Congress (under Steny Hoyer's leadership), I contributed $200 to Charles Lollar's campaign. Not only do I believe this contribution will not be a waste of money, I think the fact that I did it is another indication that the results of this coming election will be very surprising.
Readers!
My July fund-raiser for Behind the Black is now over. The support from my readers was unprecedented, making this July campaign the best ever, twice over. What a marvelous way to celebrate the website's tenth anniversary!

Thank you! The number of donations in July, and continuing now at the beginning of August, is too many for me to thank you all personally. Please forgive me by accepting my thank you here, in public, on the website.

If you did not donate or subscribe in July and still wish to, note that the tip jar remains available year round.
Regular readers can support Behind The Black with a contribution via paypal:
If Paypal doesn't work for you, you can support Behind The Black directly by sending your donation by check, payable to Robert Zimmerman, to

Behind The Black
c/o Robert Zimmerman
P.O.Box 1262
Cortaro, AZ 85652