We have a free speech problem in America, and it isn't because our government is trying to restrict our speech.
The problem exists because almost all our speech today is fed through a tiny handful of giant social media outlets, Google, Facebook, Instagram, Youtube, and Twitter, all of whom seem dominated by leftists and partisan Democratic Party ideaology.
Only last week we saw a perfect example of this problem. A mob of protesters had gathered outside the private home of Senate majority leader Mitch McConnell (R-Kentucky) because he refused to acquiesce meekly to draconian new gun control laws.
Several protesters shouted threatening obscenities against McConnell and his wife, with the leader of the local Kentucky chapter of Black Lives Matter, Chanelle Helm, screaming for someone to "just stab the mother-%#$&!&/!"
McConnell's campaign office then followed the next day with the following tweet:
Last night, an angry left-wing mob of Amy McGrath supporters stormed Senator McConnell's Louisville home screaming obscenities and hoping someone would "just stab the mother****** in the heart."
The tweet then linked to a video showing this mob's violent chants and death threats.
Twitter's response? It suspended McConnell's account, even though he threatened no one and merely wanted to highlight the vicious ugliness of his opponents. Meanwhile the tech giant continued to allow direct statements of violence against the right by many leftists, including one thread dubbed "#MassacreMitch," with no consequences.
Only after the Republican Party threatened to pull all of its advertising from Twitter did that social media giant finally back down and reinstate the McConnell account, though it added a warning tag to the video.
Twitter, like Google and Facebook, has decided to take sides in the political battles that this country is now undergoing. And with their almost godlike total power over internet access, these tech giants are in a position to very effectively censor any opposition to their political goals.
So what do we do? In an effort to make an intelligent stab at this issue, Glenn Reynolds, law professor at the University of Tennessee and the manager of the internet site Instapundit, has recently written a book on the subject, The Social Media Upheaval (Encounter Books 2019). As the book's Amazon page notes,

Social media giants are poisoning our journalism, our politics, our relationships, and ultimately our minds. Glenn Reynolds looks at the up and downsides of social media and at proposals for regulation, and offers his own fix that respects free speech while reducing social media's toll.
Because I have been myself struggling to express my thoughts on these very same issues, and failing, I decided to buy Reynolds' book and see what he has to say, with the hope that he might clarify things for me.
Reynolds has not only succinctly described in clear language the problem posed by these social media giants, he has outlined forcefully the best ways the problem can be addressed, both by our federal government and by we the citizenry.
First Reynolds describes the ugly way these tech giants warp the way people think and act. For example, there is their focus on shallow and negative emotions. They actually feed on it, as demonstrated by the fact that they
…use algorithms that promote posts based on 'engagement'– which typically means users' emotional reactions — and 'share' buttons allow each user to pass them on to hundreds or thousands of friends, who can then do the same.

…"As Jaron Lanier writes, "Engagement is not meant to serve any particular purpose other than its own enhancement, and yet the result is an unnatural global amplification of the 'easy' emotions, which happen to be negative ones."
These facts are especially damning to Twitter, a social media outlet that I myself consider to be expressly designed to create a forever-enraged mob whose only purpose is to make Orwell's two-minute hate go on forever. Or as Reynolds writes,
Twitter in particular seems prone to waves of viral misinformation or hatred, which spread much faster, and with far less critical thinking, than anything we saw [previously].
Reynolds describes more than a few of the numerous examples where a Twitter mob, based on misinformation or mere vicious glee, proceeded to destroy the life of someone. All are ugly. All are shameful. All should make us all condemn both Twitter and the people on it.
Instead, the mob was the victor in each case, destroying each victims' life while suffering no consequences to itself. Like the actions of Twitter against Senator McConnell, it is the victim who must be punished, not the villain.
The worst aspect of Twitter is that it appears to be the home of the country's pundit class, what David French, as quoted by Reynolds, calls "most influential men and women in American public life."
Behind those angry, hyperbolic tweets … are people, and those people are disproportionately the most engaged and most influencial men and women in American life….the American political class putting its rage and intemperance on display, hoping to remake the world in its own irate image. And the surprising success of that attempted makeover should scare you, whatever your political views are.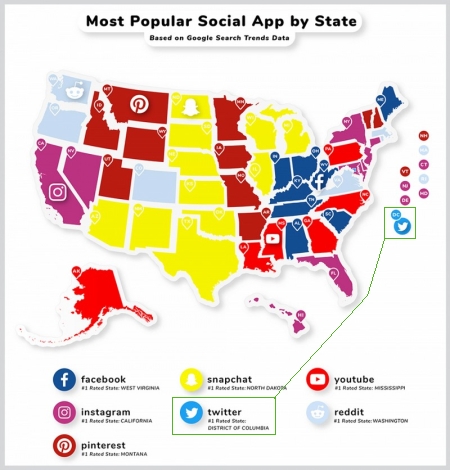 Click for full image.
If you don't believe French, take a look at the graph on the right, reduced and annotated by me, showing most popular social media apps by state, based on google search trends data. I have put a green box around the Twitter use to highlight how the only place that Twitter is the number one social media outlet is in Washington, D.C. Everyone else, across the entire country, has far better things to do than participate in a format that encourages short, vicious, emotional insults of everyone else, for political gain.
Worse, Reynolds correctly points out that the bulk of the remaining Twitter accounts appear to mostly be robots, designed by our nation's enemies to bring further harm to America. Facebook and Twitter allow for fake accounts, and are rift with them. Strangely, as much as the American left has railed in the past two years against Russian collusion and its interference in the 2016 election, they seem quite sanguine about the reality that these social media giants, run mostly by left-leaning owners and employees, are home to an endless number of fake Russian-controlled bots, designed to manipulate the public in the most horrible ways.
After outlining the problems caused by these corrupt social media giants, Reynolds then discussed a number of regulatory solutions, such as regulating the algorithms of the tech giants, removal of their liability immunity, and a closer scrutiny of users, including outlawing anonymity on the web.
In the end he rejects all of these proposals and instead concludes that since these social media giants have now become the equivalent of monopolies, with little or no competition, then the correct legal path is to use the anti-trust laws that presently exist allowing for the government to break up such monopolies. To give you an idea how dominate these companies have become, Reynolds quotes Columbia law professor Tim Wu:
Facebook managed to string together 67 unchallenged acquisitions, which seems impressive unless you consider that Amazon undertook 91 and Google got away with 214.
The result is that the entire information internet industry is now dominated by only a tiny handful companies, all of whom have shown an increasingly willingness to put their thumbs on the scale to tilt political discourse unfairly. As Reynolds writes,
Rather than focusing on the content of what individuals post on social media, regulators might better focus on breaking up these behemoths, policing anticompetitive collusion among them, and in general ensuring that their powers are not abused. This approach, rooted in antitrust law, would raise no First Amendment or free speech problems.
Reynolds also makes the wise recommendation that everyone else needs stop taking seriously the demands made by the mobs on these media outlets. They do not represent the American people. Their howls of outrage should be ignored, because it is almost certain that they are either wrong, or being abusive and intolerant. And based on the map above, their focus is remarkably parochial and concerned only with the corrupt political interests of Washington, DC.
If we ignore their outrage we will quickly discover how true this is, and how powerless these internet mobs are. They have no real power behind them. They are not grassroots movements, they are manipulation coming from a very small and very unrepresentative percentage of the population.
Reynolds also urges both the public and our political class to consider stepping away from of these media outlets, as he did when he got off Twitter. He found that this action hasn't seriously hurt his internet presence, and it has in turn made his approach to everything more thoughtful, a thoughtfulness that is clearly seen in this short book.
For me, The Social Media Upheaval was a very worthwhile investment in time and money. I recommend all my readers take a look. It once again confirmed for me the wisdom of my decision years ago to stop using Google as my search engine as well as my decision to no longer use gmail and to wipe out my history at both venues. It also confirmed for me the rightness of my decision to never get on either Facebook or Twitter. I don't need either, and the latter would be directly harmful to my writing and thinking process.
I heartily wish that more people would do the same. We give bullying media outlets too much power. And when you bow to mobs and bullies you only empower them to abuse you more.
It is time for people to stop bowing.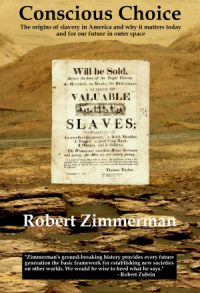 Now available in hardback and paperback as well as ebook!
From the press release: In this ground-breaking new history of early America, historian Robert Zimmerman not only exposes the lie behind The New York Times 1619 Project that falsely claims slavery is central to the history of the United States, he also provides profound lessons about the nature of human societies, lessons important for Americans today as well as for all future settlers on Mars and elsewhere in space.
Conscious Choice: The origins of slavery in America and why it matters today and for our future in outer space
, is a riveting page-turning story that documents how slavery slowly became pervasive in the southern British colonies of North America, colonies founded by a people and culture that not only did not allow slavery but in every way were hostile to the practice.
Conscious Choice
does more however. In telling the tragic history of the Virginia colony and the rise of slavery there, Zimmerman lays out the proper path for creating healthy societies in places like the Moon and Mars.
"Zimmerman's ground-breaking history provides every future generation the basic framework for establishing new societies on other worlds. We would be wise to heed what he says." —Robert Zubrin, founder of founder of the Mars Society.
All editions are available at Amazon, Barnes & Noble, and all book vendors, with the ebook priced at $5.99 before discount. The ebook can also be purchased direct from my ebook publisher, ebookit, in which case you don't support the big tech companies and I get a bigger cut much sooner.
Autographed printed copies are also available at discount directly from me (hardback $24.95; paperback $14.95; Shipping cost for either: $5.00). Just email me at zimmerman @ nasw dot org.