On July 4th NOAA released its monthly update of the solar cycle, showing the Sun's sunspot activity in June. It is annotated and posted below.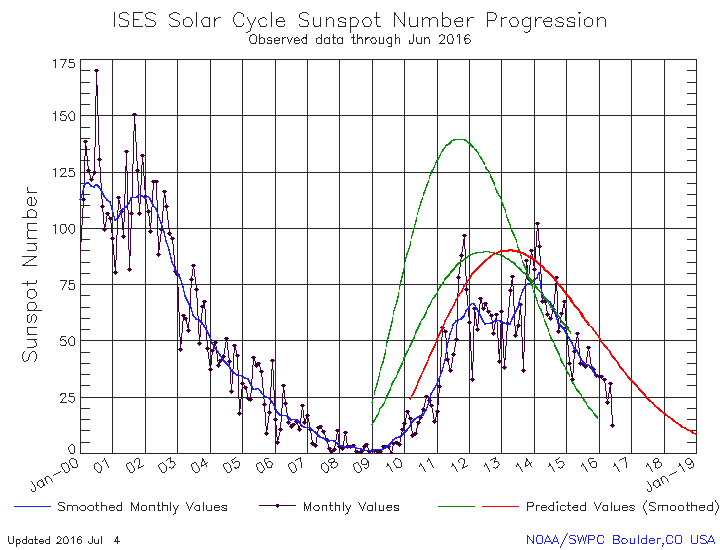 The graph above has been modified to show the predictions of the solar science community. The green curves show the community's two original predictions from April 2007, with half the scientists predicting a very strong maximum and half predicting a weak one. The red curve is their revised May 2009 prediction.
Not surprisingly, the time periods with no sunspots in June, including a 12 day stretch that just ended today, is reflected by the graph's precipitous drop in June.
What is significant to me is the speed with which this solar maximum seems to be ending. Normally, weak solar cycles are also long solar cycles. The Sun not only doesn't get as active, but the ramp up and down is extended, as is the period of the solar minimum. This is what happened during the solar minimum from 2007 to 2010. It was longer than normal, which meant that the solar maximum occurred much later than predicted by the 2007 predictions of the solar science communities (shown in green).
This recent stretch of blank days however is now suggesting that the solar maximum is going to end much sooner than the later 2009 prediction (shown in red). Even more astonishing, the numbers in June aligned with the 2007 high prediction, which would make this one of the shortest solar maximums on record!
I don't expect these low numbers to continue. I expect sunspot activity to recover and continue, with the minimum likely occurring after 2018. If it does come sooner, however, that will once again be evidence suggesting we are heading for a Grand Minimum, with no sunspots for decades.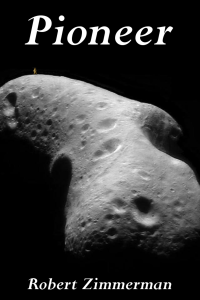 From the press release: From the moment he is handed a possibility of making the first alien contact, Saunders Maxwell decides he will do it, even if doing so takes him through hell and back.
Unfortunately, that is exactly where that journey takes him.
The vision that Zimmerman paints of vibrant human colonies on the Moon, Mars, the asteroids, and beyond, indomitably fighting the harsh lifeless environment of space to build new societies, captures perfectly the emerging space race we see today.
He also captures in Pioneer the heart of the human spirit, willing to push forward no matter the odds, no matter the cost. It is that spirit that will make the exploration of the heavens possible, forever, into the never-ending future.
Available everywhere for $3.99 (before discount) at
amazon
,
Barnes & Noble
, all ebook vendors, or direct from the ebook publisher,
ebookit
.