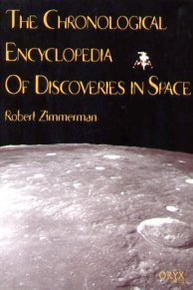 After being in print for twenty years, the Chronological Encyclopedia of Discoveries in Space, covering everything that was learned on every single space mission in the 20th century, has finally gone out of print.
I presently have my last four hardback copies available for sale. The book sold new for about $90. To get your own autographed copy of this now rare collector's item, please send a $120 check (which includes shipping) payable to Robert Zimmerman to
Behind The Black, c/o Robert Zimmerman
P.O.Box 1262
Cortaro, AZ 85652

"Useful to space buffs and generalists, comprehensive but readable, Bob Zimmerman's Encyclopedia belongs front and center on everyone's bookshelf." -- Mike Collins, Apollo 11 astronaut
"The Chronological Encylopedia of Discoveries in Space is no passionless compendium of information. Robert Zimmerman's fact-filled reports, which cover virtually every spacecraft or probe to have ventured into the heavens, relate the scientific and technical adventure of space exploration enthusiastically and with authority." -- American Scientist
Using two European-built ground-based telescopes in Chile, astronomers have announced today the discovery of 50 new exoplanets, 16 of which are considered super Earths, one of which is in the habitable zone of its star. You can read the preprint of their research paper here [pdf].

Super Earths have masses from 1 to 10 times that of our Earth. The newly discovered super Earth in the habitable zone, dubbed HD 85512 b and thirty-five light years away, has a mass only 3.6 times that of the Earth, and orbits its star every 59 days at a distance of only about 23 million miles. The planet's sun is cooler than the Sun, but the exoplanet sits in the inner edge of the star's habitable zone, so that the amount of energy it receives is only 3% less than Venus's. "If we are really really lucky this planet could be habitable," said Lisa Kaltenegger of the Max Planck Institute for Astronomy in Heidelberg, Germany.
Sadly, it will be years before we will be able to do the spectroscopy necessary to tell us whether this planet could be habitable, since the telescope capable of gathering this data is not yet built. Fortunately, some are under construction, such as the Extremely Large Telescope and the Giant Magellan Telescope.
The new data also suggests that more than fifty percent of the observed stars have low mass planets. "Most of the stars have planets, and most have low mass planets," noted Francesco Pepe of Geneva University. A large number of these are thought to be below 30 times the mass of the Earth, with many less than 10 times the Earth's mass. They have also found very few planets around 30 times the mass of the Earth: for some reason not yet understood, extrasolar planets appear to be either larger or smaller.
Regardless, all this suggests that in the coming years we will be overwhelmed with the discover of many Earthlike planets orbiting stars both close and far from us. Even more exciting, we will soon know the first stars that humans will want to visit, once interstellar travel becomes possible.