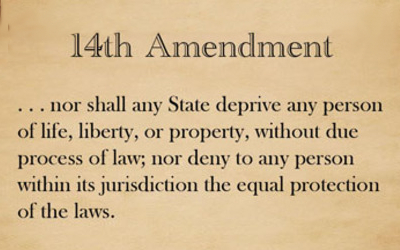 Might still exist in Nevada.
First the good news: An elected Nevada legislative commission last week overturned an extension proposed by the state's board of health of its mandate that all college students in the state get COVID shots or be banned from school.
Initially approved in August by the Nevada State Board of Health, the emergency provision was set to last only 120-days, according to The Nevada Independent. When the mandate expired last week and was sent to the Legislative Commission for review, the Commission chose not to make it permanent, with all six Republican lawmakers voting against the mandate and all six Democrats for it.
The tie means the mandate is not renewed.
This small victory for freedom and against irrational discrimination and blacklists illustrates some fundamental points about the entire COVID madness as well as America's evolving culture.

1. It appears the emergency provision was never approved by any elected officials, and this vote was the first time any elected officials had a chance to vote on it. Sadly, this has been the pattern almost everywhere during the entire Wuhan panic. The decisions are made by unelected bureaucrats, whom are immune from punishment or firing. Our elected officials have been increasingly impotent.
2. There is no data or rationale to justify such a mandate. It was increasingly clear in August that the COVID shots did not protect you from COVID, and thus provide little protection from infection. Requiring the shots thus was simply discriminatory, used to favor one set of students because they obeyed orders and while banning others because they exercised their right to choose for themselves what medical treatments they will get.
3. Each individual's medical data is by law supposed to be private. The colleges have no right to demand such information, nor do they have the right to ban anyone who refuses to give it. That such laws are now routinely ignored is a stark example of the collapse of our constitutional legal system. The law no longer matters, only the unilateral decisions of those in power. And with the law now ignored, those same people in power are also immune from it, and free to do whatever they want. Thus you get such senseless edicts by the unelected Nevada board of health, based not on data but on fear and panic.
3. The partisan vote by the commission to overturn the mandate illustrates clearly how the panic over the Wuhan flu has politicized all medical treatment, making it a partisan issue decided by politicians rather than a private decision between a doctor and a patient.
This last point might be the most important. We are no longer a rational society, but a political one. When all decisions are made based on politics, it is the craving for power that determines what is done, not facts or rational thought, or even the law itself.
Think about almost everything you read today, whether it be about sports, entertainment, literature, space exploration, gardening, humor, or food. It is impossible to talk about anything without including the political element.
In a few cases, such as space exploration, politics has always been a major component. For most of the last half century the space age was started, maintained, or squelched by politicians, and therefore it would be a mistake to not include that political factor in discussing space.
For most other subjects, however, it is entirely inappropriate to insert politics into the activity or discussion. What does gardening have to do with political power? Or football? Or food? Yet all have been poisoned by politics in the last few years, in many cases actually destroying lives because someone would not tow the right political line.
Worse, the insertion of politics into everything has now corrupted the legal system as well. No longer do the objective words of the law mean anything. Partisan politics must now determine their meaning, so that the law itself no longer matters.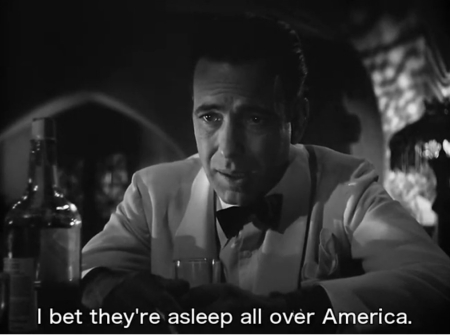 Rick, stating the truth in Casablanca.
And the solution to all this? It really still comes down to the citizenry, and no one else. Politicians aren't going to fix this, unless the public changes the politicians, drastically. The six Nevada Democrats who voted for this illogical mandate did so not because they had any facts on their side (which they did not), but because the edict expanded the power of government, and that today is the overriding goal of ever Democrat. Crush the opposition, squelch free debate, and twist the law in any way possible to guarantee victory. The voters should have thrown these bums out of office years ago. It is now imperative that they do it now, because there is very little time left. Soon, if these power-hungry Democrats have their way, elections will no longer matter. They will be in control, and will not allow you to remove them.
Nor are the Republican politicians much better. Too often for decades they have made deals, going along to get along, rather than stand for freedom and smaller government, as they consistently would promise during every single election campaign. The voters need to throw a lot of them out of office as well.
That Nevada's legal system however finally worked in ending the foolish statewide mandate for college students to get COVID jabs is still a small victory in the battle for liberty. It just needs to be followed by a thousand more such victories.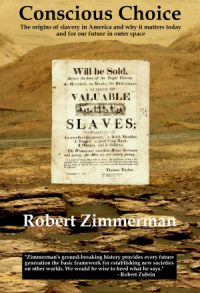 Now available in hardback and paperback as well as ebook!
From the press release: In this ground-breaking new history of early America, historian Robert Zimmerman not only exposes the lie behind The New York Times 1619 Project that falsely claims slavery is central to the history of the United States, he also provides profound lessons about the nature of human societies, lessons important for Americans today as well as for all future settlers on Mars and elsewhere in space.
Conscious Choice: The origins of slavery in America and why it matters today and for our future in outer space
, is a riveting page-turning story that documents how slavery slowly became pervasive in the southern British colonies of North America, colonies founded by a people and culture that not only did not allow slavery but in every way were hostile to the practice.
Conscious Choice
does more however. In telling the tragic history of the Virginia colony and the rise of slavery there, Zimmerman lays out the proper path for creating healthy societies in places like the Moon and Mars.
"Zimmerman's ground-breaking history provides every future generation the basic framework for establishing new societies on other worlds. We would be wise to heed what he says." —Robert Zubrin, founder of founder of the Mars Society.
All editions are available at Amazon, Barnes & Noble, and all book vendors, with the ebook priced at $5.99 before discount. The ebook can also be purchased direct from my ebook publisher, ebookit, in which case you don't support the big tech companies and I get a bigger cut much sooner.
Autographed printed copies are also available at discount directly from me (hardback $24.95; paperback $14.95; Shipping cost for either: $5.00). Just email me at zimmerman @ nasw dot org.