Readers!
My annual birthday-month fund-raising drive for Behind the Black
is now on-going. Not only do your donations help pay my bills, they give me the freedom to speak honestly about science and culture,
instead of being forced to write it as others demand.
Please consider donating by giving either a one-time contribution or a regular subscription, as outlined in the tip jar below.
Regular readers can support Behind The Black with a contribution via paypal:
If Paypal doesn't work for you, you can support Behind The Black directly by sending your donation by check, payable to Robert Zimmerman, to

Behind The Black
c/o Robert Zimmerman
P.O.Box 1262
Cortaro, AZ 85652

You can also support me by buying one of my books, as noted in the boxes interspersed throughout the webpage. And if you buy the books through the ebookit links, I get a larger cut and I get it sooner.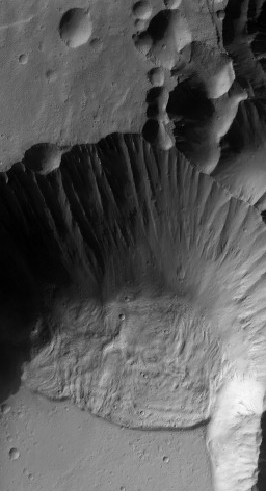 Cool image time! This post could be called an update to my January 8th post, Exploring Arsia Mons. In that post I had compiled together the ten images of Arsia Mons, the southernmost volcano in the line of three giant volcanoes on Mars, that JPL had highlighted over several weeks in early January.
Today, I decided to do some of my own exploration of some of the many images taken of Arsia Mons by all of the Martian orbiters. My goal had been to explore the volcano's western slopes (an area that had not been featured in the JPL releases) because that is the area where research has found evidence of past glacial activity as well as seasonal water clouds. I haven't finished that survey, but in the process I came across a spectacular image of a collapse that had been visible in image nine of the January 8th post, but did not stand out there because of the lighting. The image on the right is that better image, cropped to focus in on the collapse itself.
The material at the base of the wall resembles piled up mud, which suggests this collapse is a Martian version of a mud slide. If so, it also suggests the presence of liquid. At the same time, the muddy look might not be from liquid but because of the lighter Martian gravity causing avalanches to be appear different there. The light gravity means material is not as dense, so when it collapses it might break apart more easily into a sandy type flow.
I am only an amateur geologist, so my theories here should not be taken very seriously. Nonetheless, I am sure there are planetary geologists who have looked at this closely because of the information about Martian geology that they can glean from it. I'd be curious to hear their thoughts.
Meanwhile, my exploration of the western slopes of Arsia Mons will continue. In Pioneer the science fiction book I wrote in the early 1980s (now available), I placed my Martian colony in Mangala Valles, a meandering canyon to the west of Olympus Mons that feeds out from the higher southern regions into the lower northern flat plains where even then some scientists thought an ocean might have once existed. My thinking then was that this might be a good location to find underground water. It now appears, with our greater knowledge, that the slopes of the volcanoes themselves might be more promising, and I am curious to find the most likely places in this region where a future colony might end up.