Readers!
My annual birthday-month fund-raising drive for Behind the Black
is now on-going. Not only do your donations help pay my bills, they give me the freedom to speak honestly about science and culture,
instead of being forced to write it as others demand.
Please consider donating by giving either a one-time contribution or a regular subscription, as outlined in the tip jar below.
Regular readers can support Behind The Black with a contribution via paypal:
If Paypal doesn't work for you, you can support Behind The Black directly by sending your donation by check, payable to Robert Zimmerman, to

Behind The Black
c/o Robert Zimmerman
P.O.Box 1262
Cortaro, AZ 85652

You can also support me by buying one of my books, as noted in the boxes interspersed throughout the webpage. And if you buy the books through the ebookit links, I get a larger cut and I get it sooner.
Lunar Reconnaissance Orbiter recently celebrated its 1000th day of imaging in orbit around the Moon, snapping images and cataloging the Moon's geology.
Only a week before the science team posted a spectacular oblique view of Ryder Crater. The image is visible below the fold, along with a close-up of the crater's strange hump-backed boulder-strewn floor.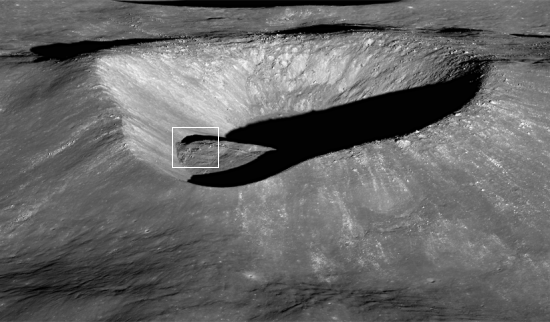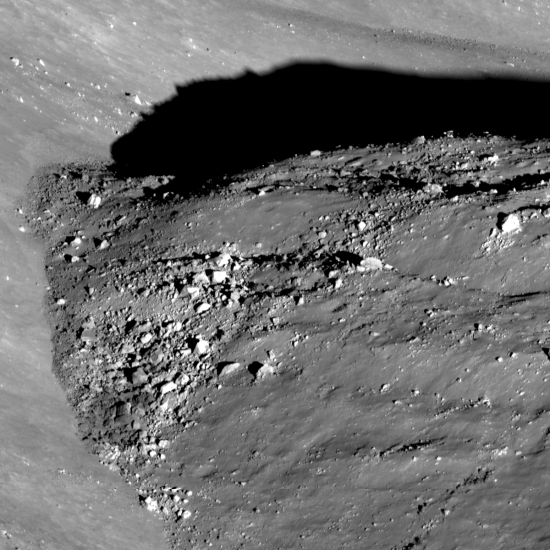 As the scientists note,
Ryder crater is rather oddly shaped; is it two craters or one? It is 17 km in the long direction and 13 km in its shortest dimension. The western floor of the crater is about 1500 meters below the western rim, while the eastern rim is 3000 meters above the same floor. The eastern shelf, seen in today's Featured Image, is 5000 meters above the western rim!
The scientists speculate that the crater's strange shape is probably because of several factors. For one, the crater formed on a steep slope. For another, it appears the crater was caused by an oblique impact of an object that had split prior to contact.
What I like is the beauty and clarity of the images. LRO is truly allowing us to see the lunar surface as it really is.