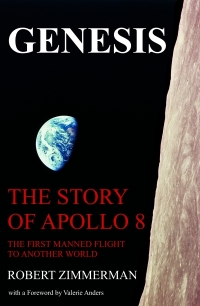 On Christmas Eve 1968 three Americans became the first humans to visit another world. What they did to celebrate was unexpected and profound, and will be remembered throughout all human history. Genesis: the Story of Apollo 8, Robert Zimmerman's classic history of humanity's first journey to another world, tells that story, and it is now available as both an ebook and an audiobook, both with a foreword by Valerie Anders and a new introduction by Robert Zimmerman.
The ebook is available everywhere for $5.99 (before discount) at
amazon
, or direct from my ebook publisher,
ebookit
.
The audiobook is also available at all these vendors, and is also
free with a 30-day trial membership to Audible.
"Not simply about one mission, [Genesis] is also the history of America's quest for the moon... Zimmerman has done a masterful job of tying disparate events together into a solid account of one of America's greatest human triumphs." --San Antonio Express-News
Last week I received an email from the local Tucson tea party, asking if I would be willing to attend a demonstration today in response to last week's Supreme Court decision on Obamacare. To quote the email,
We would like to stage two simultaneous protests against the train wreck they call ObamaCare, at two separate locations Monday July 2nd, 4:00pm-5:45pm. 75 people at both locations are needed to make the necessary impact. They say the Tea Party is dead. What say ye? We need your commitment.
Today those protests took place at two different prominent street corners in the Tucson area. At each location there were about fifty people lining the sidewalk and holding signs and American flags out to passing motorists. My wife Diane and I went to one of those protests. Here are my impressions:

First, though I wish the turnout had been greater, the numbers were impressive considering the short notice. A lot of people were willing to sacrifice two hours of their precious time to let others know their horror at Obamacare and its attack on freedom and individual liberty.
Second, the response of the car drivers to our presence was remarkably enthusiastic and supportive, suggestive of what some polls are telling us, that this coming election will be a landslide for the Republicans and a disaster for Obama and the Democrats. I've attended about a dozen of these demonstrations since the start of the tea party, both out here in Arizona as well as in Maryland, and the response this time from those not protesting was by far the most positive. About a third of the drivers that went by either honked their horns or gave us a thumbs up.
More indicative, however, was the lack of hostile response. I would estimate that less than five percent of the drivers that went by gave us a thumbs down, or worse. I joked at one point that one third were for us, five percent were against us, and the rest were on their cell phones unaware of the world around them.
Now, it is very possible that this contrast in enthusiasm was merely a case of self selection, that those who favor Obama and Obamacare merely kept their hostility to our demonstration to themselves. However, this is not what I've experienced in the past. At past demonstrations opponents of the tea party have never shown the slightest reluctance at telling us exactly what they think of us. That this did not happen very much today I find very encouraging.
One final story which might also indicate what the future holds. At one point a bicyclist was approaching us. I held out my sign to him, which read one one side "REPEAL OBAMACARE!" and on the other side "SAY NO TO OBAMA AND SOCIALISM AND YES TO FREEDOM AND LIBERTY!", waiting to see if he would react. As he came closer he kept his expression neutral, though it was clear to me that he had read my sign as well as others.
When he finally got within a few feet from us, however, he grinned, and with a laugh yelled out, "Racists!" He then gave us a thumbs up as he sped by. We in turn all laughed and then cheered him on.
The point here is that for almost anything Obama has done, the Democrats' only argument has been to call Obama's critics "Racists!" Once, that accusation alone could have destroyed your livelihood. Now, it has become nothing more than a joke.
Since we all expect the Democrats to use this empty accusation repeatedly in the coming months, it is revealing to see how little fear it now instills. Republican candidates would be wise to pay close attention to this.
Readers!
My July fund-raiser for Behind the Black is now over. The support from my readers was unprecedented, making this July campaign the best ever, twice over. What a marvelous way to celebrate the website's tenth anniversary!

Thank you! The number of donations in July, and continuing now at the beginning of August, is too many for me to thank you all personally. Please forgive me by accepting my thank you here, in public, on the website.

If you did not donate or subscribe in July and still wish to, note that the tip jar remains available year round.
Regular readers can support Behind The Black with a contribution via paypal:
If Paypal doesn't work for you, you can support Behind The Black directly by sending your donation by check, payable to Robert Zimmerman, to

Behind The Black
c/o Robert Zimmerman
P.O.Box 1262
Cortaro, AZ 85652