Last night I attended the most recent meeting of the Maryland Society of Patriots, a tea party group that was founded back in 2009. Attendance was pretty typical, with about fifty people filling the meeting room of the local library in Burtonsville, Maryland. As usual, Sam Hale, the founder of the group, had garnered a range of candidates to speak to us, including Eric Wargotz, the Republican candidate for the Senator, running against Barbara Mikulski (D-Maryland).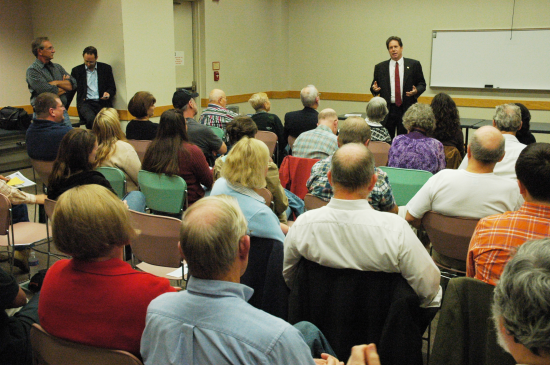 For Wargotz, the questions got a bit heated at one point, as one member of the audience wanted to know his commitment to defending the Constitution.
What makes this group significant is that the majority of its members come from very Democratic districts. Yet, not only has attendance been high at almost every meeting, the membership has including a wide range of ordinary people, most of whom have never done politicial activitism in their lives.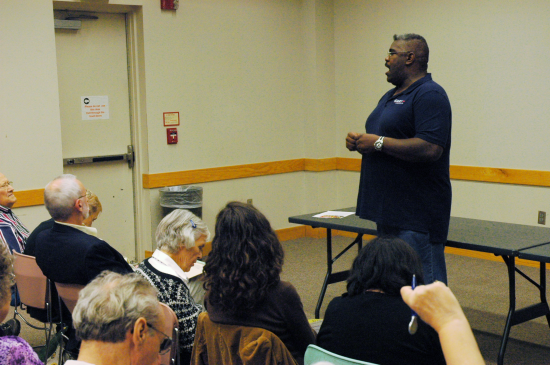 This is Eric Cary, who is running for the Maryland State Senate. I've included more pictures below the fold.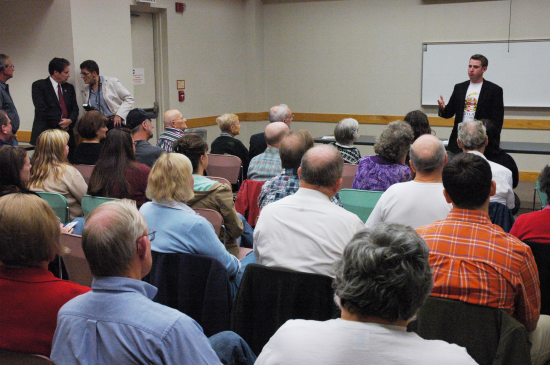 Sam Hale opens the meeting. Sam is a young guy who decided in 2009 that something had to be done, and he went ahead and did it.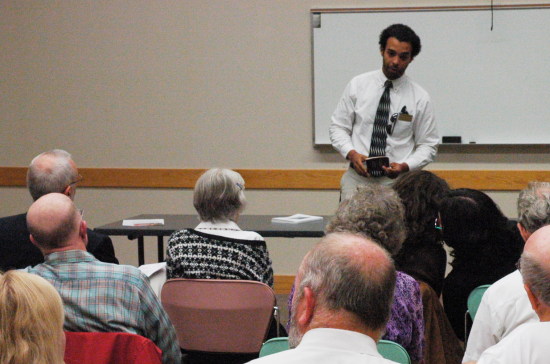 Eric Delano Knowles is running for Maryland governor on the Constitution Party ticket. He doesn't have much of chance, but his willingness to do this and the sympathetic hearing we gave him at the meeting indicates once again the strong dissatisifaction that exists over the unwillingness of candidates from both major parties to address the out-of-control state of today's government.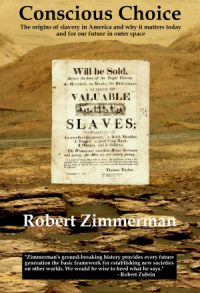 Now available in hardback and paperback as well as ebook!
From the press release: In this ground-breaking new history of early America, historian Robert Zimmerman not only exposes the lie behind The New York Times 1619 Project that falsely claims slavery is central to the history of the United States, he also provides profound lessons about the nature of human societies, lessons important for Americans today as well as for all future settlers on Mars and elsewhere in space.
Conscious Choice: The origins of slavery in America and why it matters today and for our future in outer space
, is a riveting page-turning story that documents how slavery slowly became pervasive in the southern British colonies of North America, colonies founded by a people and culture that not only did not allow slavery but in every way were hostile to the practice.
Conscious Choice
does more however. In telling the tragic history of the Virginia colony and the rise of slavery there, Zimmerman lays out the proper path for creating healthy societies in places like the Moon and Mars.
"Zimmerman's ground-breaking history provides every future generation the basic framework for establishing new societies on other worlds. We would be wise to heed what he says." —Robert Zubrin, founder of founder of the Mars Society.
All editions are available at Amazon, Barnes & Noble, and all book vendors, with the ebook priced at $5.99 before discount. The ebook can also be purchased direct from my ebook publisher, ebookit, in which case you don't support the big tech companies and I get a bigger cut much sooner.
Autographed printed copies are also available at discount directly from me (hardback $24.95; paperback $14.95; Shipping cost for either: $5.00). Just email me at zimmerman @ nasw dot org.