Readers!
For many reasons,
mostly political but partly ethical
, I do not use Google, Facebook, Twitter. They practice corrupt business policies, while targeting conservative websites for censoring, facts repeatedly
confirmed
by news stories and by my sense that Facebook has taken action to prevent my readers from recommending Behind the Black to their friends.
Thus, I must have your direct support to keep this webpage alive. Not only does the money pay the bills, it gives me the freedom to speak honestly about science and culture,
instead of being forced to write it as others demand.
Please consider donating by giving either a one-time contribution or a regular subscription, as outlined in the tip jar below.
Regular readers can support Behind The Black with a contribution via paypal:
If Paypal doesn't work for you, you can support Behind The Black directly by sending your donation by check, payable to Robert Zimmerman, to

Behind The Black
c/o Robert Zimmerman
P.O.Box 1262
Cortaro, AZ 85652

You can also support me by buying one of my books, as noted in the boxes interspersed throughout the webpage. And if you buy the books through the ebookit links, I get a larger cut and I get it sooner.
Last night President Trump gave his first prime-time speech to the nation, focused specifically on the hot-button issue of illegal immigration. You can read the full text, with the Democratic response, here. A fair analysis can be read here, which also includes a thorough critique of the press's mindless partisan reaction.
I usually don't watch such speeches. I read the transcript afterward, to see if there is any substance there (usually not). It saves time.
What I did do yesterday however was visit the very location that is the subject and focus of these speeches, the border between the United States and Mexico. Diane and I and Earl, a visiting friend from back east, decided to give Earl a taste of international travel by driving down to Nogales to cross the border for lunch.
We do this periodically, not to go sightseeing but buy many of our prescription drugs, which tend to be about 75% cheaper in Mexico and do not require that prescription for purchase. For example, one of our cats has a fungal disease called valley fever which requires giving her a pill twice a day. In the states that drug costs more than $200 for a ninety day supply. In Mexico I can get that same amount for less than $50. (The cost difference illustrates well the mess our Congress has created of our drug industry, since the high cost is directly related to government regulations imposed in the last two decades and topped off by the passage of Obamacare in 2010.)
Anyway, below are some photos from this trip. They give you a sense of what it is like at one of the major populated border crossing points, which by the way and not surprisingly does not much resemble the impression given by our modern mainstream press.

To the left is the view one gets of the border from within the U.S. in Nogales. We have just parked our car, in one of the many parking lots on the U.S. side of the border that provide cheap and convenient parking for the many Americans who drive down to do exactly what we are doing, getting cheap prescription drugs or dental work. On the hillside in the distance you can see the wall that separates the U.S. (to the left) and Mexico (to the right). Mexicans have built homes right up to that border. Because of the money that can be made selling things to visiting Americans, they have an incentive to be as close as possible. This starkly illustrates one very basic fact: Humans congregate to places that provide them wealth. The laws and political structure of the U.S. is one of most important reasons it is wealthy, and people want to get a piece of that wealth, in any way they can.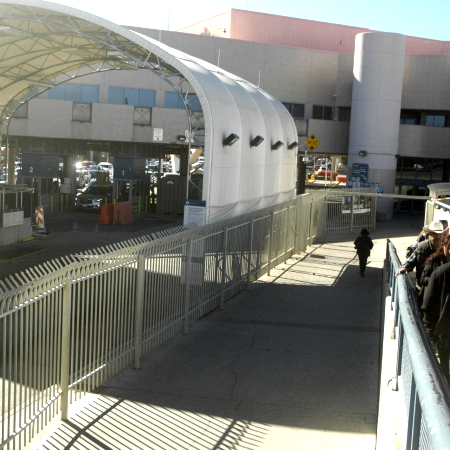 The image on the right shows the border crossing. On the right is the gateway for cars. To the left is the walkway for pedestrians, with both a ramp and staircase. From the parking lot we had walked two blocks to get to this point. Except for parking lots, shuttle bus operations, and money-changers, there is not much commerce on the American side of the border. This is not because Mexicans do not travel to the United States, but because their purposes are different. Many come to visit relatives. Others come to buy a wide variety of products that simply require travel deeper into the interior. The very American prosperity that attracts them explains why it is not concentrated at the border. They can find it everywhere, in all forms, not just prescription drugs. Similarly, American businesses do not need to go to the Mexican border to make money. Willing customers who can afford their products are everywhere.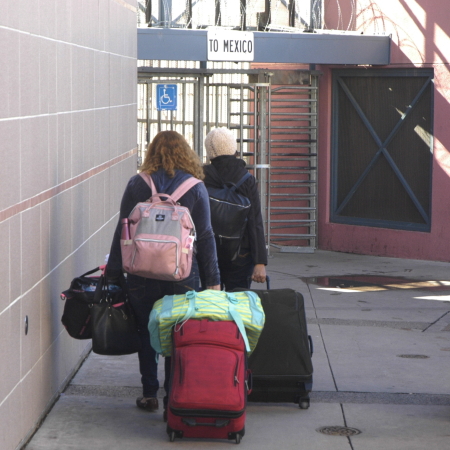 You walk around the car gateway to the right, and go through a revolving gate, which puts you in a small no-man's land between the U.S. and Mexico. You have actually crossed the border, but have not yet passed through Mexican customs. For what I imagine are historical reasons, the U.S. immigration border facilities are right on the border, while the Mexican facilities are several hundred feet back into Mexican territory.
Note the pedestrians with luggage. They might be returning from or heading for a weekend visit with relatives, but I suspect it is more likely that these are Mexicans who have just returned from a major shopping trip in the U.S. part of Nogales and are bringing their purchases back home. I say this because you see this all the time in the southwest, Mexicans returning to Mexico with pickup trucks loaded high with newly purchased goods.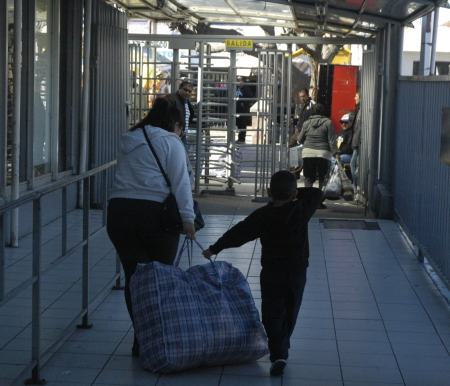 Once through the first revolving gate you walk about 100 feet and pass through Mexican customs, which involves nothing more than putting your packs, luggage, cameras, etc, through an x-ray machine for inspection No one questions you or asks for documentation, which is what this border was like in both directions once.
You then walk another 100 feet to a second revolving gate, seen in the photo to the right. Note once again the woman and child with a large bag. Once she got through the gate she put this bag next to two more stuffed bags that she had already dragged through and were being watched by several other children. Apparently, this had been a big shopping day for her.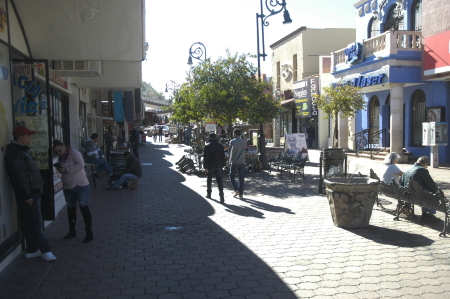 Once on the other side of the gate you have entered Mexico proper, are immediately in a block long pedestrian strip mall, as shown in the photograph on the right. Practically every store here, numbering several dozens packed tightly together, is either a pharmacy or a dentist, with a few shops selling tourist trinkets scattered about.
Often you will also be immediately greeted by men offering to help you find stores or restaurants, for a small tip. For example, on this trip we wanted to first eat in a very good Mexican restaurant that Diane had eaten in on her first trip here with an Hispanic friend who spoke Spanish and knew her way around. Diane had instructions to find the restaurant, which was about two blocks away, but was not 100% sure she could find it. One guy, whose ragged and dirty jacket indicated that he really needed the money, immediately attached himself to us to show us the way, and when we got there Diane tipped him a dollar.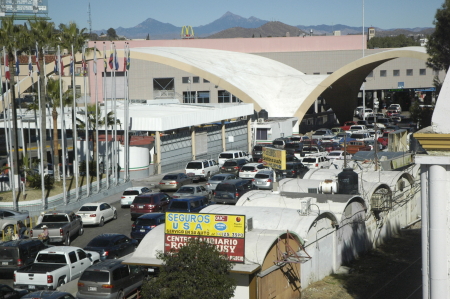 After lunch we wandered about for about an hour, buying or pricing some drugs in the innumerable small pharmacies all throughout the first few blocks just past the border. Prices improve if you go beyond that first strip mall, but regardless once you know the best prices you can always bargain, and should. You will get a better price.
The photograph on the left looks down from a pedestrian bridge at the border crossing, from the Mexican side. Notice the long lines of cars. While it is relatively quick to drive from the U.S. into Mexico (similar to the experience of pedestrians as described above), the passage back into the U.S. is slow, as U.S. customs checks everyone carefully.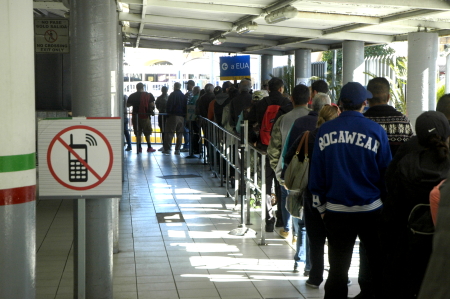 Once we finished our shopping and sightseeing, we went back through the revolving gate into that short no-man's land between the two countries, getting in what is now a long and tedious line to get back into the U.S. The image on the right shows this line, which generally averages about an hour wait.
If you pay the federal government some money and submit to a face-to-face interview and background check, you can obtain what they call a "Century card" that will allow you to bypass the line. You instead could walk down open the left aisle and pass right through the second revolving gate, as shown in the image below and to the left, taking you straight to U.S. customs.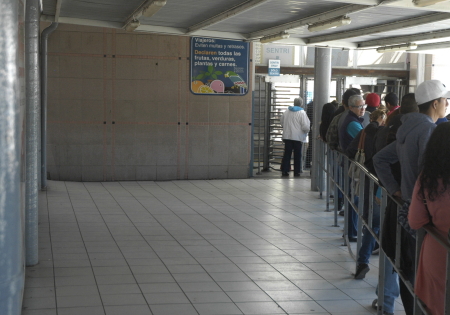 This last image provides us the political punchline to this visit to Mexico. Note the open area to the left of the line. When Diane and I made our last visit to Mexico in October, that clear area was instead packed with women and children sitting or lying on mattress pads with bags and ragged clothing.
Why were these poor people there in October and not now? My guess is that they were paid pawns of those who were creating that illegal immigration caravan just before the mid-term elections. The political motives of that caravan were clear at the time, to create a crisis that would challenge Trump's most central campaign promise, to secure the border. Once the election was over that caravan was suddenly not news. In fact it has been very apparent that whoever was funding or supporting it had withdrawn that support, because the caravan suddenly seemed to mostly evaporate after election day. Its superficial purpose, to influence the election, was gone, and thus, it was abandoned, and those poor illegal women and children had been cleared out as well.
Further, their existence in October and their disappearance in January tell us a lot about position the Mexican government is taking in this debate over illegal immigration. Since this is actually Mexican territory it means that the Mexican government at that time was willing to let these street people stay there. Mexico had also clearly allowed that caravan to travel through its country to invade the U.S., even though most of the members of that caravan were illegal immigrants to Mexico, having come across its southern borders without permission. Though the bulk of the caravans headed to the California/Mexico border, it is also apparent that Mexico allowed some of those illegals, specifically women and children, to gather here in Nogales, living as ragged street people within the border crossing section controlled by Mexico.
In other words, the Mexican government had decided to be a willing supporter of an illegal invasion of American territory.
The callousness of all this appalls me. In this Trump yesterday was totally correct.
This is a humanitarian crisis — a crisis of the heart and a crisis of the soul.

Last month, 20,000 migrant children were illegally brought into the United States — a dramatic increase. These children are used as human pawns by vicious coyotes and ruthless gangs. One in three women are sexually assaulted on the dangerous trek up through Mexico. Women and children are the biggest victims, by far, of our broken system.
The illegals that were living in this small space in October were also pawns. Their existence then, and the fact that they have vanished now, tells us everything we need to know about the people and Mexican government that supports illegal immigration. They made it possible for these women and children to live on the street in October because their presence provided good PR, and once their presence no longer provided that PR, their value became nil, and they were abandoned and cleared out.
Immigration is always a good thing. Breaking the law however is not. The heart of this debate really resides with the failure (one of a legion of many) of the American federal government to do its job and enforce the immigration laws. Instead, that failed federal government has for decades allowed illegals to pour into the United States, creating innumerable problems for ordinary Americans and those illegals. If the government had simply been doing its job these problems would now not exist.
This is also why we got Trump. The American public is tired of the failures of that federal government, and the failed Washington DC culture that perpetuates those failures. They want something done to fix it, something that no one, from either political party, has been willing to do. To their mind, Trump presented the best opportunity in a long time to attack those problems, decisively.
Whether he will be successful in doing so, however, remains a very open question.