The solar scientists at the Marshall Space Flight Center significantly downgraded their prediction today for the upcoming solar maximum.
Unfortunately, the Marshall scientists don't archive their previous predictions, merely changing the text of their webpage periodically. However, I have archived most of these predictions as they have changed. Here they are:

In January 2011, they predicted a maximum sunspot number of 59 occurring in July 2013.
In September 2011, they raised their prediction to 70, moving it forward to May 2013.
In October 2011, they upped it again, to 77, moving forward to April 2013.
In November 2011, they upped it again, to 89, moving it back to May 2013.
In December 2011, they upped it again, to 99, moving it forward to February 2013.
In January 2012, they revised it down slightly, to 96, still for February 2013.
In early February, they kept the number at 96, but moved the maximum back to late 2013.
The new prediction calls for a maximum sunspot number of only 63, now in early 2013. This would make it the weakest maximum in a hundred years. This also means that the maximum has only about a year to go before the Sun begins ramping down again and we say goodbye to sunspots, maybe for a long time.
You can see that today's prediction is almost the same as their earliest prediction from last year. Since this science group at Marshall was the group that originally predicted this upcoming maximum would be the strongest in decades, I wonder if there is a bit of bias on their part, a desire to see a bigger maximum because that is what their theories originally predicted.
Nonetheless, they are good scientists. As we get closer to the maximum it becomes easier to make a prediction, and they have honestly assessed the data and revised their numbers appropriately.
The upcoming solar maximum will be very weak. What happens next is now the big question.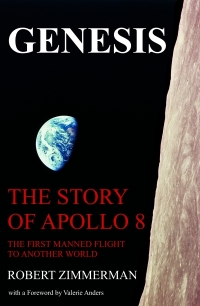 On Christmas Eve 1968 three Americans became the first humans to visit another world. What they did to celebrate was unexpected and profound, and will be remembered throughout all human history. Genesis: the Story of Apollo 8, Robert Zimmerman's classic history of humanity's first journey to another world, tells that story, and it is now available as both an ebook and an audiobook, both with a foreword by Valerie Anders and a new introduction by Robert Zimmerman.
The ebook is available everywhere for $5.99 (before discount) at
amazon
, or direct from my ebook publisher,
ebookit
. If you buy it from
ebookit
you don't support the big tech companies and the author gets a bigger cut much sooner.
The audiobook is also available at all these vendors, and is also
free with a 30-day trial membership to Audible.
"Not simply about one mission, [Genesis] is also the history of America's quest for the moon... Zimmerman has done a masterful job of tying disparate events together into a solid account of one of America's greatest human triumphs."--San Antonio Express-News