On many of today's complicated political stories, I tend to hang back and avoid posting my thoughts about them when the stories initially break. Often I do so because the story itself is either unreliable or simply trivial, and time is needed to find this out. Often I wait because I want more information to confirm my initial conclusions. Sometimes I wait because I consider the story merely a Republican partisan attack that is not strong on the merits and will fade with time.
Though I have previously posted my impression that Robert Mueller investigation into Russian-Trump collusion during the campaign is nothing more than a Democratic Party witch hunt against the Trump administration, I have recently held back noting recent stories because I wanted to compile them to see if they really did fit this pattern. Below are those stories, all of which have appeared in the past two weeks. They strongly prove that Mueller's investigation is exactly what I first surmised.
These stories all confirm a July story that was headlined: Here's a Look at Special Counsel Robert Mueller's 15 Attorneys: A Who's Who of Liberal Activism. Of those 15 attorneys, four have now been proven to be part of the Democratic Party partisan machine. Furthermore, evidence has been found that the FBI agent directly involved with both the Clinton and Trump investigations, Peter Strzok, moved to change the Clinton investigation conclusions to exonerate her, despite the evidence, while he was also repeatedly expressing strong partisan and anti-Trump opinions to one of those 15 attorneys.
One anti-Trump text by FBI agent Strzok is especially disturbing. In responding to a statement by Special Counsel Liz Page that she thought there was no way Trump could win, Strzok wrote the following:

"I want to believe the path you threw out… – that there's no way he gets elected – but I'm afraid we can't take that risk," Strzok texted on Aug. 15, 2016. "It's like an insurance policy in the unlikely event you die before you're 40." [emphasis mine]
The clear implication here is that what eventually became the Mueller investigation was an effort within the FBI and Justice Department to cripple or destroy the Trump administration, should Trump win the election.
Nor are these stories all that has been uncovered about the partisan corruption in the FBI and Justice Department. Other stories have revealed that Justice Department officials were directly involved in creating the dossier paid for by the Democratic Party during the campaign that made numerous scurrilous and false accusations against Trump.
Worse, it appears this fake partisan dossier was then used by the FBI to obtain a FISA warrant that allowed them to spy on the Trump campaign, during the election, spying that was then provided illegally to the Obama administration which passed it on to Clinton to use against Trump during the campaign. If so, that warrant was obtained illegally, and heads should roll.
This week we have also learned that though Mueller's investigation is supposed to be looking into events that occurred before the election, his office illegally obtained thousands of emails by Trump transition team officials from after the election.
In the past week there have been several articles by better experts than I, suggesting that this combined effort by partisan Democrats in the FBI and Obama Justice Department (many of whom are still there) was no different than a coup attempt against a legally elected American president. Here are just two:
From where I stand, it sure looks that way.
During the latter years of the Roman empire, an elite unit assigned to be personal bodyguards to the emperor, the Praetorian Guard, ended up repeatedly interfering with Roman politics, and often in later years would actually participate in the overthrown of emperors and the choosing of their successors.
I wonder, are we in the United States now seeing in the FBI and Justice Department the first hints of our own Praetorian Guard? And will we, as free citizens, have the courage to challenge this corruption, and remove it from power?
I have my doubts.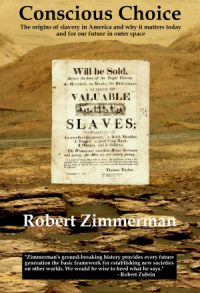 Now available in hardback and paperback as well as ebook!
From the press release: In this ground-breaking new history of early America, historian Robert Zimmerman not only exposes the lie behind The New York Times 1619 Project that falsely claims slavery is central to the history of the United States, he also provides profound lessons about the nature of human societies, lessons important for Americans today as well as for all future settlers on Mars and elsewhere in space.
Conscious Choice: The origins of slavery in America and why it matters today and for our future in outer space
, is a riveting page-turning story that documents how slavery slowly became pervasive in the southern British colonies of North America, colonies founded by a people and culture that not only did not allow slavery but in every way were hostile to the practice.
Conscious Choice
does more however. In telling the tragic history of the Virginia colony and the rise of slavery there, Zimmerman lays out the proper path for creating healthy societies in places like the Moon and Mars.
"Zimmerman's ground-breaking history provides every future generation the basic framework for establishing new societies on other worlds. We would be wise to heed what he says." —Robert Zubrin, founder of founder of the Mars Society.
All editions are available at Amazon, Barnes & Noble, and all book vendors, with the ebook priced at $5.99 before discount. The ebook can also be purchased direct from my ebook publisher, ebookit, in which case you don't support the big tech companies and I get a bigger cut much sooner.
Autographed printed copies are also available at discount directly from me (hardback $24.95; paperback $14.95; Shipping cost for either: $5.00). Just email me at zimmerman @ nasw dot org.