Rather than publish another weekly update on the fascist culture that presently dominates many American campuses, I thought I would look back on the year and compile a list of all the colleges I reported where acts of oppression or the silencing of free speech were carried out by the administration, facility, or student body.
There were many ways I could have compiled this list. In the end, I decided to list the colleges alphabetically by state, and then sort the states into three groups, based on how those states voted in the past two presidential elections. States that voted Democratic or Republican both times are grouped together as either Democratic- or Republican-dominated. States that flipped from one party to the other (all flipping Republican, by the way) were listed as battleground states. If a college had more than oppressive incident during the year the number of incidents is indicated in parenthesis.
Because the list is so long, I have placed it, as well my analysis of it, below the fold. Before you read on, make sure you scan down take a look at the list of colleges itself.

We can garner several things from this list. First, though the list doesn't illustrate this, I must note that almost every college shown marks a moment when leftist members of an administration, facility, or student body acted to squelch the free speech rights of a conservative. Nor do I think this is because of bias on my part. From the beginning I have recognized the possibility that I might unfairly only report oppressive incidents committed by the left, and have tried to avoid that. Unfortunately, despite my sincere effort to report incidents where conservatives tried to silence liberals, during the whole year I only came across one event where a conservative college acted to shut down a dissenting liberal speaker. I admit that I might have missed a few, but even if I did I do not think this would change the overall pattern. 2017 was a year in which the left decided that it was acceptable to act like fascist thugs and do whatever they could to shut down the free speech of opposing points of view.
Second, while the majority of universities behaving oppressively appear to be in the Democratic states, there are also appear to be plenty of oppressive universities in Republican regions. Yet, there was only one case where a college acted to silence someone who appeared to be liberal. I suspect therefore that the wide regional spread of oppressive colleges is not because this fascist behavior is favored across the entire political spectrum, but because almost the entire academic community is strongly dominated by the left, even in conservative regions, and it is today's left that is most attached to the idea that all dissent must be silenced.
Third, the list strongly indicates that the west coast and the northeast are regions that have become especially hostile to free speech and dissent. The incidents of oppression were more concentrated in colleges in these regions than anywhere else in the country. In this case I believe (partly from personal experience having lived most of my life in the liberal northeast) this is because the overall cultures in these regions has become especially totalitarian. It isn't just the colleges where dissent is no longer tolerated. It is the entire region. Woe to anyone who takes the chance in these places to walk around wearing a "Make America Great Again" hat, or put up Republican campaign signs in their front yards.
Fourth, this list argues strongly that all financial support to these universities needs to be questioned, or eliminated entirely. It is unconscionable for public money to be used to support this kind of behavior. Any state, such as California, Washington, Oregon, and New York, that has not done anything to address this behavior at their public universities demonstrates that they are actually a part of the problem.
Finally, and most important, parents and children should strongly question whether these universities are good places to get a good liberal arts education. My own conclusion, not merely from this list but from my own personal experiences teaching and working within the academic community at several colleges during the past few decades, says that every single one of these colleges should be avoided, like the plague.
Democratic-dominated:
California:
University of California-Berkeley (13)
University of California-San Diego
University of California-Merced
University of California-Los Angeles (5)
University of California-Riverside
University of California-Santa Cruz (2)
University of California-Irvine
University of California-Davis
Stanford University (3)
Chapman University
Whittier College
California State University-Fresno (2)
Loyola Marymount University
Colorado:
University of Colorado-Colorado Springs
University of Colorado-Boulder (2)
University of Northern Colorado
Regis University
Connecticut:
University of Connecticut
Quinebaug Valley Community College
Yale University, Connecticut
District of Columbia
George Washington University
Howard University
American University (2)
Hawaii:
University of Hawaii
Illinois:
Knox University
Massachusetts:
Boston University
Hampshire College
Tufts University (2)
Emerson College
Brandeis University (2)
Harvard University
University of Massachusetts
Minnesota:
Wartburg College (2)
Concordia College, Moorhead
St. Olaf College
Nevada:
University of Nevada-Reno
New Hampshire:
Keene Stage College
New Jersey:
Princeton University (2)
Rutgers University
New York:
Columbia University (4)
Fordham University
Cornell University
Brooklyn College
Hunter College
Adelphi University
New York University
Oregon:
Reed College
University of Oregon
Portland State University
Rhode Island:
Brown University, Rhode Island (2)
Vermont:
Middlebury College, Connecticut
Virginia:
University of Virginia
Liberty University
College of William and Mary
Virginia Commonwealth University
Washington:
Evergreen State College (6)
Western Washington University
Seattle University School of Law
Battleground states:
Florida:
Florida State University
University of Florida
Rollins College
Michigan:
Albion College
University of Michigan
Ohio:
Obelin College
Otterbein University
Pennsylvania:
Drexel University (2)
Wisconsin:
University of Wisconsin-Madison (2)
Republican-dominated:
Arizona:
Arizona State University
University of Arizona
Arkansas:
University of Arkansas
Georgia:
University of Georgia
Idaho:
Boise State University
Indiana:
Purdue University
Iowa:
University of Iowa
Kentucky:
Northern Kentucky University
Montana:
University of Montana
North Carolina:
Duke University
Duke Divinity School
Oklahoma:
University of Oklahoma
South Carolina:
Clemson University, South Carolina
South Dakota:
South Dakota State University
Tennessee:
University of Tennessee (2)
Texas:
Northwest Vista College
Texas State University
University of Texas-San Antonio
Texas Southern University
Texas A&M
Southern Methodist University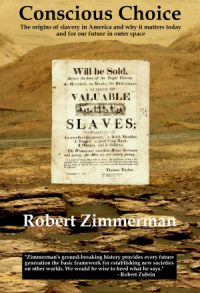 Now available in hardback and paperback as well as ebook!
From the press release: In this ground-breaking new history of early America, historian Robert Zimmerman not only exposes the lie behind The New York Times 1619 Project that falsely claims slavery is central to the history of the United States, he also provides profound lessons about the nature of human societies, lessons important for Americans today as well as for all future settlers on Mars and elsewhere in space.
Conscious Choice: The origins of slavery in America and why it matters today and for our future in outer space
, is a riveting page-turning story that documents how slavery slowly became pervasive in the southern British colonies of North America, colonies founded by a people and culture that not only did not allow slavery but in every way were hostile to the practice.
Conscious Choice
does more however. In telling the tragic history of the Virginia colony and the rise of slavery there, Zimmerman lays out the proper path for creating healthy societies in places like the Moon and Mars.
"Zimmerman's ground-breaking history provides every future generation the basic framework for establishing new societies on other worlds. We would be wise to heed what he says." —Robert Zubrin, founder of founder of the Mars Society.
All editions are available at Amazon, Barnes & Noble, and all book vendors, with the ebook priced at $5.99 before discount. The ebook can also be purchased direct from my ebook publisher, ebookit, in which case you don't support the big tech companies and I get a bigger cut much sooner.
Autographed printed copies are also available at discount directly from me (hardback $24.95; paperback $14.95; Shipping cost for either: $5.00). Just email me at zimmerman @ nasw dot org.