Time again for the monthly updated graph of the Sun's solar cycle sunspot activity. Posted today by NOAA's Space Weather Prediction Center, you can see the May results in the graph below.
After a three month steady rise in sunspot activity in January, February, and March, the numbers plummeted during April and May. Though the Sun remains active, with only one blank day since January 16, the pattern of activity as it ramps up to solar maximum continues to suggest that we are looking for the weakest solar maximum in two hundred years, as now predicted by solar scientists at the Marshall Space Flight Center.
Whether this weak maximum foreshadows another Maunder-like minimum, with no sunspots occurring for decades, remains unknown. Only time will tell. However, if such a thing should happen, it will be a marvelous opportunity for scientists to finally pin down precisely the actual influence of the Sun on the Earth's climate. Up until now they can only guess at how much the Sun varies in brightness. Another Maunder Minimum will tell them.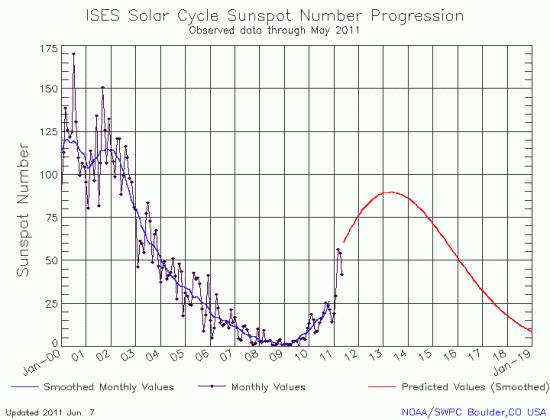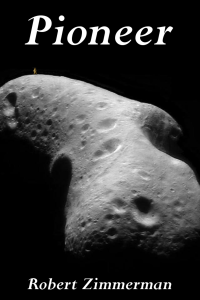 From the press release: From the moment he is handed a possibility of making the first alien contact, Saunders Maxwell decides he will do it, even if doing so takes him through hell and back.
Unfortunately, that is exactly where that journey takes him. The vision that Zimmerman paints of vibrant human colonies on the Moon, Mars, the asteroids, and beyond, indomitably fighting the harsh lifeless environment of space to build new societies, captures perfectly the emerging space race we see today. He also captures in Pioneer the heart of the human spirit, willing to push forward no matter the odds, no matter the cost. It is that spirit that will make the exploration of the heavens possible, forever, into the never-ending future. Available everywhere for $3.99 (before discount) at
amazon
,
Barnes & Noble
, all ebook vendors, or direct from the ebook publisher,
ebookit
. And if you buy it from
ebookit
you don't support the big tech companies and I get a bigger cut much sooner.