Yesterday I posted a link to a story about Al Gore claiming that any expression of skepticism about global warming is to him no different than racism. Here again is what Gore said,
"There came a time when friends or people you work with or people you were in clubs with — you're much younger than me so you didn't have to go through this personally — but there came a time when racist comments would come up in the course of the conversation and in years past they were just natural. Then there came a time when people would say, 'Hey, man why do you talk that way, I mean that is wrong. I don't go for that so don't talk that way around me. I just don't believe that.' That happened in millions of conversations and slowly the conversation was won. We have to win the conversation on climate."
More than at any other time, Gore here has very successfully illustrated the differences between how climate skeptics debate the scientific questions of climate change versus how global warming advocates do it.

When climate skeptics such as I talk about climate change, we do it by bringing up and discussing recent scientific discoveries that raise questions about global warming. For example, in the past week alone I have noted two different scientific papers that illustrate how earlier climate predictions by global warming scientists have proven to be either weak or simply unsuccessful. (See "Another IPCC prediction fails" and "Another Al Gore doomsday prediction bites the dust.")
I was not expressing my opinion in noting these results. I was relating actual research that, from my interpretation, raised serious questions about the conclusions of people like Al Gore and other global warming scientists.
At the same time I have always been willing to admit that my interpretation of this data might be wrong, that the data itself is incomplete, and that it might even be proven wrong when new data is obtained. I as well as most climate skeptics by our very skepticism recognize the present limitations of the science and are gladly willing to see new data, even if it doesn't correspond to our own conclusions.
This one of the primary reasons I gladly allow critical and sometimes blistering criticisms of my writing to be posted as comments on my website. I could be wrong. I want the science to win, not my opinions.
What is Al Gore's approach? He believes that anyone who expresses any skepticism of his conclusions to be no different than a racist and should shut up, or be shut up by everybody else. He doesn't bother to refer to any science to back up his position, nor does he expend any effort to explain or counter the recent science that raises serious questions about man-made global warming.
Nor is Al Gore alone in this kind of behavior. The entire climategate scandal centered on how global warming scientists in positions of power, such as Phil Jones, head of the government-funded Climate Research Unit, and Michael Mann, inventor of the hockey stick graph that claimed that the Earth's climate only began warming in the last hundred years, did everything they could to prevent skeptics from getting published in any scientific journal.
Rather than debate the actual science, these pseudo-scientists wanted only to silence those who disagreed with them. Or as Andrew Klavan has noted, their detailed answer to any Doubting Thomas was to say, "Shut up!"
Al Gore and the climategate scientists had come to a conclusion. They are not interested in any new data. Any new data to them was the equivalent of being a racist or a denier of reality. In fact, global warming activists repeatedly use that term, denier, when they want to attack global warming skeptics. They don't debate the facts, they simply try to destroy the skeptics by name-calling.
There is only one good thing about this mean-spirited and Stalinesque approach to open debate: It finally illustrates for all to see that guys like Al Gore and those who agree with him haven't the faintest idea of what science is all about.
The fact is that science is skepticism. Good science questions data at all times. You have to let the bulk of the data eventually convince you of the right conclusion. And you must always recognize that additional data could easily change that conclusion again, and again.
In order for science to function properly, skepticism and questioning of all kinds must always be permitted. For Al Gore to say that the science of climate change will somehow be helped by demanding we silence the skeptics is so foolish and counterproductive I am almost at a loss for words. Above all, it certainly discredits what Al Gore and his supporters in the scientific community have to say about this important scientific debate.
As I've noted repeatedly, the science of climate change is still in its infancy. Our good climate data only goes back a few decades, beginning with the space age. Moreover, we really don't understand everything that is going on in the Earth's very complex climate. There are enormous gaps in our knowledge, and to say that anything is settled on this subject is downright foolishness.
As a nice example of what I mean, watch this hour long lecture by Jasper Kirkby, the chief scientist behind the CERN experiment that suggests very strongly that the long-term fluctuation of interstellar cosmic rays that hit the upper atmosphere — a fluctuation caused by the solar sunspot cycle — might have a significant influence on past climate change. Before Kirkby describes his experiment, he spends about 30 minutes outlining the copious data that exists suggesting the Sun might have a much greater influence on climate change than carbon dioxide.
To Al Gore, Kirkby is therefore a racist and should be silenced. To me, his lecture contains valuable knowledge about climate science and is worth watching until the end.
On which side do you fall? Our freedom, and the fate of western civilization, actually hangs on that choice.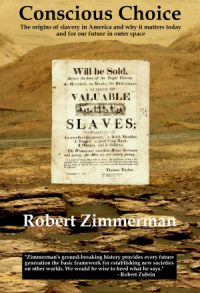 Now available in hardback and paperback as well as ebook!
From the press release: In this ground-breaking new history of early America, historian Robert Zimmerman not only exposes the lie behind The New York Times 1619 Project that falsely claims slavery is central to the history of the United States, he also provides profound lessons about the nature of human societies, lessons important for Americans today as well as for all future settlers on Mars and elsewhere in space.
Conscious Choice: The origins of slavery in America and why it matters today and for our future in outer space
, is a riveting page-turning story that documents how slavery slowly became pervasive in the southern British colonies of North America, colonies founded by a people and culture that not only did not allow slavery but in every way were hostile to the practice.
Conscious Choice
does more however. In telling the tragic history of the Virginia colony and the rise of slavery there, Zimmerman lays out the proper path for creating healthy societies in places like the Moon and Mars.
"Zimmerman's ground-breaking history provides every future generation the basic framework for establishing new societies on other worlds. We would be wise to heed what he says." —Robert Zubrin, founder of founder of the Mars Society.
All editions are available at Amazon, Barnes & Noble, and all book vendors, with the ebook priced at $5.99 before discount. The ebook can also be purchased direct from my ebook publisher, ebookit, in which case you don't support the big tech companies and I get a bigger cut much sooner.
Autographed printed copies are also available at discount directly from me (hardback $24.95; paperback $14.95; Shipping cost for either: $5.00). Just email me at zimmerman @ nasw dot org.