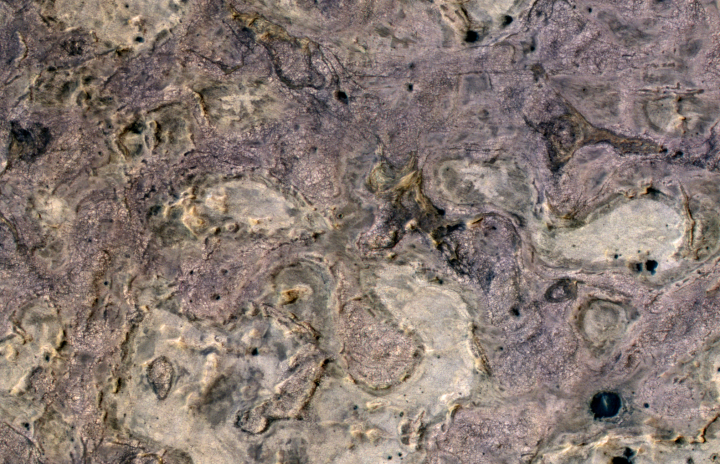 So what is it we are looking at in the image above? I have reduced the resolution slightly to fit it here, but you can see the full resolution image by clicking on the picture.
Is it a marble or granite kitchen counter? Nah, the surface is too rough.
Maybe it's a modern abstract painting that we can find hanging in the Museum of Modern Art in New York. Nah, it has too much style and depth. Abstract art is much more shallow and empty of content.
Could it be a close-up of a just-opened container of berry-vanilla ice cream, the different flavors swirling and intertwined to enhance the eating experience? No, somehow it looks too gritty for ice cream.

No, what we are looking at is close-up of exposed bedrock in an area on Mars called Meridiani Planum. From the Mars Reconnaissance Orbiter website:
The Opportunity rover has spent 13 years exploring a small region of Meridiani Planum which has a rather ordinary appearance.

Other portions of Meridiani are much more interesting, with well-exposed layered bedrock eroded into strange patterns.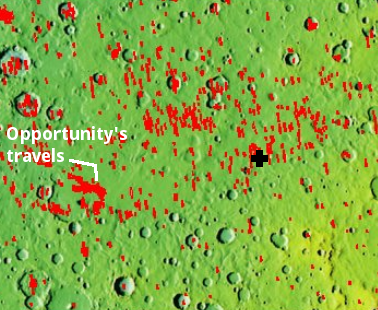 Meridanii Planum is located on the equator due east of the giant canyons of Valles Marineris. It is a subsection region inside Arabia Terra, the largest of the transition zones between the lower elevation vast plains of the northern hemisphere and the higher elevation crater southern highlands.
The black cross in the image to the right shows where this picture was taken relative to the area that Opportunity has been exploring. Unfortunately, I do not have a scale for the image, but the difference in longitude between the image above and the area of Opportunity's travels is about 10 degrees, at the equator. I searched the web but was unable to find a quick way to convert this to miles. Hopefully some of my very educated readers can figure it out.
They picked Opportunity's landing site for its relatively flat terrain to ease the rover's travels. Yet, in that same region is weird and very inexplicable geology as shown above.
Mars is a big place. It is also an alien place. Figuring out its geology will take several lifetimes of geologists, living on the planet.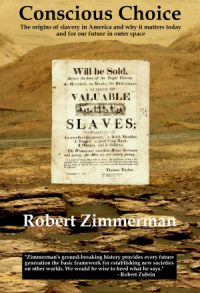 Now available in hardback and paperback as well as ebook!
From the press release: In this ground-breaking new history of early America, historian Robert Zimmerman not only exposes the lie behind The New York Times 1619 Project that falsely claims slavery is central to the history of the United States, he also provides profound lessons about the nature of human societies, lessons important for Americans today as well as for all future settlers on Mars and elsewhere in space.
Conscious Choice: The origins of slavery in America and why it matters today and for our future in outer space
, is a riveting page-turning story that documents how slavery slowly became pervasive in the southern British colonies of North America, colonies founded by a people and culture that not only did not allow slavery but in every way were hostile to the practice.
Conscious Choice
does more however. In telling the tragic history of the Virginia colony and the rise of slavery there, Zimmerman lays out the proper path for creating healthy societies in places like the Moon and Mars.
"Zimmerman's ground-breaking history provides every future generation the basic framework for establishing new societies on other worlds. We would be wise to heed what he says." —Robert Zubrin, founder of founder of the Mars Society.
All editions are available at Amazon, Barnes & Noble, and all book vendors, with the ebook priced at $5.99 before discount. The ebook can also be purchased direct from my ebook publisher, ebookit, in which case you don't support the big tech companies and I get a bigger cut much sooner.
Autographed printed copies are also available at discount directly from me (hardback $24.95; paperback $14.95; Shipping cost for either: $5.00). Just email me at zimmerman @ nasw dot org.