In the past two days a large number of my subscribers have suddenly canceled their PayPal subscriptions to Behind the Black. I am certain this sudden activity is because these subscribers have also canceled all of their business with PayPal, because of its announcement that if it doesn't like what someone says or writes, it will literally steal up to $2,500 from that person's PayPal account. See this article describing the sudden exodus from Paypal due to this unethical policy.
For the past two years I have been steadily adding additional payment options so that neither I nor my supporters will have to depend on PayPal. These have included Patreon, Zelle, and mailing a check to me directly.
I have now added one more, Gabpay. This payment service has been formed by the same people who created Gab as a free speech alternative to Twitter. Gabpay appears to work almost identical to PayPal, but its fees are less and it has no intention of stealing anyone's money because it doesn't like what someone says or writes.
Thus, regular readers can now support Behind The Black in one of five ways:
Send me a check payable to Robert Zimmerman c/o Behind The Black, P.O.Box 1262
Cortaro, AZ 85652 . With this method every dime you contribute goes to me.
Subscribe or donate through Zelle, using my email address zimmerman @ nasw dot org. This method also charges no fees. Every dime you spend goes only to me.
NEW! Donate through Gabpay, using my email address zimmerman @ nasw dot org. Gabpay takes a cut of about 2%.
Subscribe or donate at my Patreon website, which takes a cut of about 12%.
Subscribe or donate through Paypal using the buttons in the tip jar elsewhere on this page. PayPal also takes a cut of about 12%.
I encourage my regular subscribers on both Paypal and Patreon to consider switching to Zelle. Several subscribers have done so, and have found the process simple and easy, while also guaranteeing all of your donation reaches me. If you use Zelle to either newly subscribe or switch your old subscription, please use my email address to send me a separate email telling me the monthly amount of your subscription and your chosen payment date. Zelle does not send notifications for such things.
Regardless, I celebrate my readers who are quitting PayPal. It has proven itself as unethical as companies like Google, Facebook, YouTube, and Twitter, all of which I avoid at all costs. Rather than sit back like sheep, these readers are proving that they are free citizens willing to fight. Kudos to you all!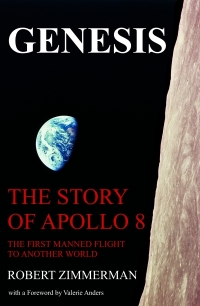 On Christmas Eve 1968 three Americans became the first humans to visit another world. What they did to celebrate was unexpected and profound, and will be remembered throughout all human history. Genesis: the Story of Apollo 8, Robert Zimmerman's classic history of humanity's first journey to another world, tells that story, and it is now available as both an ebook and an audiobook, both with a foreword by Valerie Anders and a new introduction by Robert Zimmerman.
The ebook is available everywhere for $5.99 (before discount) at
amazon
, or direct from my ebook publisher,
ebookit
. If you buy it from
ebookit
you don't support the big tech companies and the author gets a bigger cut much sooner.
The audiobook is also available at all these vendors, and is also
free with a 30-day trial membership to Audible.
"Not simply about one mission, [Genesis] is also the history of America's quest for the moon... Zimmerman has done a masterful job of tying disparate events together into a solid account of one of America's greatest human triumphs."--San Antonio Express-News