Please consider donating to Behind the Black, by giving either a one-time contribution or a regular subscription, as outlined in the tip jar to the right or below. Your support will allow me to continue covering science and culture as I have for the past twenty years, independent and free from any outside influence.
Today NOAA posted its monthly update of the solar cycle, showing the sunspot activity for the Sun in November. As I do every month, I am posting it here, below the fold, with annotations.
As in October, the Sun was more active than it has been for this entire solar maximum. November's numbers dropped slightly from October, but still remained high, though as has been typical for this solar maximum they remained below prediction.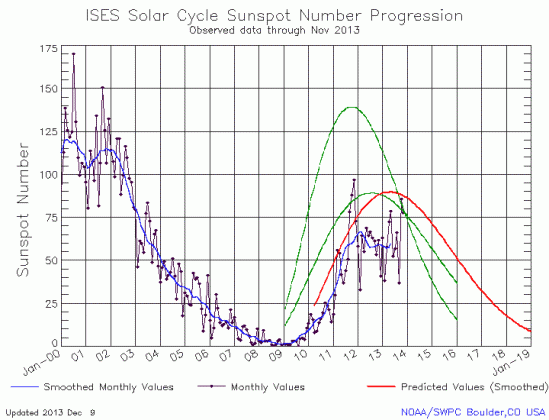 The graph above has been modified to show the predictions of the solar science community. The green curves show the community's two original predictions from April 2007, with half the scientists predicting a very strong maximum and half predicting a weak one. The red curve is their revised May 2009 prediction.
We are clearly in the predicted second peak of this solar maximum, though it remains relatively weak. Moreover, this maximum, like the minimum from 2007 to 2010, has been extremely long and extended. What took two years in 2000-2001 is taking three years now, maybe more. Such an extended maximum however is par for the course when the Sun's sunspot activity is low. Weak cycles like this one have historically been long cycles.
All the same science questions remain from last month. When will this weak maximum end? How long will the next minimum be? Will it become a Grand Minimum, with no sunspots for decades? And what effect will these events have on the Earth's climate? Inquiring minds want to know.
Unfortunately, we can only wait and watch to find out.