The competition heats up: Work on the factories that will build and assembly Russia's new Angara rocket appear to be nearing completion.
The article is an excellent overview of the entire Angara program. It also includes a number of interesting nuggets of information that might explain events of the past as well as Russia's future success or failure of Angara.
For example, the repeated problems with Proton's Briz-M upper station in 2012 could have been caused by the shift of much of its production from the Khrunichev factories near Moscow to a newly absorbed company located in Siberia. The move was made to take advantage of lower costs in Siberia while letting the company sell off land in Moscow.
Beginning in 2009, PO Polyot was to take responsibility for the production of the Briz-KM upper stage for the Rockot booster, as well as Rockot's adapter rings and the payload fairings. Also, the manufacturing of all key elements for the Angara-1.2 version of the rocket would end up in Omsk as well. Additionally, the Ust-Katav Wagon-building Plant, UKVZ, would produce components for Angara and its KVTK upper stage, along with sections of the Proton rocket and the Briz-M upper stage.
As for Angara, the article suggests that Russia is struggling to make it as inexpensive to launch as Proton:

Khrunichev's officials hoped that the move to Omsk would eventually help bring down the cost of the Angara's production to as low as the target price for the Proton rocket, which was set in 2016 at 1,381 billion rubles ($21.6 million).
That price figure for Proton, $21.6 million, indicates that, because of Russia's lower labor costs, they have enough profit margin to effectively compete with SpaceX, without doing anything. However, profit is no longer the main motivator for Russia's aerospace industry. Run as a single government entity, the goals instead appear to be building big facilities that employ a lot of people, like Vostochny, even if it means that Angara actually costs more to build..
According to Murakhovsky, the Angara production required a massive reconstruction of the obsolete factories at PO Polyot with a planned price tag of 3,349 billion rubles, including 771 million in 2009. Around 300 million were to be spent on purchases of new manufacturing tools and equipment. He said that not all of the 329 million rubles allocated for the project in 2008 had been provided and the resulting deficit was included in the 2009 funding schedule. Murakhovsky said that active modernization of the plant had been underway, 15 high-tech metal-processing machines had been ordered and the installation of new hardware and software was expected to be completed by the end of 2009.

The project ultimately took more than five years to complete. By the end of the renovations in Omsk in 2014, its price tag reportedly reached more than seven billion rubles, or more than twice of the original estimate. According to local officials more than 300 new pieces of manufacturing hardware had been procured and production facilities with a total area of 38,000 square meters had been renovated. [emphasis mine]
Even if Angara ends up being pricier than Proton, I suspect that Russia could still price it to match or beat SpaceX's prices. From what I can gather, however, the Russian government doesn't appear focused on getting international market share. Instead, the focus is on using the rocket for Russia's internal projects while it employs a lot of people.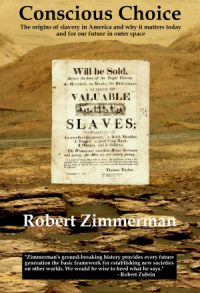 Now available in hardback and paperback as well as ebook!
From the press release: In this ground-breaking new history of early America, historian Robert Zimmerman not only exposes the lie behind The New York Times 1619 Project that falsely claims slavery is central to the history of the United States, he also provides profound lessons about the nature of human societies, lessons important for Americans today as well as for all future settlers on Mars and elsewhere in space.
Conscious Choice: The origins of slavery in America and why it matters today and for our future in outer space
, is a riveting page-turning story that documents how slavery slowly became pervasive in the southern British colonies of North America, colonies founded by a people and culture that not only did not allow slavery but in every way were hostile to the practice.
Conscious Choice
does more however. In telling the tragic history of the Virginia colony and the rise of slavery there, Zimmerman lays out the proper path for creating healthy societies in places like the Moon and Mars.
"Zimmerman's ground-breaking history provides every future generation the basic framework for establishing new societies on other worlds. We would be wise to heed what he says." —Robert Zubrin, founder of founder of the Mars Society.
All editions available at Amazon, Barnes & Noble, and all book vendors. The ebook can be purchased direct from my ebook publisher, ebookit, in which case you don't support the big tech companies and I get a bigger cut much sooner. Note that the price for the ebook, $3.99, goes up to $5.99 on September 1, 2022.
Autographed printed copies are also available at discount directly from me (hardback $24.95; paperback $14.95). Just email me at zimmerman @ nasw dot org.