Mars Reconnaissance Orbiter has found another cave on Mars. The cropped version of the image, shown below, shows a remarkably symmetrical crater that probably has more similarities to sinkholes on earth. In the center is a 100 foot wide skylight into a cave. The crater is almost certainly formed partly by material dropping into the cave.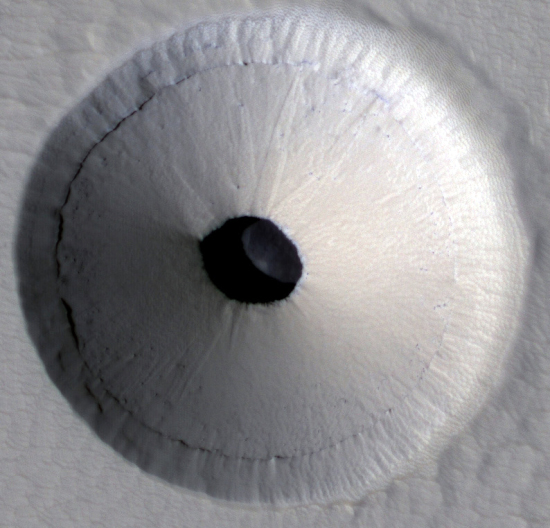 Readers!
Please consider donating to Behind the Black, by giving either a one-time contribution or a regular subscription, as outlined in the tip jar below. Your support will allow me to continue covering science and culture as I have for the past twenty years, independent and free from any outside influence.
Your support is even more essential to me because I keep this site free from advertisements and do not participate in corrupt social media companies like Google, Twitter, and Facebook. I depend wholly on the direct support of my readers.
You can provide that support to Behind The Black with a contribution via Patreon or PayPal. To use Patreon, go to my website there and pick one of five monthly subscription amounts, or by making a one-time donation. For PayPal click one of the following buttons:

If Patreon or Paypal don't work for you, you can support Behind The Black directly by sending your donation by check, payable to Robert Zimmerman, to


Behind The Black
c/o Robert Zimmerman
P.O.Box 1262
Cortaro, AZ 85652