Please consider donating to Behind the Black, by giving either a one-time contribution or a regular subscription, as outlined in the tip jar below. Your support will allow me to continue covering science and culture as I have for the past twenty years, independent and free from any outside influence.
Regular readers can support Behind The Black with a contribution via paypal:
If Paypal doesn't work for you, you can support Behind The Black directly by sending your donation by check, payable to Robert Zimmerman, to

Behind The Black
c/o Robert Zimmerman
P.O.Box 1262
Cortaro, AZ 85652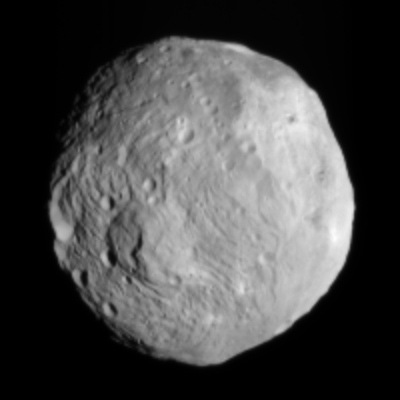 Another image of Vesta from Dawn has been released. This image was taken on July 9 from a distance of 26,000 miles away. It is definitely an improvement over the previous image, with more small details becoming visible. However, I once again wonder about the softness of the image. Look at the limb of the planet. It is soft against the black sky. This is not what one would expect from perfectly focused camera.
Dawn goes into orbit around Vesta next week. We sure learn then for sure if there is a problem with its camera, or whether I am merely being a bit too nervous.