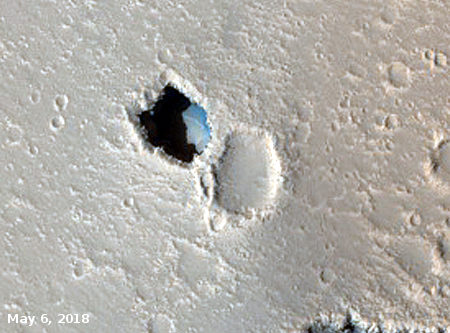 Cool image time! In the June release of images from the high resolution camera on Mars Reconnaissance Orbiter, I came across the image on the right, cropped slightly to post here, of a pit in a region dubbed Hephaestus Fossae that is located just at the margin of Mars's vast northern plains.
Below and to the right is an annotated second image showing the area around this pit. If you click on it you can see the full resolution image, uncropped, and unannotated.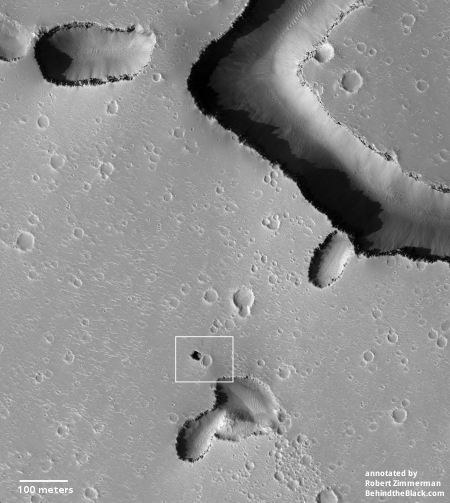 The scale bar is based on the 25 centimeter per pixel scale provided at the image link. Based on this, this pit is only about ten to fifteen meters across, or 30 to 50 feet wide. The image webpage says the sun was 39 degrees above the horizon, with what they call a sun angle of 51 degrees. Based on these angles, the shadow on the floor of the pit suggests it is about the same depth, 30 to 50 feet.
The shadows suggest overhung walls. This, plus the presence of nearby aligned sinks, strongly suggests that there are extensive underground passages leading away from this pit.
For a caver on Earth to drop into a pit 30 to 50 feet deep is nowadays a trivial thing. You rig a rope (properly), put on your vertical system, and rappel in. When you want to leave you use that same vertical system to climb the rope, using mechanical cams that slide up the rope but will not slide down.
On Mars such a climb would be both easier and harder. The gravity is only one third that of Earth, but the lack of atmosphere means you must wear some form of spacesuit. Moreover, this system is not great for getting large amounts of gear up and down. Usually, people only bring what they can carry in a pack. To use this Martian pit as a habitat will require easier access, preferable by a wheeled vehicle that can drive in.
The pit's location however is intriguing. The map below shows its location on a global map of Mars. This region is part of the Utopia Basin, the place with the second lowest elevation on Mars.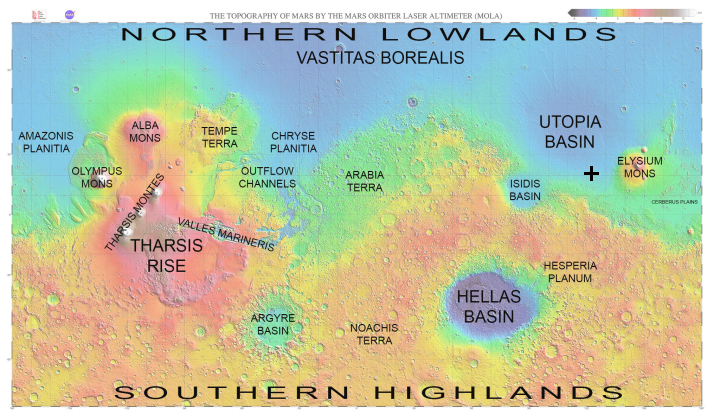 If you go to the Mars Reconnaissance Orbiter image archive and zoom into this area (latitude 21.5; longitude 122) you can find a variety of images of similar nearby northern plains features, many of which I have highlighted previously, lines of mesas and especially cones, craters, and pits. This second link shows a line of sinks very similar to sinks above, located in the same general region as today's pit.
The geology here suggests that the northern plains, at least here, have a lot of underlying passages. From a caver's perspective, this makes great sense, especially if that northern plain was once an intermittent ocean. When the water table was high, it would not be surprising if that water acted to erode voids in fissures and cracks, producing caves below that table. When the water table dropped, these voids would lose the water that was helping to hold their ceilings up. There would be collapses, resulting in sinkholes on the surface. This is exactly what we see here.
On Earth, sinkholes only occur in a few places above the cave. Most of the cave below remains invisible to the surface. I would not be surprised if this was the situation on Mars as well. The pits and sinkholes only provide a glimpse to the underlying cave system, which I suspect is somewhat vast.
It will also provide crucial information, once we can fully explore it, for understanding the geological and environmental history of Mars.
Readers!
Please consider donating to Behind the Black, by giving either a one-time contribution or a regular subscription, as outlined in the tip jar below. Your support will allow me to continue covering science and culture as I have for the past twenty years, independent and free from any outside influence.
Your support is even more essential to me because I keep this site free from advertisements and do not participate in corrupt social media companies like Google, Twitter, and Facebook. I depend wholly on the direct support of my readers.
You can provide that support to Behind The Black with a contribution via Patreon or PayPal. To use Patreon, go to my website there and pick one of five monthly subscription amounts, or by making a one-time donation. For PayPal click one of the following buttons:

If Patreon or Paypal don't work for you, you can support Behind The Black directly by sending your donation by check, payable to Robert Zimmerman, to


Behind The Black
c/o Robert Zimmerman
P.O.Box 1262
Cortaro, AZ 85652