The computer audit of the Atrim County election Dominion tabulator machines has found [pdf] irrevocable evidence that these machines and their software is unreliable, that the evidence suggests significant vote tampering, and also suggests criminal activity to do it.
The preliminary findings including 24 points, all of which are shocking. The second sums it up:
We conclude that the Dominion Voting System is intentionally and purposefully designed with inherent errors to create systemic fraud and influence election results. The system intentionally generates an enormously high number of ballot errors. The electronic ballots are then transferred for adjudication. The intentional errors lead to bulk adjudication of ballots with no oversight, no transparency, and no audit trail. This leads to voter or election fraud. Based on our study, we conclude that The Dominion Voting System should not be used in Michigan. We further conclude that the results of Antrim County should not have been certified.
The audit also included data from two other counties as well, all of which confirmed the results from Antrim.
The audit found that the software for this election somehow failed to properly scan a "staggering" number of ballots, up to 81% in one case, requiring a manual unsupervised adjudication of the scan in order to record the vote. This failure rate — averaging 68.05% — was completely different than past election records, and exceeded the allowable election error rate established by the Federal Election Commission guidelines, 1 in 250,000 ballots (.0008%), by many orders of magnitude.
They also found evidence of willful obstruction of justice to hide these facts. The files and adjudication logs are missing. There was also an attempt to zero out the machines before the audit could obtain its data. Finally, the software was updated just before the election, and then just afterward.
The only reason to change software after the election would be to obfuscate evidence of fraud and/or to correct program errors that would de-certify the election. Our findings show that the Central Lake Township tabulator tape totals were significantly altered by utilizing two different program versions (10/232020 and 11/05/2020), both of which were software changes during an election which violates election law, and not just human error associated with the Dominion Election Management System. This is clear evidence of software generated movement of votes. The claims made on the Office of the Secretary of State website are false.
Read it for yourself. More important, download it immediately and pass it to friends. I predict that many of your Democratic Party friends will dismiss it as fake. Some however will not. If just ten percent recognize these facts the election will likely get invalidated.
And make sure you pass it to your legislators. Any state that used these machines needs to review the results, and most likely must invalidate them. We need a new election.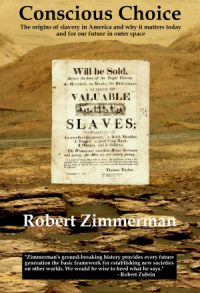 Now available in hardback and paperback as well as ebook!
From the press release: In this ground-breaking new history of early America, historian Robert Zimmerman not only exposes the lie behind The New York Times 1619 Project that falsely claims slavery is central to the history of the United States, he also provides profound lessons about the nature of human societies, lessons important for Americans today as well as for all future settlers on Mars and elsewhere in space.
Conscious Choice: The origins of slavery in America and why it matters today and for our future in outer space
, is a riveting page-turning story that documents how slavery slowly became pervasive in the southern British colonies of North America, colonies founded by a people and culture that not only did not allow slavery but in every way were hostile to the practice.
Conscious Choice
does more however. In telling the tragic history of the Virginia colony and the rise of slavery there, Zimmerman lays out the proper path for creating healthy societies in places like the Moon and Mars.
"Zimmerman's ground-breaking history provides every future generation the basic framework for establishing new societies on other worlds. We would be wise to heed what he says." —Robert Zubrin, founder of founder of the Mars Society.
All editions are available at Amazon, Barnes & Noble, and all book vendors, with the ebook priced at $5.99 before discount. The ebook can also be purchased direct from my ebook publisher, ebookit, in which case you don't support the big tech companies and I get a bigger cut much sooner.
Autographed printed copies are also available at discount directly from me (hardback $24.95; paperback $14.95; Shipping cost for either: $5.00). Just email me at zimmerman @ nasw dot org.