Fifty years ago the Apollo 8 mission successfully began with a 6:51 am launch at what was then called Cape Kennedy. It would be a space mission that would not only make history, being the first to take humans to another world, it would change America and western culture in ways no one at that time imagined.
I don't have much to add. I've written hundreds of thousands of words on this mission already. If you want to know more, you can read or listen to Genesis: the Story of Apollo 8.
What I find gratifying is that it appears my goal in writing the book in 1998 has been an unparalleled success. Today alone there have been three major stories celebrating Apollo 8 and its legacy, from the Washington Post, Scientific American, and New Atlas. In the past week there have another half dozen. I expect dozens more in the coming week. All so far have gotten their facts right, and have been able to tell the story correctly of this nerve-racking mission given 50-50 odds of success. More important, all have understood thoroughly the political and historical context of the mission, and the long term impact that it had.
In 1998, when I wrote Genesis, the mission had been largely forgotten, even though I knew and remembered how important it had been. When the book came out that year, during its thirtieth anniversary, I was pretty much the only one writing about it, expressing my strong desire to change this lack of recognition, to make people remember.
Today, none of the many articles about Apollo 8 make mention of my work. This is right and fitting. I wasn't an astronaut on board. Nor did I build the rocket or capsule. I was merely a historian telling the story. However, if my poor effort has served to make others remember, and report the story correctly in 2018, its fiftieth anniversary, I can sleep peacefully when my time comes.
There will never be another first mission by humans to another world. We should remember that first journey, and honor it. I am glad we finally are doing so.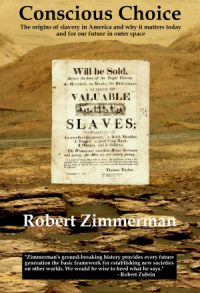 Now available in hardback and paperback as well as ebook!
From the press release: In this ground-breaking new history of early America, historian Robert Zimmerman not only exposes the lie behind The New York Times 1619 Project that falsely claims slavery is central to the history of the United States, he also provides profound lessons about the nature of human societies, lessons important for Americans today as well as for all future settlers on Mars and elsewhere in space.
Conscious Choice: The origins of slavery in America and why it matters today and for our future in outer space
, is a riveting page-turning story that documents how slavery slowly became pervasive in the southern British colonies of North America, colonies founded by a people and culture that not only did not allow slavery but in every way were hostile to the practice.
Conscious Choice
does more however. In telling the tragic history of the Virginia colony and the rise of slavery there, Zimmerman lays out the proper path for creating healthy societies in places like the Moon and Mars.
"Zimmerman's ground-breaking history provides every future generation the basic framework for establishing new societies on other worlds. We would be wise to heed what he says." —Robert Zubrin, founder of founder of the Mars Society.
All editions available at Amazon, Barnes & Noble, and all book vendors. The ebook can be purchased direct from my ebook publisher, ebookit, in which case you don't support the big tech companies and I get a bigger cut much sooner. Note that the price for the ebook, $3.99, goes up to $5.99 on September 1, 2022.
Autographed printed copies are also available at discount directly from me (hardback $24.95; paperback $14.95). Just email me at zimmerman @ nasw dot org.