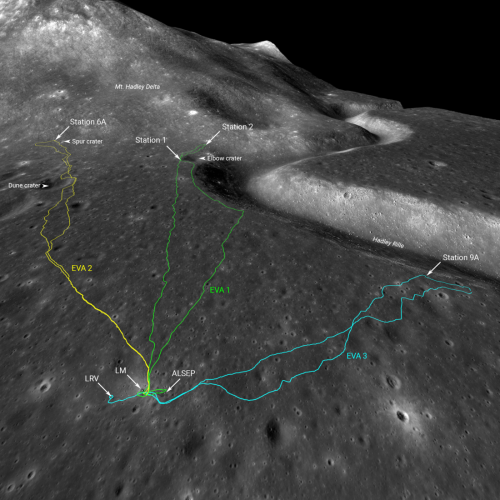 Click for full image.
Today is the fiftieth anniversary of the landing of Apollo 15 on the Moon. To commemorate that event the science team for Lunar Reconnaissance Orbiter (LRO) today published some orbital images that capture the astronauts' travels while on the Moon. The picture to the right, reduced to post here, outlines in oblique view their various excusions to the edge of Hadley Rille and the foot of a mountain dubbed Hadley Delta. As they note,
While Apollo 15 was the fourth mission to land a crew successfully on the lunar surface, it still pioneered many new technologies and had many firsts.

Some of the technologies developed for Apollo 15 included new suits, which were more flexible and had longer life support capabilities, as well as the Lunar Roving Vehicle (LRV), a rover capable of speeds up to 15 km / hour. With these advancements, astronauts Commander David (Dave) Scott and Lunar Module Pilot James (Jim) Irwin were able to travel more than eight times the distance traveled during the previous mission, for a total of over 25 km.
All told, astronauts Dave Scott and Jim Irwin spent more than 18 hours exploring the lunar surface on three scouting trips, covering 15.5 miles. During all those excursions their only protection from the harsh lunar environment was that thin spacesuit. In addition, if their rover broke down a walk back to the lunar module would become a race against suffocation.
And even then, they still had to get that lunar module off the ground, rendezvous and dock with the Apollo 15 command module, and then get that module back to Earth safely.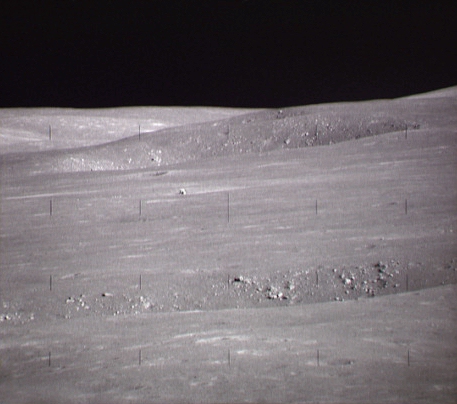 The photo to the right will give you a sense of how "out there" these men were. It was taken I think during EVA 2, when the astronauts stood high at the base of Hadley Delta. It looks back across the plain to the lunar module in the distance, likely about three and a half miles away. That spacecraft sure looks tiny, doesn't it?
Were these men pushing the limits of human exploration? You bet. In fact, they pushed those limits so far that following that last Apollo 17 mission in 1972 no one has dared do it again. A half century has passed, and no one has even left Earth orbit, despite having far more sophisticated and reliable technology.
These astronauts, and the people who sent them to the Moon, had one thing that is essential if you wish to explore the unknown and push the limits of human knowledge. They had unwavering courage. They did not allow their fear to stop them from doing great things, but instead pushed past that fear and stood like giants on another world, always standing proudly on the edge of death.
Do Americans have such courage today? I wonder. I know the people at SpaceX have that courage, as they are pushing hard to return quickly to the Moon and beyond, no matter the risk. They don't want to fly missions carelessly, but they also do not want to allow caution to block them from flying at all.
And though I know that many people at NASA and at other companies — such as Blue Origin, ULA, Northrop Grumman — also have that courage, it sometimes appears these people are either not in charge, or are a minority who are dominated and controlled by the fearful. Years pass, and nothing bold appears to happen. All we get are promises, and the same old same old, going nowhere as slowly as possible.
Still, I strongly believe Americans have the can-do spirit that can make majestic things like this happen once again. If they do not, and I sometimes fear this may be true when I see someone wearing a mask while bicycling alone, I am certain that humanity still has it, even if it is becoming buried by regulation, tyranny, and fear. Someday that courage will rise up again and push past the fearful, achieving great things again even in the face of death.
I just pray it will happen sooner rather than later.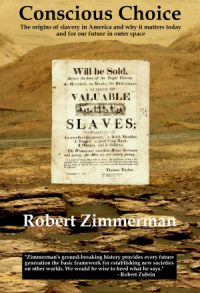 Now available in hardback and paperback as well as ebook!
From the press release: In this ground-breaking new history of early America, historian Robert Zimmerman not only exposes the lie behind The New York Times 1619 Project that falsely claims slavery is central to the history of the United States, he also provides profound lessons about the nature of human societies, lessons important for Americans today as well as for all future settlers on Mars and elsewhere in space.
Conscious Choice: The origins of slavery in America and why it matters today and for our future in outer space
, is a riveting page-turning story that documents how slavery slowly became pervasive in the southern British colonies of North America, colonies founded by a people and culture that not only did not allow slavery but in every way were hostile to the practice.
Conscious Choice
does more however. In telling the tragic history of the Virginia colony and the rise of slavery there, Zimmerman lays out the proper path for creating healthy societies in places like the Moon and Mars.
"Zimmerman's ground-breaking history provides every future generation the basic framework for establishing new societies on other worlds. We would be wise to heed what he says." —Robert Zubrin, founder of founder of the Mars Society.
All editions are available at Amazon, Barnes & Noble, and all book vendors, with the ebook priced at $5.99 before discount. The ebook can also be purchased direct from my ebook publisher, ebookit, in which case you don't support the big tech companies and I get a bigger cut much sooner.
Autographed printed copies are also available at discount directly from me (hardback $24.95; paperback $14.95; Shipping cost for either: $5.00). Just email me at zimmerman @ nasw dot org.